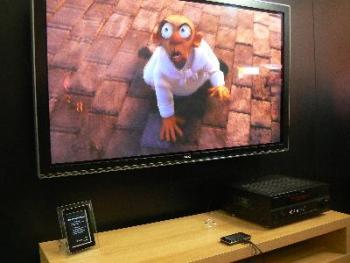 Mention the words 'NVIDIA' and 'concept phone' in the same sentence, and you'll always cause a stir, and as these video clips show below, with just cause. These are clips taken of NVIDIA's concept phone on display at MWC 2008. The phone itself is just a mock-up – like Google Android phones on display at MWC 2008, it's not the phone's form that's the main attraction, it's the user interface and the mobile CPU powering it.
And good gods, what a user interface! NVIDIA are world famous for their stunning GPUs and graphics abilities, but this mobile UI looks liike something straight out of Minority Report!


What's even more impressive is that the demo you see in the first video is of the user interface being displayed on a 720p HD TV – but it's not a video of the UI that's being played, it's the actual UI itself, being driven by the mobile phone handset! Yes, that's right, nVidia's stunning new mobile CPU is powerful enough to drive a 720P HDTV directly from the handset.
This is simply breathtaking. As NVIDIA spokesman Oscar Clark says, "What this shows is the iPhone didn't go far enough," and I couldn't have put it better myself.

The mobile CPU and UI have been designed to work with the Microsoft Windows Mobile OS, simply because Windows Mobile is now in four of the five major mobile manufacturers' phones (only Nokia is stubbornly refusing to join the party).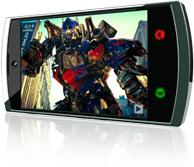 "For us, working closely with Microsoft is a speed to market thing," says Clark, which I guess they proved by knocking this handset together in a matter of weeks!
The pace of innovation with mobile phones is getting even more frenetic, with each new announcement topping the last. Last week, I was perfectly happy with my Nokia E90. Then a few days ago, I wanted a new Sony Ericsson XPERIA X1. Now I want whatever phone comes with an NVIDIA CPU! I've never had so much techno-lust :)
And just check out these specs:
ARM11 MPCore
HD AVP (High Definition Audio Video Processor) 720p H.264, MPEG-4, and VC-1/WMV9 Decode
720p H.264 and MPEG-4 Encode
Supports multi-standard audio formats including AAC, AMR, WMA, and MP3
JPEG encode and decode acceleration
ULP (Ultra Low Power) GeForce GPU
OpenGL ES 2.0
D3D Mobile
Programmable pixel shader
Programmable vertex and lighting
CSAA support
Advanced 2D graphics
Up to 12Mpixel camera sensor support
Advanced imaging features
True dual display support
720p (1280×720) HDMI 1.2 support
SXGA (1280×1024) LCD and CRT support
Composite and S-Video TV output

All this from a mobile phone! Simply breathtaking.
[Source: NVIDIA, via TechDigest]