The Samsung Galaxy S II has just been launched by the company at a press event at this year's MWC. The Galaxy S II has been leaked so much across the Web that you'd think there'd be very little left to write about it, but in fact, it's the complete opposite.
Samsung's new flagship phone for 2011 is simply so feature packed that I could start writing about it now and not actually finish until the Galaxy S III was announced!
But I'll spare you that horror and just try and condense the best featurs of Samsung's new superphone for you.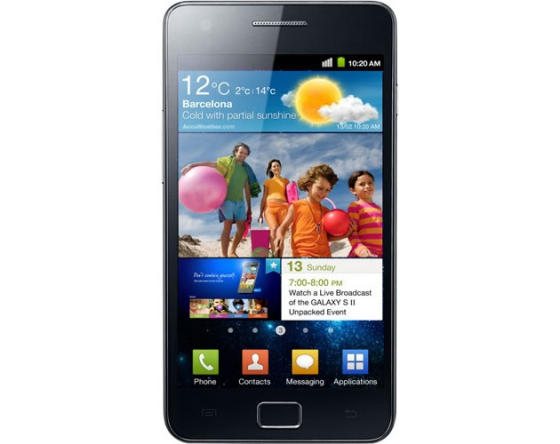 What's so great about the new Samsung Galaxy S II?
One word: everything! Whichever feature you care to name, the Galaxy S II not only has it, it has the best in class version of it as well. From superior processing power to huge memory, fantastic multi-media performance to a stunning screen, it's all there, better than any other phone we've yet seen.
It's even super-slim, at just 8.5mm, which is nearly 1mm thinner than the iPhone.
To show you exactly what I mean, check out the Galaxy S II's specs:
1.2GHz dual-core Samsung Orion processor
8 megapixel camera
2 megapixel front-facing video camera
1080p video capture and playback
Astonishing Super AMOLED Plus display
Android 2.3 Gingerbread
21Mbps HSPA+ 21 mobile network speed
3D hardware accelerator
Bluetooth 3.0
Wireless DLNA media streaming using Samsung's AllShare technology
Hardwar-accelerated encryption and decryption for super-strong security that doesn't impact performance
Brand new version of TouchWiz, Samsung's own user interface skin
Samsung's own text-to-speech app lets you control the Galaxy S II by voice
Real time voice translation
PC syncing via the Samsung Kies Air app
WiFi Direct, which turns the Galaxy S II into an ad hoc WiFi hotspot for direct communication with other WiFi-equipped devices such as printers and TVs
NFC chip for contactless payments
3-axis gyroscopic sensor
Samsung Hubs, a series of apps that lets you choose and download content such as music, games, books, etc.
But that's just a shopping list of features. It tells you nothing about what this phone is like to use. So let's break it down according to Samsung's own focus for this phone: Screen, Speed and Content.
The Samsung Galaxy S II's Screen, Games and Video features
The screen is a 4.3″ touchscreen display that uses Samsung's Super AMOLED Plus technology. Samsung's original Super AMOLED screens, which were used in the original Galaxy S smartphone last year, were already the bset in class, but the new Super AMOLED Plus technology raises the bar even higher, with deep blacks and unrivalled contrast.
It makes colours really pop out and provides a whole new dimension to watching videos or playing games. Which is lucky, beacuse the Galaxy S II is extremely good at just those things thanks to its ability to record and playback movies at 1080p Full HD.
Its game playing prowess is pretty exciting too, thanks to the combination of Samsung's own dual-core Orion processor, which is an asbolute beast, and a dedicated 3D graphics processor on board. Combine this hardware power with the beautiful quality of the screen, and you've got one smartphone that's going to take some beating in the games department.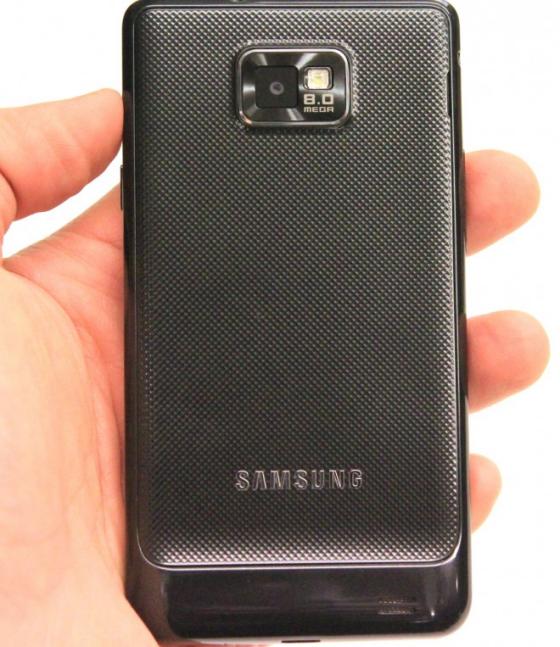 Certainly, the Sony Ericsson Xperia Play is going to be pushed extremely hard by the Galaxy S II, and will probably even be beaten. It's certainly going to be a tough contest to see which is the best mobile games machine.
The Galaxy S II's scorching speed
I've already mentioned the Galayx S II's dual-core Orion processor and 3D graphics acceleration, but its focus on speed doesn't end there. It comes equipped with HSPA+ 21, a technology that enables 21Mbps download speeds. Also in its list of features is 5GHz WiFi, which can support a data rate of 54Mbps, and Bluetooth 3.0, which supports a 24Mbps data rate.
Whichever option you choose, the Galaxy S II is blisteringly fast!
This certainly comes in handy, as with Full HD video playback and recording, and one-touch uploading of your video files to YouTube, the data you generate will be huge! Throw in an 8 megapixel camera, and you've got huge photos as well, so being able to transfer them at these speeds is a welcome relief!
It's not just connectivity that's super-fast, though. The new dual-core Orion chip that powers the Galaxy S II is one of the most powerful chips on the market today, and gives the Galaxy S II's interface a fluidity that makes everything so much easier to use.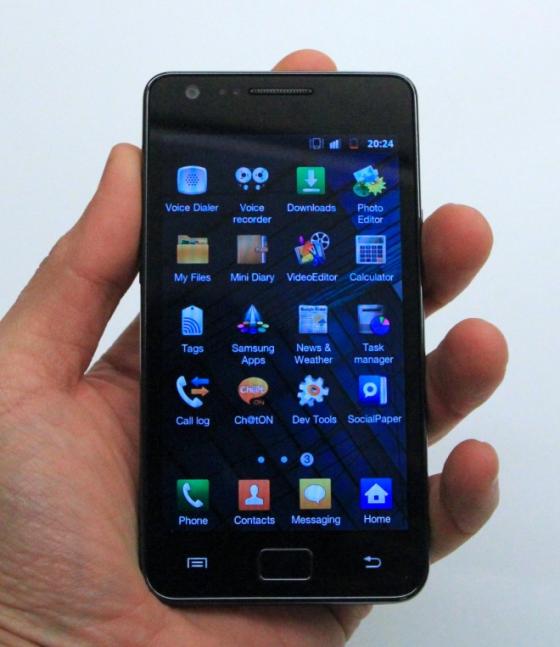 Imagine finding a hotel in Google, checking it out in Google Earth, switching to Street View mode, then taking a call from a friend, videoing your surroundings for him before posting it on YouTube, then going back to Google Earth, deciding you like the hotel and booking it through your browser – all while listening to your tunes through your headphnes.
Now imagine all of that without any lag whatsoever. That's what the Galaxy S II aims to do. That's the benefit of its mighty feature list. It's not to boas that you have a dual-core phones (although that helps!), it's to use all of these features without waiting, which massively improves their use, making them genuinely useful rather than a cool feature to show off to friends but not actually use!
Unrivalled Content
I've already touched on this, but the content that you can view and create is superb on the Galaxy S II. Not just in terms of its quality, but in the ease of actually creating and consuming it.
I just gave the example above of being able to record a video – in full 1080p HD – and upload it to YouTube in seconds. The same goes for downloading videos, too. Choosing a video to watch is fast and painless, and the video is downloaded within seconds of it being selected.
But it's not just the speed at which content is delivered that makes the Galaxy S II so compelling. Samsung has also added four new Hubs that let you access content more easily than ever before.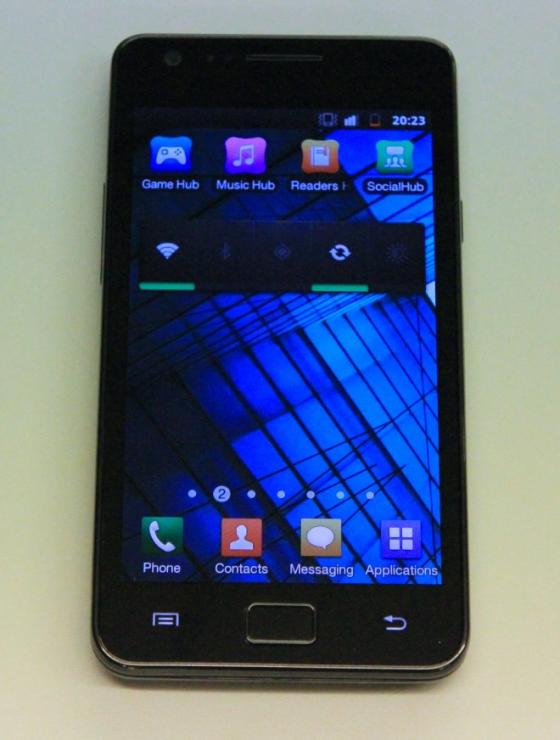 For example, the Android Market has a size limit, over which apps will not be supported by it. But games can be much bigger than this limit, restricting the amount of games that can be downloaded from the Android Market. Samsung's new Games Hub gets round this restriction, though, by being a hub for games of any size, all of which can be downloaded by the Galaxy S, and seclected in a nice new app.
There's also a Social Hub, a Music Hub and a Reader Hub (for ebooks), each of which combines a new app with its own interface and a large store of content to download.
Finally, Samsung has added browser-based control to the Galaxy S II, with a new Web site called Kies Air (don't ask!) that lets you back-up and sync your content in the cloud, where you can then either access it via a browser or download it onto your Galaxy S II.
Similar in concept to HTC's Hub (which never actually worked!), Kies Air will let you sync content such as photos, videos and music, between your PC and Galaxy S II, check missed calls from your browser, and even send text messages, straight from your browser.
You can even remotely wipe your phone should it ever get lost.
Enterprise Features of the Galaxy S II
In a surprising twist, Samsung also added a raf tof Enterprise features for the Galaxy S II, which should make it an ideal business phone. There's enterprise-grade security onboard, giving you such options as encrypting your emails (hardware-accelerated encryption, too, ensuring you never notice th espeed hit that encryption normally incurs), and a raft of pre-installed apps from the likes of Cisco, Sybase and Microsoft.
These include Cisco's WebEx video conferencing app, a Cisco VoIP app, and Sybase's Remote Device Management app for, er, managing the device remotely!
Summary
All in all, the Samsung Galaxy S II can justifiably lay claim to be the world's best smartphone, and is a superb technological tour de force.

Whether it actually is the world's best, we'll have to see. What's on display today isn't the finished product, and we'll need to see it head to head with the likes of Motorola Atrix and whatever HTC has lined up for us at their press event on Tuesday (the HTC Desire 2 in particular, with its 1.2GHz dual-core snapdragon chip, looks a formidable competitor) before we can crown a winner.
Either way, the pace of innovation in the mobile world is, if anything, increasing, and this year's crop of devices has already made the Google Nexus One and HTC Desire – both of which were launched just a year ago – like arthritic dinosaurs!
[Photos courtesy of IntoMobile]