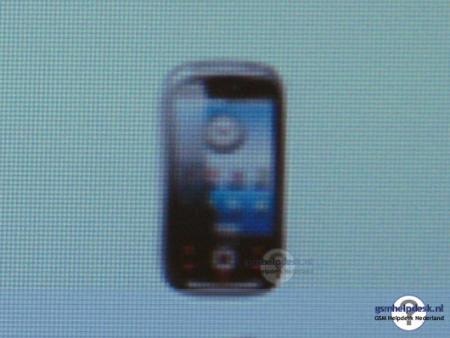 I bought myself a T-Mobile G1 Android phone at the weekend. My old E90 was showing its age, the G1 was free for the same monthly price as my old Just SIM deal, and frankly, I just couldn't wait! I love the Android concept, and after having had my G1 for four days, I can safely say I love Android! You'll get the full review soon.
But then, no sooner had I bought my G1, that some other tasty Android news filtered my way. After little in the way of news, information or developments, Samsung has apparently announced that its first Android phone is about to be launched.

In many respects, the Samsung Android phone is similar to the HTC Magic Android phone that Vodafone have just bagged. It's a standard candybar design with a virtual keyboard, and will come with either a 3.2 megapixel or 5 megapixel camera, as well as a 528MHz processor.
Other than this screenshot, that's all we know at the moment. It's very good news, though. With three Android phones soon to be on sale, it seems like the Android bandwagon is about to roll in earnest. The G1 isn't perfect, but it's bloody good, and Android is simply fantastic. Given this is the first generation of Android phones, and with so many manufacturers supporting it, expect 2010 to see some seriously cool developments with Android 2.0.
In the meantime, I can strongly recommend the G1, and will write a full review of it next week.
[Source: KnowYourMobile]