Behold, the Motorola Droid 3, a new legend in the Android story, and one with a slide-out QWERTY-keyboard at that. The new Droid 3 is currently only a rumour, but as you can see from the pic, it's very close to completion.
The Droid 3's keyboard is one of its unique selling points, as QWERTY phones are very thin on the ground these days. If you're a QWERTY lover, though, then Motorola hasn't forgotten you, as the Droid 3 packs all the latest goodies from today's top-end smartphones.
Like what? Like this…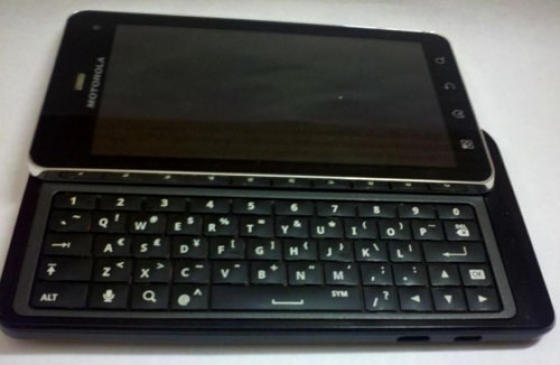 Motorola Droid 3 Features
First up is the now ubiquitous dual-core processor, this time possibly powered by TI's OMAP rather than NVIDIA's Tegra2. Either way, it'll be at least as powerful as the dual-core processors in other top-end smartphone, so the whole performance of the phone should be pretty slick.
Keeping with this year's fashions, there'll be a front facing camera for video calls, as well as the usual 8 megapixel rear facing camera.
Aside from that, all we have to go on is the QWERTY keyboard, which looks very similar to the old Nokia E90 keybaord, which is no bad thing. That said, it does make the whole phone look a bit old-fashioned, which I guess shows howfar touchscreen technology has come.
A June release date is rumoured, but not confirmed. More news when we have it.
[Source: TechnoBuffalo]