The first Samsung Bada phone, the Samsung Wave S8500, has been officially previewed today at the start of MWC 2010. It's been an open secret that the Wave would be show in Barcelona this week (largely because of the giany billboard poster Samsung had put up telling everybody about the Wave!), but this is the first time the world's mobile press have been able to get their grubby hands on it!
So, what are the first impressions? How does Bada compare to the multitude of other smartphone OSes on the market at the moment, and what's the Samsung Wave actually like?

Samsung wave first impressions
The first impressions of the Samsung Wave are that it's like a touchscreen smartphone. Which is good in a sense, because that's exactly what it is. However, as it uses the Samsung TouchWiz UI, it doesn't actually look much different from any other Samsung touchscreen smartphone!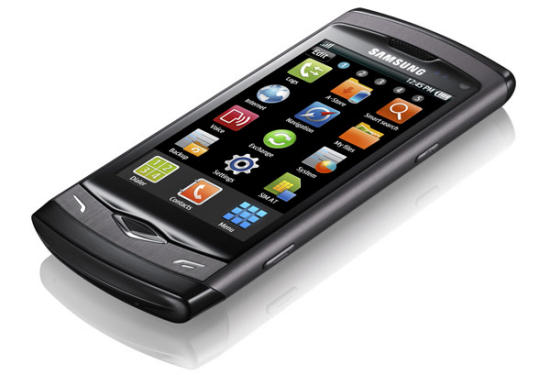 Which does make you wonder why they actually bothered building the Bada OS in the first place!
That said, it's an upaded version of TouchWiz (now up to version 3), but still, you'd expect something a little bit special for a brand new operating system.
The phone itself is handsome looking, as Samsung phones tend to be, and it features a gorgeous 3.3″ Super-AMOLED screen. It's also blisteringly fast, which is a good thing, as if there's one thing that kills the touchscreen experience, it's slowness.
Samsung Wave specification
Feature-wise, the Wave is comes with every feature known to man, plus a few firsts for the mobile phoen world:
Bluetooth 3.0 (world's first Bluetooth 3 phone)
802.11n WiFi
TouchWiz 3.0 user interface
First Bada-based mobile phone
3.3″ Super AMOLED screen
800 x 480 resolution
1GHz processor
5 megapixel camera
aGPS
Accelerometer
2GB or 8GB of internal storage space
microSD expansion slot
DivX, XviD, MP3 and WMV support
Virtual 5.1 surround sound
720p HD recording / playback.
mDNIe (mobile Digital Natural Image engine) technology.
Phew! That's quite a list! What does it all mean though?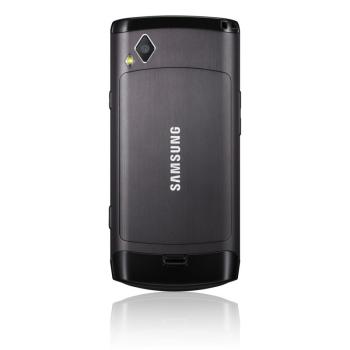 Super-fast data downloads
The Wave uses thev ery latest technologies to reach super-fast download speeds. Bluetooth 3.0, for example, runs at a maximum of 24Mbps, which is much faster than Bluetooth 2.0.
The Wave also uses the latest version of Wi-Fi, the 802.11n protocol, which runs at speeds up to 600Mbps (though this a teoretical maximum). You also get HSDPA for speedy downloads over the mobile network.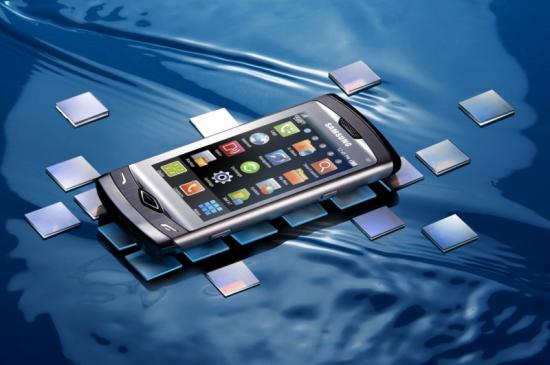 In other words, no matter how you want to connect, the Wave will download dat extremely quickly. Plus, with its 1GHz processor, it'll process that data, too.
Glorious Multimedia features
What can you do with all that data? Well, Samsung thought you might want to watch some video. So not only did they kit the Wave out with a gloriously criso SuperAMOLED display, they also let you watch 720p HD video on it. You can also record 720p HD video on the Wave as well.
Throw in 5.1 surround sound and Samsung's mDNIe video enhancement technology (the same as they use for their LCD TVs), and you've got one mean multimedia machine!
Social Hubs
It's not all about the features, though. Bada is a new platform, and what Samsung have been working on is a new range of software apps that make the most of it.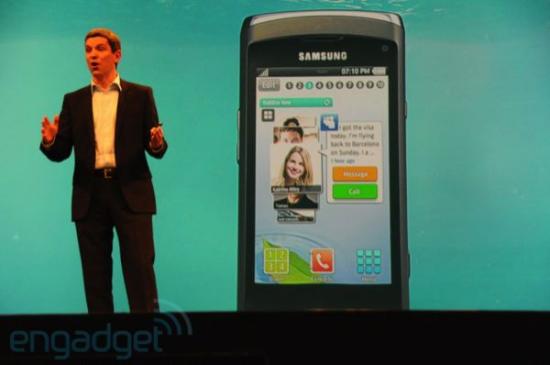 There's the Social Hub, for example, which, as you'd expect, pulls in all the contact details and other info from your social networks into one application. There's also the Ultimate Inbox, a grand title for an inbox that combines all your email, IM, Facebook, Twitter, etc., and pulls in all the updates from those services onto the same page.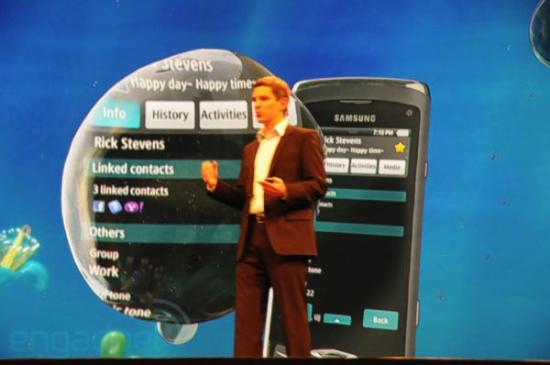 Videos of the Samsung Wave
Pictures only tell half the story, of course, so here are some early videos of the Wave in action (courtesy of Engadget).
First thoughts of the Samsung Wave
The Samsung Wave looks gloroius. It's a seriously fast super-featured touchscreen smartphone with a cracking dispaly, super-fast connectivity and marvellous multimedia features.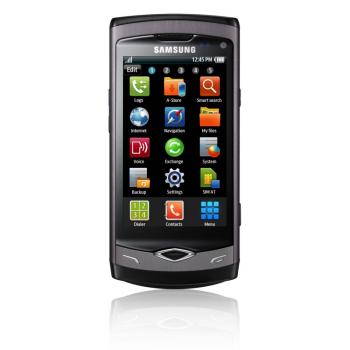 Samsung are going all out in supporting Bada as a new platform to take on the likes of Android and the iPhone, and the Wave is the first part of this plan. However, this is where they might come unstuck.
I just don't see the point in Bada! With the TouchWiz UI on top, it looks no different than any other Samsung smartphone. Bada is open (and kudos to Samsung for making it so), and there'll be the inevitable app store rolled out across 50 countries for developers to upload their own apps to.
But so too is Android, and with Samsung also releasing Android smartphones with the same TouchWiz UI, you'd be hard pushed to notice the difference between Samsung's Android and Bada phones.
In which case, what's the point in Bada?
Presumably we'll find out later on as Samsung's strategy becomes clearer as more Bada phones are released throughout 2010.
In the meantime, the Samsung Wave is a cracking new addition to an increasingly crowded and competitve smartphone market.
The Samsung Wave release date is scheduled for April 2010, price not yet known.
[Source: Engadget]