As you'll see from this HTC Desire review, I'm quite a fan of HTC's latest super phone – and for good reason.
HTC have raised the bar yet again with another stand-out smartphone. If you choose the Desire, you'll be buying one of the most advanced smartphones on the market today, with killer hardware features and HTC's beautiful Sense UI user interace laid on top of Google's latest Android 2.1 operating system.
What does this give you? A blazingly fast, super-responsive, beautiful smartphone that does everything you ever need to do with a phone, the Web, your social networks – your whole life!
But enough with the waffling! Find out why the HTC Desire really deserves its name with our full HTC Desire review after the jump.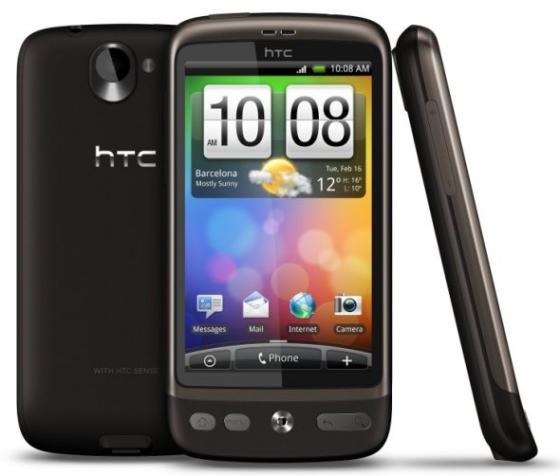 HTC Desire overview
If you're picturing the Desire as a huge unwieldy beast of a phone, think again. Imagine instead a smooth sleek smartphone that's actually smaller than an iPhone, but with a crystal clear 3.7″ AMOLED touchscreen that, with its exceptional clarity and 16 million colours, makes the Desire leap out of its surroundings.
The HTC Desire really is a perfect blend of three fantastic components:
powerful hardware, including the 1GHz Snapdragon processor and 512MB RAM
cutting edge smartphone software in the form of Google's Android 2.1
one of the most beautiful smartphone user interfaces with HTC's revised Sense UI
The result is a phone that looks beautiful, is incredibly simple to use, infintely flexible, and has the power to push its apps and features to the limit without slowing down.
The Desire is actually a reskinned Google Nexus One (also made by HTC), but taken to a whole new level by HTC, as Sense UI is one of the best user interfaces on the market. So just imagine owning a phone as cool as the Nexus One, with all the features of what Google described as a superphone, but with a user interface that's even more beautiful, respsonsive, and seriously cool. That's the Desire – and I'm starting to see why HTC named it that!
If you're after a smartphone that outshines the iPhone, just go ahead and buy the Desire now. It really is as simple as that.
If you want to know a bit more about the Desire first though, carry on reading!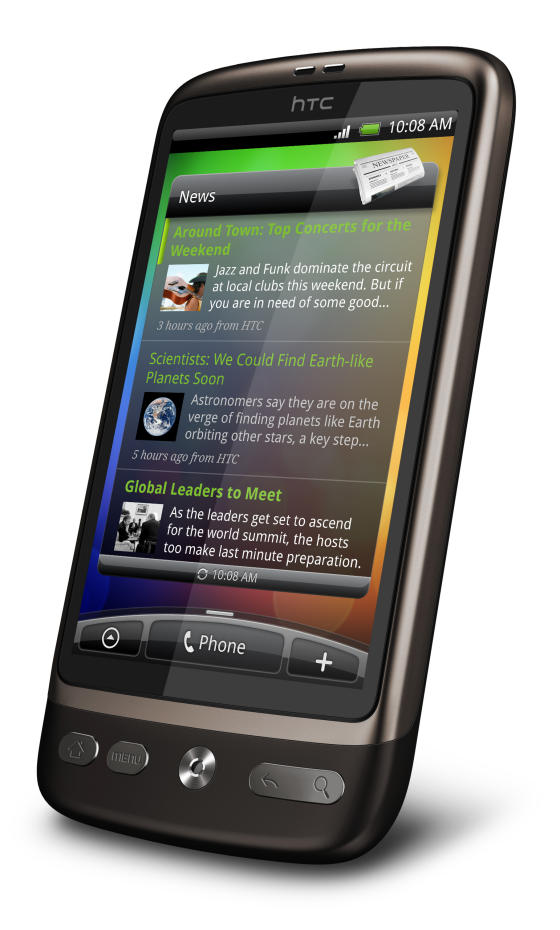 Things you'll love about the HTC Desire
HTC have done everything possible to make the Desire live up to its name. If you buy the Desire, you'll own a phone that'll let you do all of this:
zoom around the globe in stunning 3D with Google Earth
keep track of your entire life thanks to automatic synchronization with GMail, Google Calendar and Microsoft Outlook (via Microsoft Exchange)
view the whole Web, not just the mobile Web – the Desire comes with HTML5 and Adobe Flash, meaning Web sites are displayed as they're meant to, not as a cut down version
navigate the world using Google's turn by turn navigation app that's part of Android 2.1
translate phrases into different languages in seconds
download and stream videos and music thanks to super-fast 7.2Mbps HSDPA download speeds
watch your videos on the Desire's stunning 800×400 pixel screen, complete with 16 million colours and beautiful AMOLED display
record video at DVD quality (720×480 pixels at 30 frames per second)
capture your pics anywhere and share them instantly thanks to the 5 megapixel camera with auto-focus and built-in integration with Flickr, Picasa and a host of other social photo apps
show off to your mates with HTC's Sense UI, a user interface with so much colour, animation, transition effects and gorgeousness that your iPhone-owning friends will hate you!
HTC Desire from the outside
The HTC Desire features a stunning 3.7″ AMOLED touchscreen capable of displaying 16 million colours. The quality of the display combined with the elegance of Sense UI really shouldn't be underestimated. It all helps enrich the user experience for you, making the whole phone a joy to use as you swish through its screens, pinch and zoom into your photos and Web pages, and blaze through its features in a swirling rush of colour and animation.
On the back of the Desire is its 5 megapixel camera with LED flash, while on the side are a few buttons and the microSD card, which can hold up to 32GB of extra storage.
The front of the phone contains a Home, Back, Search and Menu button, as well as an optical navigation key that helps you move across the screen with ease.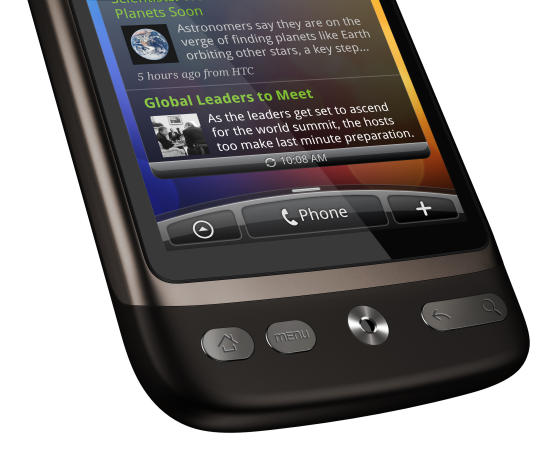 Stunning Sense UI user interface
HTC have been using the Sense UI user interface for some time now, refining it with each new phone they release. With the Desire, they've taken it to the next level. Full multi-touch support lets you pinch and zoom into and out of photos, Web pages, maps and the like, while a whole host of new features have been added to make it superbly usable.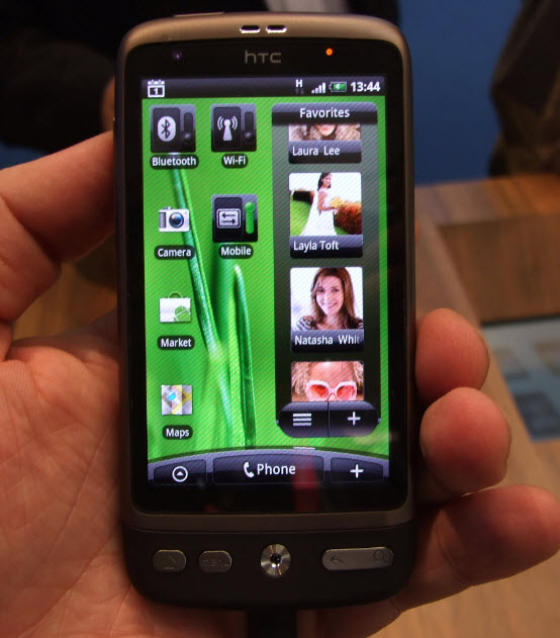 Brand new homescreen
One of the most iconic features about HTC's Snese UI is its default homescreen with the huge clock on the top. This also features icons reflecting the weather outside, which you can set to any country (although it'll default to your current location). As well as an icon showing what the weather itself is doing, you'll also see the temperature and a short range forecast.
A small detail, but an incredibly cool one!

Leaping around the homescreen
HTC homescreens have up to 7 distinct screens that you can scroll between. Although handy in terms of accessing your most used items, it can be easy to lose certain icons. The Desire solves this with a neat use of its multi-touch functionality. Called Leap, you simply pinch anywhere on a homescreen, and you're immediately transported out to a viewpoint that looks down on all seven homescreens at once.
This "helicopter view" as HTC are calling it lets you see exactly where the app is that you're looking for and go to it directly with a simple touch of your finger.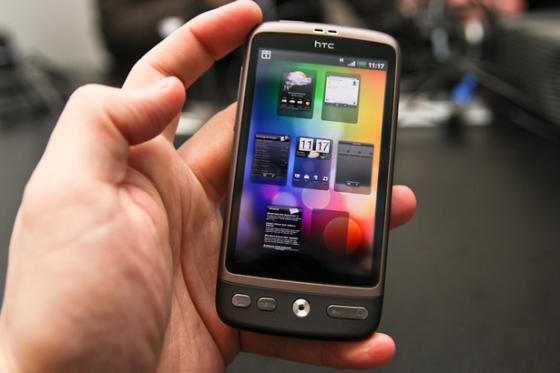 Google Earth and other apps the iPhone will never have
The apps and widgets that are available on the Desire's homescreen are pretty cool. You get a combination of Google's best, courtesy of Android 2.1, and some cool new widgets that HTC created as part of Sense UI.
For example, you get some cracking social media widgets that not only combine Facebook pics with your contacts (like so many other apps), they also let you put your contacts in different groups, and show each group separately.
Ideal if your list of contacts mixes home and work, for example.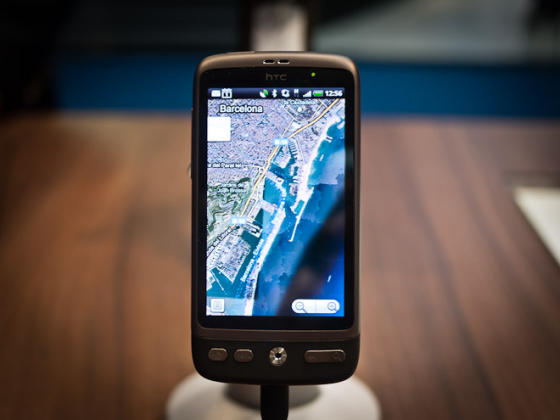 The increased screen size makes the calendar much easier to use than on earlier Android devices, and it can now take up a whole homescreen all to itself, which is perfect if, like me, you're life seems to be driven by your calendar!
Android 2.1 brings with it Google Maps, now complete with Google Buzz, StreetView and turn by turn navigation; and Google Earth, which lets you zoom around anywhere on Earth, with the Desire's accelerometers and compass letting you control where you navigate just by tilting and twisting the phone.
Your iPhone-owning friends have nothing like this – and nor will they, as this is exclusive to Android phones.
Marvellous Mobile Web browsing
The Desire has a cracking Web browser that not only supports the very latest Web standards (including HTML 5), it also offers some innovative new ways of browsing the Web. For example, you can view your bookmarks in a CoverFlow like way (see the video below), scroll back and forth seamlessly between 4 simultaneous windows, and pinch and zoom into and out of a Web page to get a better look.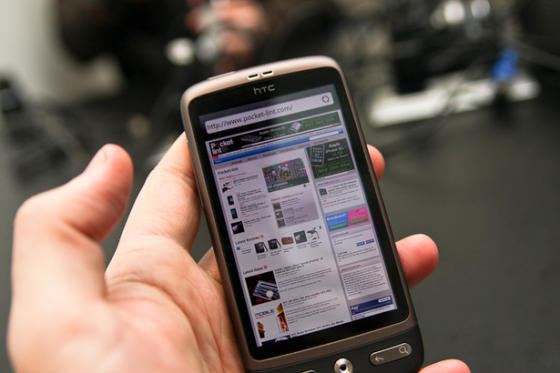 In addition to that, the Desire adds one super nifty feature not seen on any other phone. You can select a word or paragraph of text by long touching it, and Desire will pop up a contextual menu that lets you do the following:
copy the word to the clipboard
share the selected text via email or SMS
take you to the Wikipedia entry for that word
translate the text into its equivalent in a language of your choice
provide a dictionary definition of the word.
One touch translation of any word, phrase or paragraph, from any language to any language. That's pretty impressive.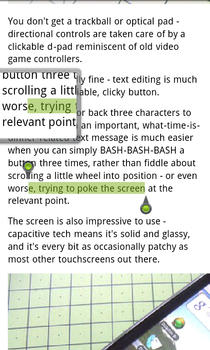 FriendStream
FriendStream is HTC's new social media app that aggregates your Facebook, Twitter and Flickr friends into one app. All your friends updates or tweets from any of these apps are displayed in FriendStream, complete with photos of each friend so you can see at a glance who said what.
Better still, you can separate your friends into different groups, so your friends and their statuses, messages and emails are never mixes with those of your work colleagues.
This is a nice touch, as there's nothing worse than checking your messages to see where your mates are heading for the evening, only to see a nasty message from your boss reminding you of the work you were meant to do!

Multimedia
If you've ever used an old Android phone, you'll be pleased to hear that the Deisre comes with a brand new music player. Not only does it look a lot more stylish than previous Android music players, it also offers a CoverFlow-like preview of your tunes, where you can slide through the art work of your music library to find the tune you're looking for.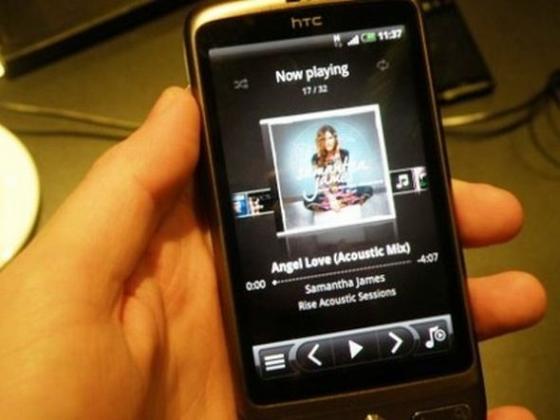 Video, too, is also much better than other Android phones – selecting videos is made much more intuitive, and with the Desire's overall respsonsive and its huge glorious screen, watching videos is yet another area where the Desire shines.
The Desire comes with a 5 megapixel camera with Flash and a video camera capable of recording at 720×480 pixels at 30 frames per second. The camera is very good, with a great user interface giving easy access to all of its controls (see below), and the gallery app is superb. You can upload your pics to Flickr and Picasa with a single click, and also upload your videos to YouTube just as easily.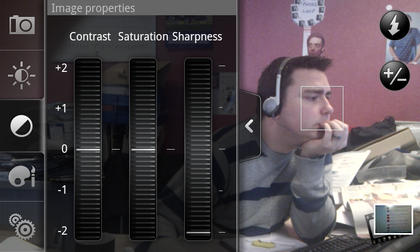 Videos of the HTC Desire
If you're still undecided about the HTC Desire, check out its desirable loveliness in these videos.
Things that aren't so good
The Desire is one of those difficult phones to write a balanced review about, as everything seems to work so dman well! It looks beatiful, it's slim (well, slim for a smartphone!), it's got a beatiful display, its fast and super-responsive, and ti does everything you want a smartphone to do, and a tonne of things besides!
The only thing that could be described as disappointing with the Desire is the quality of the videos it records. They're OK – certainly more than enough for taking your average cameraphone video, and better than the LG InTouc Max, for example – but they're not as good as a feature phone's videos, such as that from the Sony Ericsson Vivaz, for example.
So if you want a phone with first rate video recording abilities, go for the Vivaz or the Samsung Omnia HD. But then presumably, if that's the type of phone you're after, you wouldn't be looking at a review for a phone like the Desire!
Should you buy the HTC Desire?
So, the final conclusion: should you buy the HTC Desire?
In a word – yes! It's a Google Nexus One that's even better than a Google Nexus One! It's faster to use than an iPhone, looks just as good, offers fantastic multi-tasking, and offers features such as Google Earth and one touch translation – all out of the box – that you don't get with the iPhone.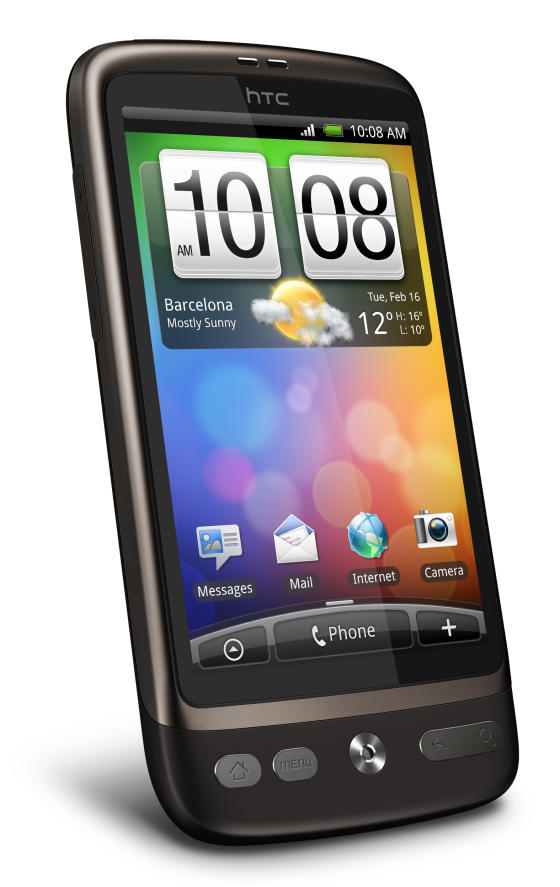 Its display is gorgeous, its processor super powerful, and the whole user experience will have your friends dribbling with envy!
But I think I've saved the best till last. The Desire is one of the top smartphones on the market today, yet it's being sold for a super low price. You can buy a Desire today for free for just £30 a month and get £70 cashback!
In other words, buy an HTC Desire, and T-Mobile will pay you £70!
Or if that doesn't float your boat, there are dozens of other free gifts you can choose from as well.
The HTC Desire has put HTC firmly at the top of the smartphone league, and at this price, it's a top smartphone you can actually afford.
Strongly recommended.
[Pics courtesy of TechRadar, Pocket Lint]