The LG Optimus 2Xis the first dual-core phone in the world. Powered by NVIDIA's mighty Tegra2 chip, it features two 1GHz processor cores pushing it to ridiculous speeds that enables the Optimus 2X to handle graphics and video like no other phone before it.
At least, that's what LG's hype would have you believe. But how true is it? When you look at the specs, you'd think the Optimus 2X must be the best phone of all time. 1080p video recording, 8 megapixel camera, HDMI port, advanced graphics etc. – the list goes on. But does it all add up to a phone that's better than the single core phones of 2010?
That's what I aim to find out with this LG Optimus 2X review.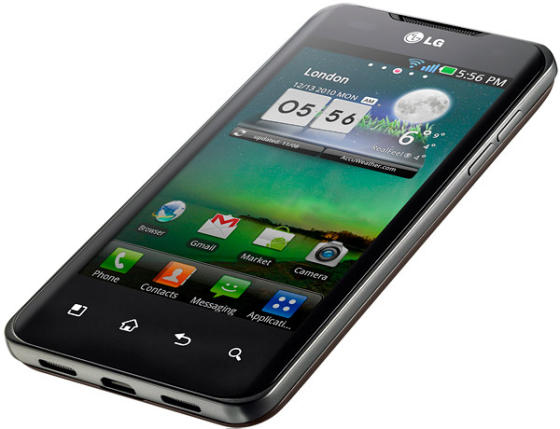 LG Optimus 2X overview
The LG Optimus 2X is LG's first attempt at making a proper high-end Android smartphone. It's Android phones of 2010 were very average and couldn't hope to compete with the Samsung Galaxy S and the phalanx of Android phones from HTC. And they didn't, causing LG's market share to plummet and the company itself facing a heavy loss.
To remedy this, it's betting big on Android for 2011. It's not just making feature-rich Android phones, it's come up with a whole new user interface to take ont he lieks of HTC's beautiful Sense UI.
The result is a slim, elegant looking Androd smartphone with a great looknig – and very usable – user interface. The sleek looks of the front are complemented with the elegant silver stripe of metal on the back, which runs up to the 8 megapixel camera. The HDMI port, 3.mm headphone jack, USB port and stereo speakers are all arranged around the edge of the Optimus 2X, and the rear camera is nicely complemented by the front-facing camera.
OK, so it looks good, and it's by far the cheapest dual-core Android phone on the market, so if that's what you're looking for, go and buy the Optimus 2X now.
But if you're still unsure, let's a have a closer look at its best features.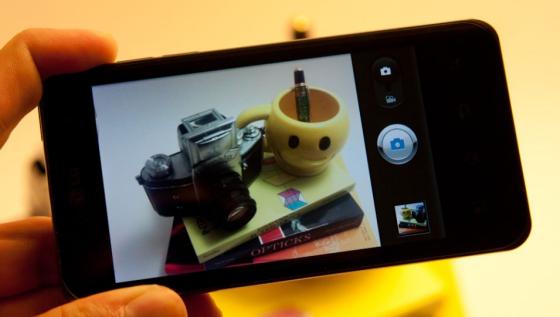 What you'll love about the LG Optimus 2X
Screamingly fast dual-core 1GHz Tegra2 processor gives you bragging rights over any other phone
New user interface lets you control the Optimus 2X with physical gestures
HDMI-mirroring feature lets you view your phone's screen on your HDTV – even pinch-zoom Web pages, photos and Google Maps on your giant HDTV
Browse the Web on your TV thanks to the Optimus 2X's HDMI-out port and HDMI mirroring
Stream Full HD 1080p video directly to your TV
Fantastic video capture quality, with the ability to record video at Full HD 1080p at 30 frames per second
High performance rear-facing 8 megapixel camera with autofocus and LED flash
Take great looking photos more easily with smile- and face-detection, touch focus and image stabilization
Super-responsive multitasking lets you switch from app to app with hardly any delay
View your pics and videos on your HDTV wirelessly with the Optimus 2X's DLNA support
Runs Android Froyo 2.2, with Android Gingerbread coming later in 2011
Good battery life, with a large 1500mAh battery and reduced power consumption
Large 4″ LCD screen
Full range of sensors, including GPS, proximity sensor, accelerometer, gyroscope and compass
Wow! I remember the time when a phone's list of features would proudly shout "MP3 player"! Now here we are with a dual-core phone with true HDMI mirroring and 1080p Full HD video recording!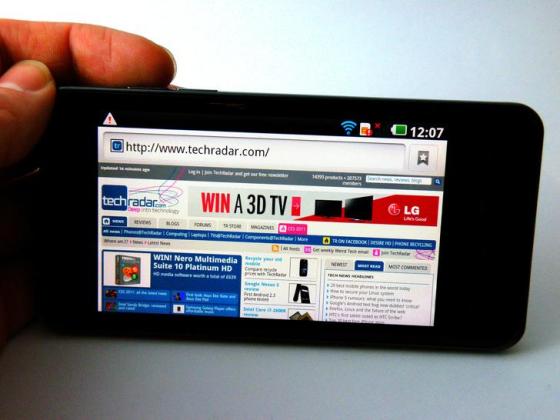 But that's what the Optimus 2X is all about: raising the game. We've gone from phones that were good in most areas, to phones that absolutely shine in all areas. Now with the Optimus 2X, we have a phone that's so powerful, the only thing that can spoil it is the new user interface that LG has created!
And LG wouldn't do that, would it?
Would it!?
LG's new user interface
LG has created an entirely new user interface for the Optimus 2X, which fortunately is a huge improvement over the inteface it's used on its previous Android phones. The company's developers have gone through the whole interface with a fine toothcomb and either refreshed it completely or just given it a few nice tweaks, with the end result being an experience that's much more polished, and much more of what you'd expect from a top-end device.
Here are some of the niifty new features the company has added:
Gesture control – the interface is now brimming with gesture control, which lets you control the phone by physically interacting with it. For example, if you want to adjust the cursor when editing text, you can simply tap the side of the phone and the cursor will move in the opposite direction. You can also control your music through physical gestures as well.
Customizable home screens – LG has adopted the "helicopter view" approach of displaying its 7 homescreens, whereby the current homescreen can be zoomed out to reveal all 7 homescreens underneath. You can add whatever widgets or apps to the homescreen, and easily move them from screen to screen
Dynamic app folders – LG has made the process of managing your apps much easier. Rather than being presented with a singl elist of dozens of app icons, you can organize them into categories, rearrange them, and even have them presented in a vertical list or a horizontal one.
New Widgets – LG has included a number of widgest with the LG Optimus X, which you're free to add to your homescreen wherever you want. There's a bookmark widget, for example, which manages your collection of web bookmarks.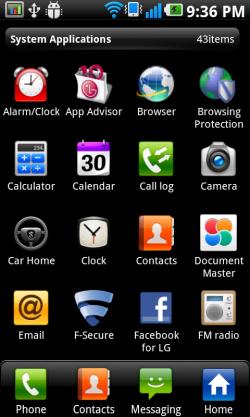 All that only scratches the surface, though. The Optimus 2X is now on a similar level to the likes of the Samsung Galaxy S and the Motorola Droid in terms of its interface. It's still not as good as the HTC Sense interface, or Sony Ericsson's new interface for that matter, but it's certainly good enough.
The amazing things you can do with a dual-core Tegra2 chip
What you really want to know about the Optimus 2X, though, is just what it can do with its super-powerful Tegra2 chip powering things. Well, just check out some of these features.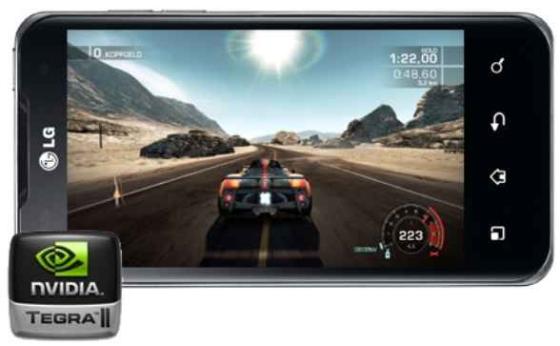 Camera and video features
The Optimus 2X is packed to the gills with media features. With an 8 megapixel camera and 1080p video camera, it's capable of taking some great shots and videos.
There's also a front-facing camera for video calling. This is a 1.3 megapixel camera, but obviously it doesn't need to be as high-specced as the rear camera, as it's designed to be used for video calling. Frankly, I can't see video calling taking off any more than it did when it was first introduced on 3G phones back in the early 2000s, but at least you'll be able to take better self portraits than the "arms-out" look so beloved of the MySpace crowd!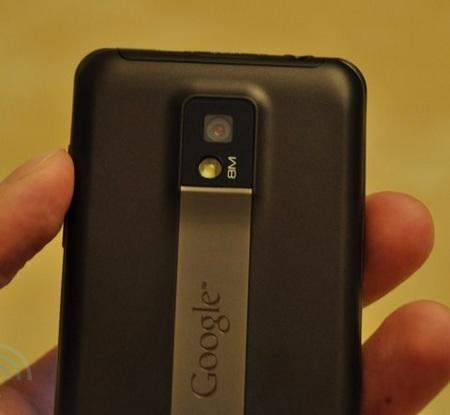 The video capabilities are excellent, with video being captured in really good quality. It's not great quality – the term 1080p can make you think the pictures will be stunning, but the colours aren't as vibrant as they could be – but when you consider this is 1080p Full HD video from a phone, the quality of the video is simply superb! It's obvious that the Tegra2 really shines when it comes to video processing.
HDMI Mirroring
One of the things I love about the Tegra2 chip powering the Optimus 2X is its ability to mirror the phone's screen on a full-size TV. The entire user interface is mirrored onto the screen, and some of the apps looking fantastic when blown up onto a 40″ screen.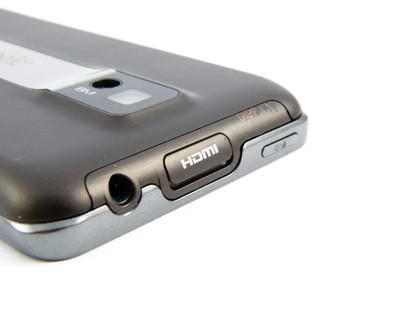 The gallery, for example, looks fantastic, and the Optimus 2X is easily capable of throwing photos around the screen with just a swipe without any delay. Games, meanwhile, take on a completely new dimension, as they're blown up to the size of your TV, really showing off the quality fo the graphics and the power of the Tegra2, while the Optimus 2X can be used as motion-controlled game controller.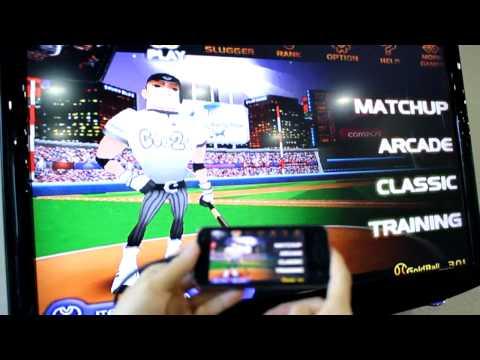 One really cool feature of HDMI mirroring, though, comes from Web browsing on your TV. Because the TV shows everything that the Optimus 2X's screen shows, when you browse the web on the phone, it's instantly reflected on the TV. You can therefore effectively use the Optimus 2X as a touchscreen remote control for the Web, with the full web experience – including HTML 5, CSS3 and Flash 10.1 – displayed on your TV.
It's how the Web was meant to be seen!
NVIDIA Tegra Zone
Because the Optimus 2X features the dual-core NVIDIA Tegra2 chip, NVIDIA's new TegraZone app is pre-installed. This gives you access to a curated list of premium games that work best on a dual-core phone.
And the Optimus 2X really does play games at a whole different level from previous games. Full 3D graphics are supported with super-fluid motion and an extremely responsive interface.
You can see some of the games being played in the videos below, which will give you a much better idea of how powerful the Optimus 2X's graphic-handling capabilities are.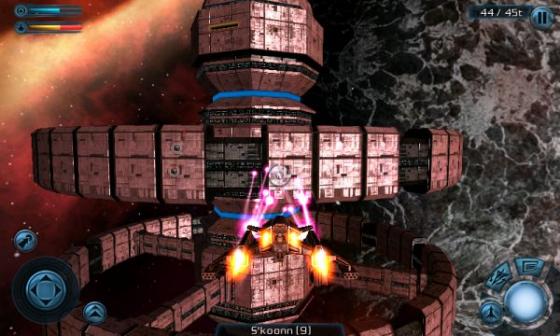 Things that aren't so good
OK, so it's all sound pretty good, but what are the downsides to the Optimus 2X? Well, the biggest would have to be that you don't notice any huge difference in performance from some of the more powerful single-core processors. For example, although the way it handles videos and photos is very slick, Web pages, Google Maps and other day-to-day apps all run at pretty much the same pace as an HTC Desire HD or Google Nexus S.
That's not to say it's slow – far from it! But you're left with the feeling that there's a Ferrari underneath but a hot hatch on top! It could be much faster, and that's frustrating.
Another negative is the new user interface. It's not that it's bad: it's loads better than LG's previous efforts, and is now on a par with Samsung's TouchWiz interface used in the Galaxy S. It's just that it's still not a great user interface, adnd for a premium phone, that's what you'd expect.
That said, these are extremely minor complaints, and they're certainly not deal breakers.
Video reviews of the LG Optimus 2X
Here's the Optimus 2X in action to give you a real feel for what it's like.

Should you buy the LG Optimus 2X?
The LG Optimus 2X is certainly the phone that should have LG moving back into the black after its dismal performance last year. It's in a completely different league from any other LG phone, and in a performance league all of its own – at least for the moment! Its giant dual-core processor gives it features such as 1080p recording and HDMI mirroring that simply couldn't be achieved in 2010, making this the first of a new generation of stand-out smartphones that are already making last year's phones look old.
However, I have a feeling that when the other dual core phones are released, such as the Motorola Atrix and in particular the Samsung Galaxy S II, the Optimus 2X will start to look a little underwhelming. The Galaxy II S will be faster and its features will be even stronger, while the Atrix has the nifty trick of doubling up as a laptop, which is a pretty unique selling point!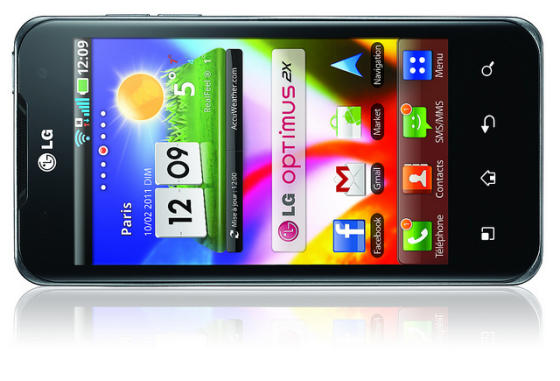 Fortunately, by the time these new phones come on the market, LG will be in a position to reduce the price of the Optimus 2X, and so it can compete on value.
So my advice, then, would be to buy the LG Optimus 2X now only if you absolutely have to have a dual-core phone right now, or if you need to upgrade now and you want the fastest phone on the market. Or if you just want the cheapest dual-core phone on the market, then buy the Optimus 2X, as it's genuinely good value and is likely to remain the cheapest dual-core phone for some time.
If you can wait, you'd be better served by some of the other phones that will be released by the end of April, but they will, of course, be more expensive.
Overall, though, the Optimus 2X is a fantastically powerful phone, and LG should be rightly proud that they've created a worthy challenger for the title of best Android phone of 2011. It won't win by the end of the year, but right now, it's completely unchallenged!