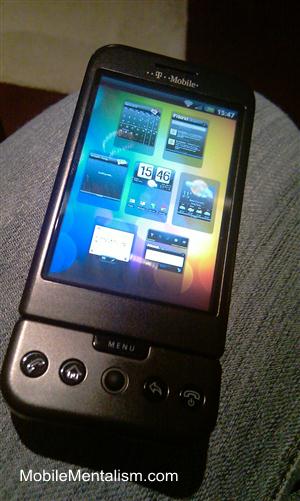 The T-Mobile G1 has to be one of the of the most versatile mobile phones ever to be released. Although it's now nearly two years old, Google's first ever Android phone has been hacked and modded like no other phone before – or since!
Here, for example, is a pic of the G1 running the HTC Legend, HTC's latest Android phone. As you can see, HTC's glorious Sense UI is running to great effect, and surprisingly, the G1 doesn't struggle too much with the extra shiny goodness of HTC's latest user interface.
In part, this is beacuse the G1 already has a fairly good processor underneath – it's 528MHz Qualcomm chip isn't that much slower than the Legend's 600MHz chip. But mostly it's because both Android and HTC's Sense UI have been optmised for much greater efficiency since the G1 was first launched.
It's not just the G1 that's this versatile – pretty much every HTC phone is just as moddable, which is another reason why I like them so much!
And speaking of the Legend, I should have a review of it for you very soon.
Thanks, as always, to @terminal7 for the pic.