Nokia have just announced the Nokia X5-01, a rather curious looking yoof phone that's designed for text-happy youngsters who can't afford don't want a touchscreen smartphone.
The X5-01 is completely square, with a slide-out QWERTY keyboard (or keymat, as Nokia calls it) that's similar to Nokia's E-Series business phones.
In no sense is this a business phoen, though. Rather, it's a phone pitched squarely (forgive the pun!) at youngsters who want to text, Tweet and update their status a lot, as well as listen to music, take pics, and everything else you'd expect the yoof of today to do.
In a sense, it's a business phone for teens whose is social media. Does that mean it's any good? Well, let's find out!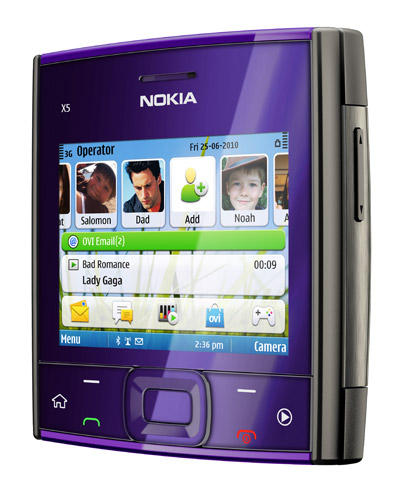 Nokia X5-01 Overview

The Nokia X5-01 comes with the same spec as every other Nokia phone has come with since the N95:
5 megapixel camera with LED flash
Wi-Fi
Bluetooth
3.5mm headphone jack
Symbian S60 OS
Quad-band GSM
Tri-band HSDPA
microUSB
There's no GPS unit, though, and the non-touchscreen display is tiny, at just 2.36″.
The music player is one of the X5-01's strong points, though, with excellent sound quality, built-in loudspeakers, and a variety of gesture controls that let you control your music by doing "whacky" things such as shaking the phone or spinng it round.
Speaking of whacky (and please understand that I'm using the term ironically!), Nokia have further added to the zaniness (still ironic!) of the X5-01 with the colour scheme, which lets you choose either black or one of five shades of hideousness.
Probably the greatest strength of its odd looking phone is its messaging abilities. Nokia have included an email client that supports multiple email services (including GMail and Hotmail), support for several Instant Messenger apps, and integration with Facebook, Twitter, Hi5 and MySpace.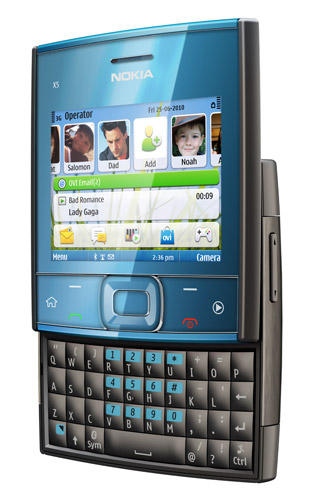 Scraping the barrel of the N95 parts bin
You can look at the X5-01 in two different ways:
an innovative new approach to marketing phones to teens, offering them a socially-connected phone that acts like a business phone, but for the business of social media
a cynical way of extracting the very last dying embers of the N95's old technology by packaging the same features that we've seen in dozens of Nokia phones into yet another form factor.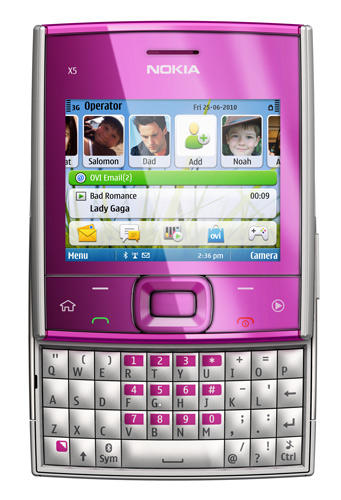 Which way you choose to look at it, I guess, will depend on how old you are, how much money you have (the X5-01 costs 165 Euros, so is very affordable), and just how cynical you've become with life!
The Nokia X5-01 release date is set for Q3 2010 – in Indonesia of all places, with other markets expected to follow suit afterwards.