The Samsung Galaxy S has just launched and already Samsung has a new variant just waiting in the wings. Called the Samsung Galaxy S Pro (or the Sprint Epic 4G as it'll be known in the US), the new phone is basically the same as the Galaxy S, but with a new physical QWERTY keyboard.
Latest news has it that the Galaxy Pro S release date will be August 20th.
This is excellent news. Not only is the Galaxy S Pro shaping up to be a cracking phone in its own right, but with the T-Mobile G1 Blaze also sporting a QWERTY keyboard, it seems that full physical QWERTY keyboards are making a bit of a comeback.
Which is excellent news for those of us who use our smartphones for emailing, texting, blogging, etc!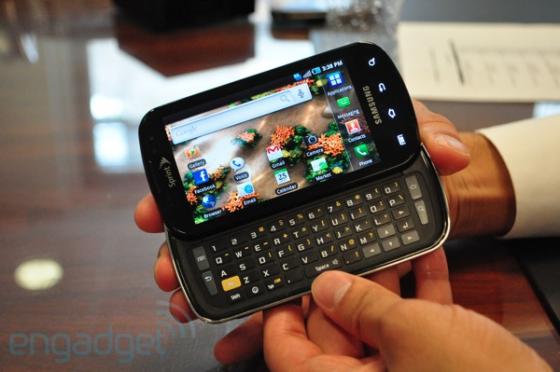 Samsung Galaxy S Pro overview
But what of the Galaxy S Pro as a phone? Is it any good?
In a word, yes. In fact, it's fantastic! With Samsung's 1GHz Hummingbird processor driving Android 2.1 (soon to be upgraded to 2.2), plus a new refined version of Samsung's TouchWiz user interface running on top, the phone is extremely responsive and looks super-cool.
The Galaxy S Pro has Samsung's legendary crystal clear Super AMOLED screen, a front facing video camera, 4″ screen and a 5 megapixel camera.
But enough of the specs! What's it like in action?
Well, just check out the video below and see for yourself.
See how fast and responsive the interface is to use, not to mention the quality of the screen when it comes to video playback.
The keyboard looks extremely usable as well.
Samsung took a while to get going with Android, but they now seem to be firmly backing the OS, and with the Galaxy Pro S, they've created a new Android phone set to challenge the best Android devices from the likes of HTC, Motorola and Sony Ericsson.
[Source: Engadget]