Is this a leaked photo of the forthcoming HTC Desire HD2? It's a tasty looking phone currently called the HTC Pyramid (on the left in the pic, next to a standard Desire HD), and it's got features to die for, assuming the rumours released today are true. Those rumours are an extension of previous Desire HD2 rumours, but are now backed up by a solid photo showing that this phone, whatever it is, is very near to release.
It seems to be a cross between the new Evo 3D that HTC announced today and the existing Desire HD, with no 3D but a better 2D camera. In many other respects, its specs are very similar to the Evo 3D, which is great news as the Evo 3D is a superbly powerful machine!
So what can we expect from what I'm calling the HTC Desire HD2?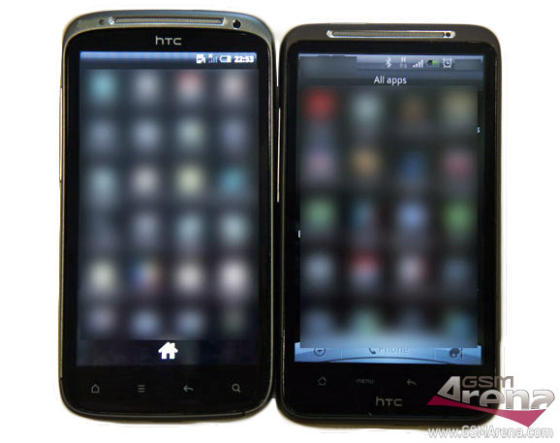 HTC Desire HD2 specs
In many respects, the Pyramid is the successor to the Desire HD. Take a look at these specs and you'll see what I mean:
1.2GHz dual-core processor
4.3″ qHD screen
8 megapixel camera
1.3 megapixel front-facing camera
DLNA
Sense UI 3.0
768MB RAM
Android 2.4
Taking these specs one by one, the screen is the same size as the Desire HD, but has a much greater pixel density, which should lead to a much greater resolution, making the screen much easier on the eye.
The camera is the same as the Desire HD's and notably better than the new Evo 3D that HTC has just launched (although it doesn't appear to be 3D of course!)
The 1.2GHz dual-core processor is also very welcome, and it should make the Pyramid absolutely fly. In many ways, the Pyramid is a very similar phone to the Evo 3D but without the 3D and with a better camera – which is pretty much what the Desire HD was to the original Evo.
So what do we think HTC wil lcall the Pyramid when it's launched? Desire HD S or Desire HD2? The company has been using both suffixes recently, but my money's on Desire HD2 as with its dual-core processor, the Pyramid seems a step up from the original Desire HD.
No news yet on release dates or anything useful like that, but it shouldn't be too long before we see it in the shops.
[Source: GSMArena]