Samsung has been showing off its new Samsung Galaxy Tab 8.9 tablet at CTIA 2011, a new, smaller version of the now-thinner Galaxy Tab 10.1. Handily, Samsung is naming its tablets after the size of the screen, so the Tab 8.9 obviously has an 8.9″ screen!
Samsung had previously stated that it would be releasing a variety of tablets with different screen sizes, simply because although it assumes 10.1″ is the optimal size, nobody is quite sure, and it's better to let the market be the ultimate decider! So the new Tab 8.9 is the first tablet to give the market more choice outside of the current 10.1″ size shared by the likes of the Galaxy Tab 10.1 and the Motorola Xoom, and the 7″ size of the original Galaxy Tab and HTC Flyer.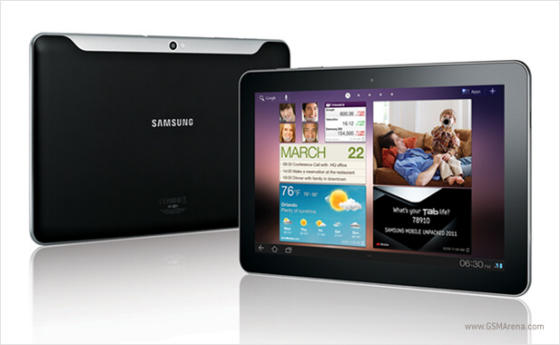 Samsung Galaxy Tab 8.9 features
Regarding features, the Galaxy Tab 8.9 has pretty much exactly the same set as the Galaxy Tab 10.1. The only difference really is in the size of the screen. So if you buy either tablets, this is what you can expect:
1GHz dual-core processor
Samsung's new PLS display tech, which gives even better image quality than the iPhone4's retina display
21Mbps HSPA+ download speeds
3 megapixel rear facing camera
2 megapixel front facing camera
720p video recording
WiFi 802.11 a/b/g/n
Android Honeycomb
microSD card slot
microUSB slot
16GB – 32GB of onboard storage
GPS, accelerometer, proximity sensor, ambient light detector
It's a great set of features that should make the Galaxy Tab an excellent device to use. The only question is which version do you get – the 10.1″ or 8.9″?
The Samsung Galaxy Tab 8.9 release date is set for "early summer", priced $469 for the 16GB Wi-Fi only version.
[Source: GSMArena]