LG has also launched the LG Optimus Pad at MWC 2011, the company's first foray into tablets (it also released the T-Mobile G-Slate, which is exactly the same tablet, but destined for the US market). The Optimus Pad is an 8.9″ tablet featuring Android 3.0 Honeycomb, and so will compete directly with the likes of the Motorola Xoom and Samsung Galaxy Tab 10.1. Where it differs singificantly from these other tablets, though, is in the use of 3D.
Yes, just as with the Optimus 3D smartphone that was also launched today, the Optimus Pad has a 3D mode as well.
Is it any good though? And what else does the Optimus Pad offer over its rival tablets?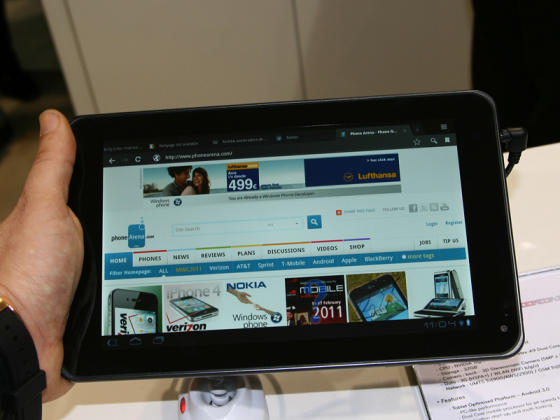 How good is LG Optimus Pad's 3D feature?
The LG Optimus Pad is an 8.9″ tablet, which contrasts with the 7″ Samsung Galaxy Tab (which LG rightly claim is too small) and the 10″ Motorola Xoom and Samsung Galaxy 10.1 (which LG claims is too big – not sure about that myself, though).
Its main claim to fame is its use of 3D, but unfortuantely it doesn't use it very well. There are two lenses on the back for taking 3D pictures, but unlike the Optimus 3D smartphone, you need glasses to see the 3D effect on the Optimus Pad's screen
And not just any glasses either – those same red and blue glasses you used to use in the cinema in the '50s!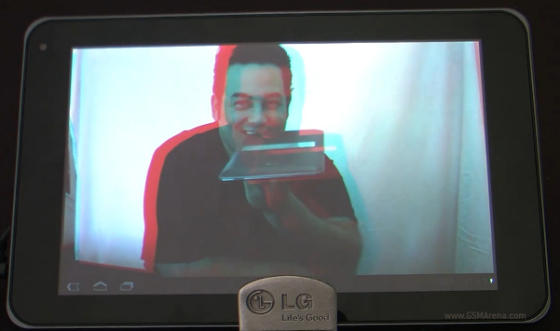 Unfortunately, it seems LG is still churning out features just for the sake of features, even if they don't work all that well.
In the case of the Optimus Pad, it doesn't support the same glassesless 3D abilities as its smartphone brother, the Optimus 3D, because its screen is much larger, and the dual-core Tegra2 chip powering the screen isn't up to the challenge of driving a 3D screen that big.
In addition, having the same auto-stereoscopic 3D screen as the Optimus 3D would add significantly to the Optimus Pad's cost, and the result would have been too poor to be usable, as the Optimus 3D's screen resolution drops dramatically when used in 3D mode. That's not too bad on a 4″ screen, but on a 9″ screen, it's not only noticeable, it renders the screen unusable.
Other features of the Optimus Pad
3D aside, the Optimus Pad is actually a great tablet. Actually, it's virtually identical to every other Android tablet, even down to the dual-core NVIDIA Tegra2 chip and stock Android Honeycomb OS.
One area where the Optimus Pad really does shine, though, is with Web browsing. The speed at which you can zoom into and out of Web pages with the standard pinch-zoom movement has to be seen to be believed.
In fact, you can see it, in the video below!
As a browsing exerience, then, the Optimus Pad is superb. However, it's just as good as any other Android tablet as they all share the same hardware underneath. To really see which tablet is best, we'll have to wait until they're all released.
The Optimus Pad may win out as its smaller screen may mean it has a quicker user interface, simply because there are fewer pixels to move around. However, its 3D features hobble some of its other features. Its camera, for example although being a 3D camera, can only take 2D photos at 5 megapixels, which is significantly less than the Samsung Galaxy Tab 10.1's 8 megapixels.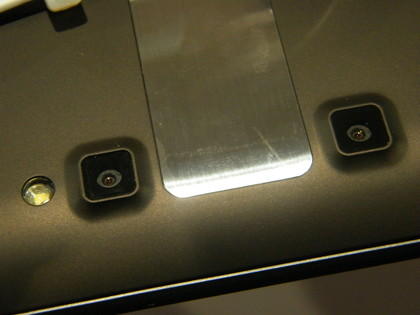 On the positive side, though, the Optimus Pad does come with an HDMI-out port for connecting directly to your HDTV. And if you happen to have a 3D HDTV, you can stream 3D video to the TV where you can watch it in much better quality than you can on the Optimus Pad itself.
And as you can record video at 720p HD in 3D on the Optimus Pad, that means you've finally got a way of creating your own 3D videos without spending thousands on a dedicated 3D camcorder.
Summary
The LG Optimus Pad, then, is a mixed bag, just like the Optimus 3D. However, although gimmicky, 3D on the Optimus 3D actually works reasonably well, whereas on the Optimus Pad, it's a technological step too far.
Unless screen size is a factor for you, the Samsung Galaxy Tab 10.1 and Motorola Xoom seem better propositions at the moment. However, I'll reserve judgment until they're all released, which should be from March onwards.
[Source: PhoneArena]