Slider phones include a physical QWERTY keyboard underneath the phone that slides out. Less business-oriented than the Business Phones of the previous page, they're nonetheless extremely capable phones for both consumers and business.
4. Sony Ericsson Neo Pro
The Neo Pro is the successor to last year's Vivaz Pro, but blows it away in almost every department. With the same QWERTY keyboard that slides out from the phone in landscape mode, the Neo Pro uses the far superior Android Gingerbread OS, whereas the Vivaz was hobbled by Nokia's tired old Symbian OS instead.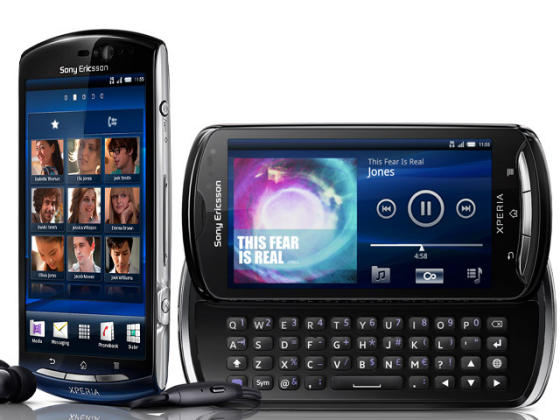 The Neo Pro comes with Sony Ericsson's excellent Mobile BRAVIA Engine for superb picture quality, Exmor R camera technology for excellent low-light level photos from its 8 megapixel camera, and Sony Ericsson's gorgeous new user interface that's been heavily revised since the Xperia X10.
It's a responsive, good looking, well-equipped smartphone that truly offers the best features of a touchscreen phone with the speed of input of a QWERTY phone. Add to that the quality of the features, and the Xperia Pro is a hard phone to beat.
Best for: the touchscreen smartphone lover who can't quite let go of the physical QWERTY keyboard
5. Sony Ericsson Xperia Mini Pro
Think of the Xperia Mini Pro as a Neo pro in miniature. It's a cut-down Android smartphone that's cut down only in size, not in features. It still packs a 1GHz Snapdragon processor, the glorious Sony Ericsson user interface, and the same Mobile BRAVIA engine screen technology as the Neo Pro, while Android Gingerbread 2.3 powers this touchscreen beauty's whole user experience, giving you access to all of Android's hundreds of thousands of apps.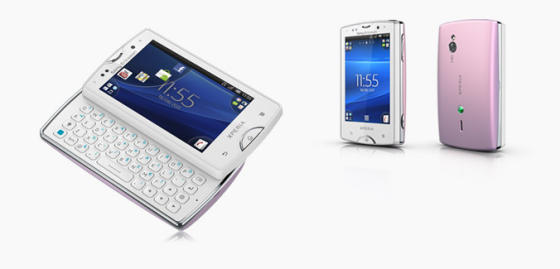 Its camera's smaller at 5 megapixels and without the Exmor R tech that the Neo comes with, but if you're looking for a fully featured Android QWERTY phone that won't break your pockets, this is it.
Best for: Size-conscious Android lovers
6. Dell Venue Pro
The Dell Venue Pro is a Windows Phone 7 device with a slide-out QWERTY keyboard. Unlike other sliders, though, the Venue Pro's keyboard slides out from the bottom in portrait mode, rather than the more typical landscape mode. This does make the keyboard more cramped than a landscape phone, but at least the slide-out feature means the screen, at 4.1″, is much larger than the non-sliders such as the Blackberry.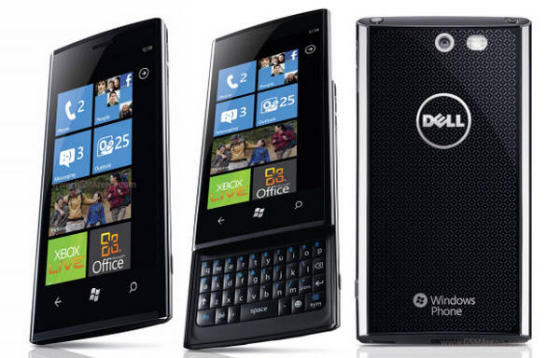 In all respects, the Venue Pro is a typical Windows Phone 7 device. That is, it's just like every other Windows Phone 7 device, but with a keyboard! For business purposes, this is a good operating system to use, offering a nice balance between business-oriented features and more customer-centric features that you'd expect from a smartphone such as the iPhone.
The downside, though, is the over-reliance on Microsoft services, such as the Bing search engine, which isn't in the same league as Google.
The Venue pro is extremely robust, which is a bonus if it's going to get heavy use, but this comes at a cost – it's a huge phone and extremely heavy, at nearly 200g. Worse, the physical keyboard is cramped and actually worse than the virtual it comes with, making the physical keyboard a liability.
All that said, with a great screen, great features and a fast and responsive OS, the Venue Pro is worth considering, particularly as it's ridiculously cheap.
Best for: touchscreen business users on a budget
7. HTC 7 Pro
The 7 Pro is another Windows Phone 7 device, and so is virtually identical in operation to the Dell Venue Pro. The reason for this is that Microsoft insists that Windows Phone 7 manufacturers cannot alter the OS, with the result that only way one Windows Phone 7 device can stand out from another is via the hardware.
Hence the HTC 7 Pro's slide-out keyboard, as most of the other Windows Phone 7 devices are purely touchscreen.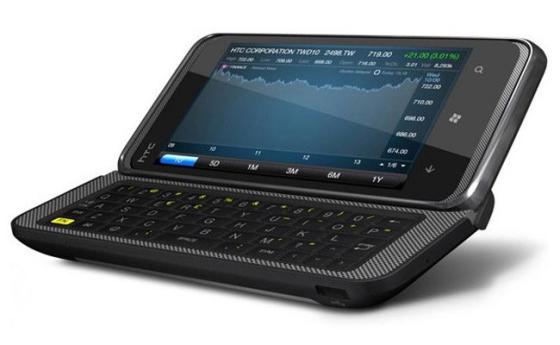 Where the Dell Venue Pro has a portrait-based slide out QWERTY keyboard, though, the HTC 7 Pro has proper landscape-based slider, giving a much wider QWERTY keyboard that's easier to type on. Note that it's not easy, though – just easier, as the spacebar is in such an horrific position, it actually makes typing harder than on the virtual keyboard of the touchscreen!
With the new Windows Phone 7 Mango update now available, phones such as the HTC 7 Pro are much more attractive propositions than they were before, but you still have to be an ardent Microsoft fan to use one. You have no choice but to use Microsoft's services, whether that be Bing, Zune or Xbox.
If you prefer more of a choice, then this phone isn't for you. If you are a Microsoftie, though, and you love QWERTY keyboards, your choice is this: the Venue Pro with a larger screen, or the HTC 7 Pro with a larger keyboard.
Decisions are never easy are they?!
Best for: the Microsoftie QWERTY lover with fat fingers!