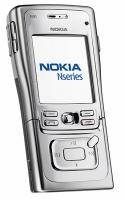 2004 was clearly the year of the mobile phone camera, with resolutions reaching the useable 1 megapixel limit, and SonyEricsson and Nokia releasing phones with cameras that actually took decent pictures. Now, though, fashion has moved on. The mobile phones still have their digital cameras, which of course have improved with 2 megapixel being the norm now, but the big handset manufacturers have clearly decided that this year is the year of the mobile music player.
SonyEricsson fired the first salvos with the W800i, to be released at the end of August 2005. Motorola have been teasing the faithful with an official iPod phone. Now, Nokia fires back with the very tasty looking N91, a new phone with 2 megapixel camera and storage space for up to 3,000 tunes via an in-built hard disk.

Yes, blowing the SonyEricsson's Walkman-branded W800i out of the water, the Nokia N91 offers 8 times the storage capacity of the Sony with a 4 Gig hard disk. Better yet are the different ways of sharing music. Not only can music be downloaded over the air (via GPRS, EDGE, or 3G networks), via Bluetooth, or through direct PC connection via cable , Nokia also offer the ability to transfer MP3 files from your PC via email and WLAN.
This last option is particularly impressive, as more and more homes now have WLAN, and the speeds offered far outpace Bluetooth. Imagine going round to your friend's house, browsing his music collection on your phone over his WLAN, and downloading what you want? Is it me, or Nokia totally get what people want? Last year belonged to SonyEricsson I thought, as the Nokias clearly lost the plot in terms of style and features. But this year, Nokia are back with avengeance!
Other features include FM radio (naturally!), integration with online music stores, mixer, 8-band equalizer, record music from your hi-fi direct to the phone's hard disk, USB, MPEG4 video streaming…mmmmmmmmm :) Blimey, this is one tasty handset! Expect it at the end of 2005. SonyEricsson Walkman's puny 512MB – Pah! Already so last year!