Want to know what's better than the 1GHz quad-core Tegra3 chip I wrote about a few days ago? A 1.5GHz quad-core Tegra3 chip that can output Blu-ray quality video, that's what! And amazingly, it's set for release – not samples, but actual models in actual phones – in Q4 of 2011!
And that's not all. NVIDIA, the company behind the Tegra family of mobile super-chips that are currently powering the new generation of dual-core superphones that will be released from next month, has also got another new chip set to be released in a month or so's time.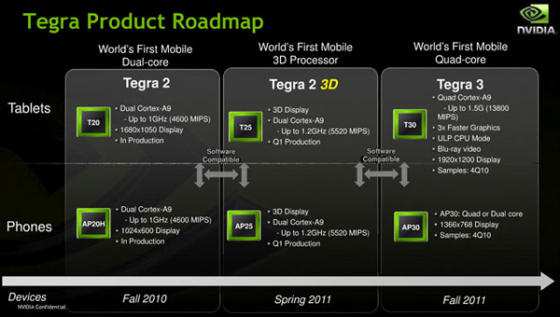 Aggressive Tegras
This new chip is the Tegra2 3D, which, as its name suggests, is capable of rendering a 3D display, as well as being 25% faster than the existing Tegra2 chip.
NVIDIA have really started to apply the heat on their competitors this year with a seriously aggressive pace of innovation. From the first dual core chips running at 1GHz in the early part of the year through to 1.5GHz quad-core chips with 3x faster graphics at the end of the year, they're going to take some beating!
Now what can we do with a mobile phone with a 1.5GHz quad-core tablet inside?!…
[Source: Engadget]