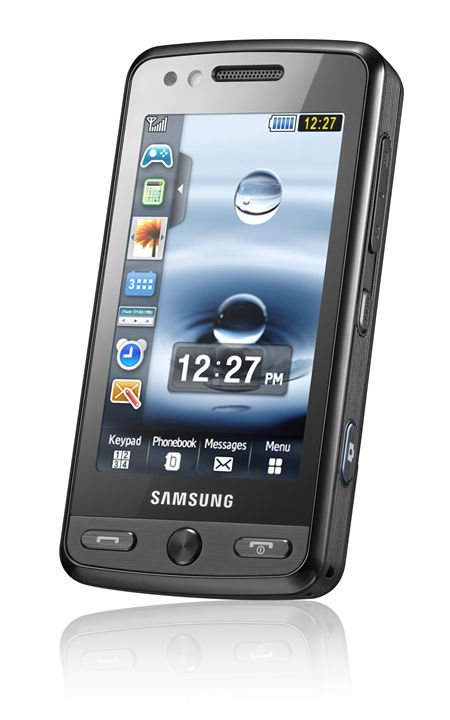 I thought it was about time I did a Samsung Pixon review, as I missed the initial announcement of this monster 8 megapixel cameraphone, and the Pixon looks like it could become the most advanced camera phone on the market. As you'd expect from a top-end Samsung cameraphone, the Samsung Pixon has a huge range of features, some of them straight from a dedicated digital camera.
Samsung are serious about the Pixon. They see it as a genuine challenger to Sony Ericsson's CyberShot brand of camera phones, and so are using all their digital camera experience to create a new range of high end camera phones based on the Pixon brand.
But enough of the background. What about the phone? Read on for initial Samsung Pixon M8800 review.

Samsung Pixon Overview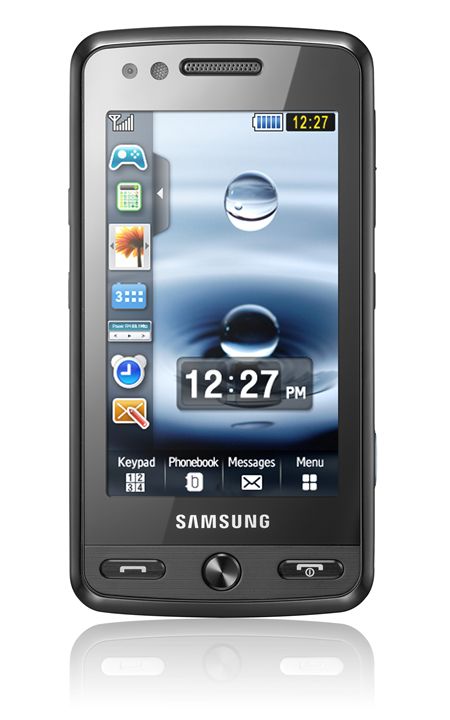 The Samsung Pixon is a camera phone that's been designed from the ground up to be the best camera phone on the market. Not content with fitting it with a huge 8 megapixel, Samsung have also equipped the Pixon with GPS, 7.2Mbps HSDPA, DivX support, a fantastic screen, an upgraded version of their TouchWiz touchscreen user interface, and more camera wizzardry than you knew existed.
The Samsung Pixon's exterior
With so many features in the Pixon, you'd expect it to be a bit bulky, but not a bit of it. The pixon is just 13.8mm thin, which compares favourably with the Nokia N96 (18mm) and the Sony Ericsson C905 (18.5mm), both of which will be the Pixon's main competitors.
The Pixon is a touchscreen phone with no stylus or keys except for the usual call connect/disconnect and a cursor button. The phone's front is dominated by a huge 3.2″ screen that can display 262,000 colours (16 million would have been better, but hey, you can't have everything!)
Samsung Pixon Camera

The camera and its functions are what everyone's raving about with the Pixon. Sure it's 8 megapixels, but size isn't everything. Fortunately, Samsung realize this, and so have added the following huge array of camera features to the Pixon to ensure you get the best pictures for the minimum amount of fuss:
8-megapixel camera with Auto focus
Digital zoom (X16)
Dual Power LED Flash
ASR (Advanced Shake Reduction)
WDR (Wide Dynamic Range)
Face Detection, Smile Shot, Face Link (face tagging),
Geo-tagging, Auto Panorama Shot, Photo memo
Photo Browser (Accelerometer Sensor, Tilt and flip,
Sorting by Face/Time/Color/Folder)
The Dual Power LED Flash is the same type as that used by the N96. It's not quite as powerful as a Xenon flash, but it doesn't drain the battery as much either, and it's quicker to recharge, meaning you can continue taking photos in low light after your initial snap.
Face detection, smile shot and Face Link are innovative features that help you take better pictures of people. Face detection automatically focuses on a person's face; Smile Shot goes one better and focuses on their smile; and Face Link lets you tag a face with the person's name, so you can search through your photos by their face and name.
Samsung Pixon Video camera
You can record full frame video with the Pixon at DVD quality (30fps at 720 x 480), or an incredible 120fps at QVGA picture size, which enables you to take slow motion pictures at speeds four times slower than real life.
The Pixon also supports a wide range of video formats, including MPEG4, WMV, DivX, and XviD, letting you watch videos no matter what format they're encoded in (well, apart from those encoded in formats it doesn't support!)
Unbelievably, the Pixon also comes with 5.1 Surround Sound! Not entirely sure how this works on something the size of a phone, but it certainly sounds impressive.
Samsung Pixon's other features
In addition to a superb camera and video recorder, the Pixon also comes with Assisted GPS, which enables you to tag your pictures by location and view them on a map of where tey were taken, as well as providing you with directions to wherever you want to go.
It also supports 7.2Mbps HSDPA, enabling super-fast downloads. It would have been nice if the Pixon had WiFi as well, but better to have HSDPA than WiFi, as ytou're not reliant on finding hotspots. 7.2Mbps should be more than fast enough anyway.
What else could you want from a high end camera phone? MP3 player with support for MP3, AAC, e-AAC+, e-AAC+, WMA, and enhanced by Samsung's Digital Natural Sound engine (DNSe)? Check.
Bluetooth 2.0, USB 2.0,TV-Out, and support for 8GB MicroSD cards? Check!
Accelerometer? Check. In fact, Samsung go one further with their accelerometer. When looking at photos, you can tilt the phone left or right, and the pictures will slide left and right in response, as if you'd tilted a shelf that they were standing on.
You can see the effect in the (somewhat cheesy!) video below.
Summary
The Samsung Pixon is shaping up to be one of the best camera phones on the market. It'll have stiff competition with the Nokia N96, Sony Ericsson C905 and LG Renoir, but with this list of features, it should be more than capable of holding its own.
The Samsung Pixon release date is set for late October. Look out for it at Phones4U or Dialaphone, where you can pre-order your Pixon now.