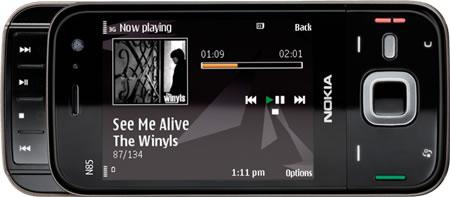 What better time for a Nokia N85 review than the day before its release? Yes, the latest all singing all dancing N-Series phone from the Finns is about to hit our shores (and our stores!), as the Nokia N85 is launching in the UK on Hallowe'en of all days (second only to April 1st in auspicious release dates!), so right in the nick of time, let's check it out and see what it offers.

Nokia N85 Overview
As you'd expect, the Nokia N85 is a high-end multimedia-rich phone. In many ways it's similar to the N95, last year's uber-phone which set the benchmark for features. The N85 comes with many of the same features as the N95 but in a much thinner form factor. Those of you who prefer your phones thin and feature-rich will therefore love the N85.
Nokia N85 Exterior
The N85 has a similar form factor to the N95, complete with dual sliding functionality. Media buttons slide out from the left while dedicated game buttons slide out on the right. Game buttons? Yup, the N85 supports the Nokia N-Gage platform, and doubles as a cracking mobile gaming device as well as mobile phone…and camera, and Sat-Nav, and multimedia player, and pretty much everything else you want it to be!
The N85, you see, is stuffed to the gills with high-end features. Where other mobile phones have standard TFT screens, the N85 comes with a 2.6″ OLED screen. OLED is a display technology that provides much richer colours (16 million of them!) and contrast than traditional TFT screens while also requiring much less power to operate. The result is a dazzling screen and a much longer battery life – Nokia are quoting 363 hour stand-by time and nearly 7 hours of constant talking!
Nokia N82 Features
The N85 comes with a feature list as long as your arm. Just some of the features include:
5 megapixel camera with Carl Zeiss lens
Autofocus
Dual LED flash (almost as bright as Xenon flashes but drains the battery less)
30fps video recording
MP3 player
3.5mm audio output jack that accepts headphones from any manufacturer
GPS Sat-Nav functionality with Nokia Maps
Wi-Fi and HSDPA connectivity lets you connect to the Internet at broadband speeds wherever you are
UPnP support enables other devices, such as PCs, TVs and printers, to seamlessly access the videos and pics within the N85
Stereo FM radio
Built-in FM transmitter, enabling you to transmit your tunes to your car stereo
Phew! Like I said, the N85 is a full featured power-house.
Multimedia features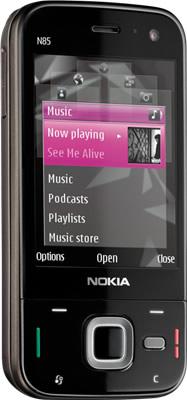 The N85 offers an MP3 player and a video player like every other phone out there.
However, it also offers access to Nokia's own Music Store, with direct access to the store and its features provided by its dedicated media buttons.
Nokia's music store enables you to pay for and download tunes over the air, meaning you can download your music wherever, whenever.
There's a 3.5″ headphone jack that supports virtually all headphones on the market, while the phone's speakers are surprisingly loud.
The video recording capabilities of the N85 are excellent. Full 30fps recording gives excellent playback – in fact, as you can see on TheNokiaBlog, it's actually far better than the more expensive N96's video abilities.
In addition to music and video, the N85 also comes with Nokia's N-Gage technology, meaning you can download and play stunning 3D games. Indeed, the N85 was built with gaming in mind, with dedicated gaming keys and superb crystal-clear OLED screen.
N-Gage games are becoming increasingly popular, and the platform has recently enticed some major publishers to jump on board. You can now choose from games such as The Sims and Worms, with more games becoming available all the time.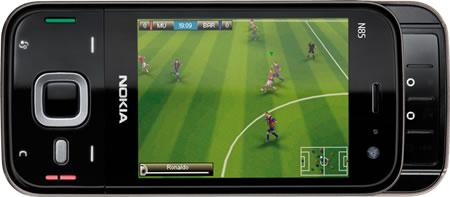 Nokia N85 innovations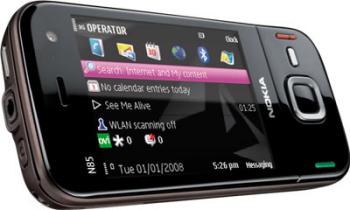 In addition to the standard features you'd expect, the N85 also comes with a host of tricks that you probably wouldn't expect. There's the familiar D-Pad key at the bottom of the phone that lets you navigate the menu system, but if you scroll your fingers around its edge, you'll find it also works as a Navi-wheel, controlling a cursor as you slide your fingers around.
There's also a built-in FM-transmitter, which lets you broadcast your music over the FM airwaves, letting you receive it on any FM radio. FM transmitters have been around for a long time, but having one built into your phone is an added bonus.
There's also an accelerometer, which detects the orientation of the phone and automatically switches between landscape and portrait modes depending on whether you're holding the phone vertically or horizontally; and, of course, full Sat-Nav ability with a built-in aGPS unit.
Nokia N85 reviews across the Web
The reviews of the Nokia N85 have been almost universally positive.
AllAboutSymbian have reviewed the Nokia N85 and conclude that it's "…very, very beautiful and the 'top' Symbian-powered phone in the world, even trumping the Samsung i8510 and Nokia N96 overall."
YourMobilePhoneReviews have a huge mobile phone review (no, really!) of the Nokia N85, nd they love it as well. "The Nokia N85 is a stunning business & entertainment 3G Smartphone which will suit all users alike," they write.
Finally, Dialaphone absolutely rave about the Nokia N85. They conclude that "…the N85 improves in every area where the N95 was less successful and in doing so has become one of the most desirable mobiles available today, and we have no hesitation recommending it."
Summary
The new Nokia N85, then, seems set to be another hit for Nokia. Indeed, the reviews have been so positive and its feature set is so high that it makes you wonder who's going to buy it's bigger brother, the N96. The N96 has mobile TV, but the N85 has better video and is much cheaper (the N96 is £490 unlocked, against the N85's £413).
In short, if it's a great looking all-singing all-dancing, slim uber-phone you're after, put the Nokia N85 on your Christmas list.
You can buy the Nokia N85 from Dialaphone now from just £9.99.