This is no ordinary HTC Desire HD review! You know those long-term car reviews, where a car is reviewed only after it's been used daily for a number of months? Well that's what this Desire HD review is like (only with a phone, not a car!)
I first got hold of a Desire HD shortly after it was launched late in 2010, and liked it so much I actually bought one. So now, over three months later, here finally is my HTC Desire HD review, which focuses not just on the main features of the phone, but what it's actually like to use day to day.
Is the Desire HD worthy of the title I gave it of best smartphone of 2010? Is it really good enough to use both as a phone and as a mobile Web device – not to mention the dozens of other things it can do – or are its features all just gimmicks?
Let's take a look!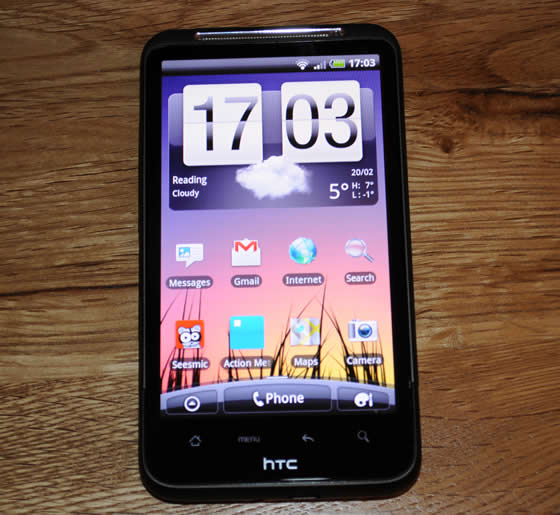 HTC Desire HD overview
The HTC Desire HD is HTC's flagship phone. It comes with so many features, I'd bore you by simply listing them all! So what I'm going to do is to highlight the best ones below. I'll also state (repeatedly!) that all the features are extremely usable and extremely quick and easy to access, and I'll show you them in operation in the videos I've embedded throughout this review.
Hopefully you'll then get an idea of what the Desire HD is actually like to use as a phone day to day – and why you, like me, should rush out right now and buy one!
Superb video recording at 720p 30 frames per second quality
Effortless performance of any task thanks to the next-gen 1GHz Snapdragon processor
Take cracking photos during the day and night with an 8 megapixel camera and dual LED flash
Share your photos, videos and tunes anywhere you want – including Flickr, Facebook, Twitter, Delicious, Springpad, Evernote and even MMS! – all at the touch of a button
Integrated photo gallery lets you view your photos no matter where they're stored. Collects all your pics from across the Web, your PC and your phone, and shows them off in the same gallery app.
Share your photos and videos on your TV wirelessly thanks to the power of the Desire HD's DLNA-based Connected Media technology.
Fast and responsive new Google maps that are cachable, so you can store them on the phone; vector-based, so they download much more quickly and can even be rotated; and are integrated into street view in a way you won't believe!
Turn by turn Sat Nav feature
See the world via Google Earth, including 3D buildings and terrain, all from your phone!
Fantastic desktop-like web browsing experience with full Flash 10.1, Chrome web browser, and more sociable integration than your actual desktop browser!
Switch seamlessly from app to app without any delay thanks to multi-tasking and the power of the next-gen 1GHz Snapdragon processor
Android Froyo 2.2 runs extremely quickly, and HTC has confirmed the Desire HD will be upgraded to Android Gingerbread in June 2010, so the phone will only get better over time!
Chrome To Phone feature lets you push Web sites and apps to your phone from your desktop browser
Finally take control of your life with productivity apps such as SpringPad, Evernote, RememberTheMilk and ActionMethod
Games run at a blistering speed with fantastic hardware-accelerated graphics and no jittery delay or lag
Why I decided to buy the Desire HD
The first time I realized just what an incredible piece of kit the Desire HD is, I was in a bar waiting for a friend. I was bored, so I was idly browsing my Twitter Stream on Seesmic. I saw a link that had been tweeted, so I clicked on it. Up popped a web page with a video embedded in it. I played the video, but it was a bit small, so I zoomed into it a bit more using pinch-zoom.
Once I'd watched the video, I went back to Seesmic, where somebody was tweeting about the Maldives. So I launched Google Earth on the Desire HD and started checking out the Maldives for myself.

A phone call interrupted me – my friend was running late – so I stopped playing with Google Earth, chatted to her for a bit, and then texted a few more of my friends to tell them of the change in plans. Back to Google Earth, then Seesmic, onto Facebook, shared a few Web pages on Delicious and Twitter and added a few reminders for myself using SpringPad.
Not once had the phone even stuttered. I was literally pinch-zooming and switching from app to app the whole time, and the Desire HD just did everything I wanted it to instantly. No mess, no fuss, no irritating delays waiting for new apps to launch.
And it's this aspect of the Desire HD that I love. Everything about it not only works, it works really well, with no delays and a really fluid feel to it. It doesn't just boost your productivity – the Desire HD gets out of your way and lets you do everything you need to with the minimum of fuss.
It was this effortlessness – this combination of fantastic usability, speed, interconnectedness with the Web and my social life, and the quality of its huge range of features – all of this combining so well into one great looking device, that made me decide to buy the Desire HD for myself.
If you're happy to take my advice without waiting to read the rest of the review, then go and buy the Desire HD right now – you'll get it for a lot less than I paid for it!
If you want more, though, here are some of the best reasons why you'll love the HTC Desire HD.
You'll take more photos than ever before
How often have you seen something interesting enough to take a photo of, but been thwarted by the risable quality of your phone's camera, or the slow speed at which the phone's camera app launches?



Well look at this photo below. This was taken last December, when the UK was hit by snow. The car I was in had just stopped at traffic lights, and there, in front of us, was this monstrous snow cloud that was just about to hit. It was a beautiful sight, and I wanted a shot of it, but I knew I literally had just seconds to capture it.
I got out my Desire HD. I launched the camera app. I pressed the shutter, and this was the result – a perfect shot, taken from inside car, all in less than 5 seconds of me wanting to take the shot.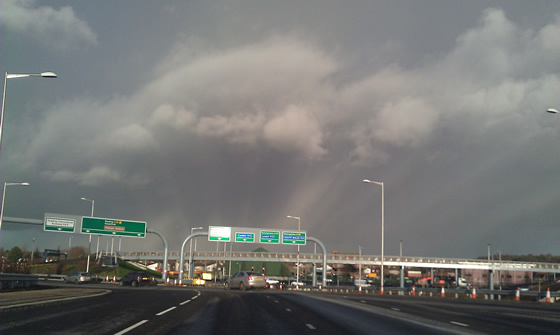 Seconds after that, I was sharing the shot with my friends, both via MMS and Facebook.
It's this ability to use everything on the Desire HD instantly that transforms the way you use it. An old, slower phone, would have taken so long for the camera app to be ready, the moment would have been gone long before you could press the shutter. But with the Desire HD, it's just there, within a second or so of launching the app.
Equally, lesser phones would take unpredictable shots of varying quality. The Desire HD is never going to replace your Digital SLR camera, but with 8 megapixels and a dual LED flash, it takes great pics in all manner of different lighting environments.
Even when out in a bar with your mates, it can still take photos that are good enough for your album, as although the flash isn't as good as the Nokia N8's Xenon Flash, it's still good enough to take good indoor photos in really low light. Perfect for a night out!
Watch more video than you ever thought possible!
The HTC Desire HD naturally has its own video recorder, which can shoot video in 720p HD at 30 frames per second. The quality is good as well – it's not the best in class, but it's still perfect for capturing your mate's dodgy dancing. Videos are crisp, the colours are pretty accurate, and there's none of the "wobbly window" look you can sometimes get with poorly performing video cameras on phones.
Of course, you can share your videos as well – not just with your friends via Facebook, YouTube, etc., but also on your TV (see below).
But recording video is only the start of the Desire HD's video credentials. When it comes to watching video, you can literally watch more videos than you ever thought existed!
For a start, the Desire HD comes with Flash 10.1 built-in, so any video you see embedded in a Web page can be played right there, in the Web page, just like on a desktop browser. Not just YouTube, either, but Vimeo, Ustream, Viddler and any other web-based video service that relies on Flash.
In addition, there's a dedicated YouTube app, which has been optimised for mobile, and which lets you watch any YouTube video from a super-easy touchscreen-optimised display.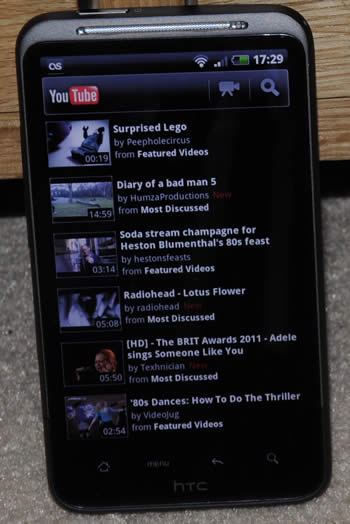 You can download the iPlayer from the BBC and watch any of the BBC's shows (including Top Gear), or use other apps to watch videos from the likes of Sky News, Fox News – even NASA TV!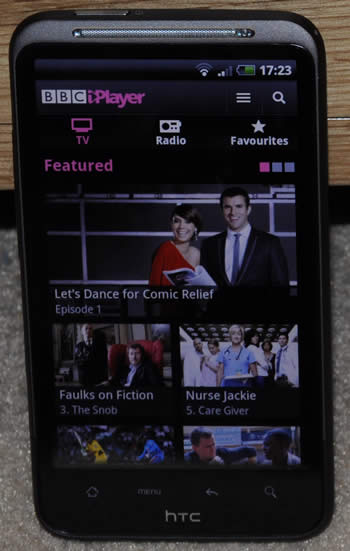 Music lover? You'll love this…
Still on the subject of media, the Desire HD doesn't leave out music, either. It comes with rather a good little music player, with a Coverflow-like user interface that lets you swipe through the music you've got stored on your phone. The playback quality is pretty good, as the Desire HD comes with Dolby Mobile, and with the ability to take a 32GB SD card, you can store thousands of tunes on it.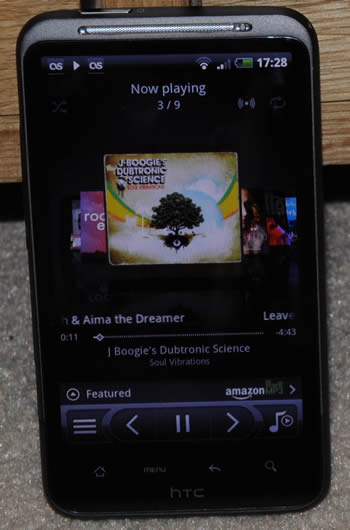 But these days, of course, you don't need to store everything on the phone, as it's all about the cloud. You can download apps such as Spotify and Last.FM and listen to your music that way, or just stream your tunes from your PC over your WiFi network.
Whichever way you choose, just like video, the Desire HD has more ways to access more tunes than you ever thought possible!
A world of gaming pleasures
You soon know when a phone is underpowered – just play a game and watch it stutter! With the Desire HD, though, it's all buttery smooth. Angry Birds launches quickly and doesn't even slow down when dozens of objects are crashing into each other.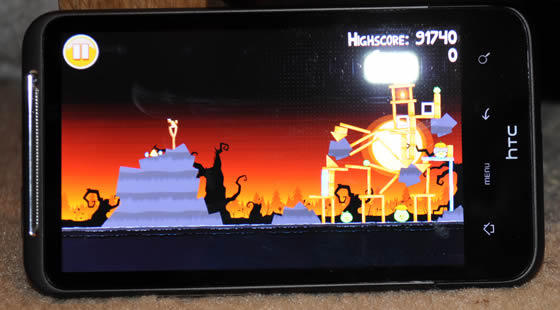 The power of the Desire HD's processor and graphics accelerator is such that every game runs smoothly on it. You can run all games that have been released without limitation, and they'll all run slickly without any jerkiness.
The Desire HD currently ships with Android Froyo, and HTC has said it'll upgrade it with Android Gingerbread in June 2011. Froyo itself is already fast and optimised, but gingerbread is faster still. This means the Desire HD, which is already a fast and powerful phone, will only get faster as time goes by, meaning the gaming experience will also get better!
Share anything with everything (even your TV!)
There are some things you can do with the Desire HD that although buried away in the manual, actually seem to be almost magical! Take DLNA, for example. This is technology that enables different devices to communicate with each other so that they can share content, such as photos, videos or music.
The HTC Desire HD has DLNA. So does your PC, meaning if they're both on the same WiFi network, they can both share music, videos and photos. It's an easy way to transfer content to and from your PC, and an easy way to browse your videos and photos that are stored on your PC from the comfort of your sofa.
But it gets much better than that. If you have a DLNA-equipped TV that also supports WiFi, you can wirelessly send your photos and videos to your TV, letting all your mates see exactly the photos you've taken without them having to huddle around your phone's screen. Because the Desire HD's camera is 8 megapixels, the resultant images look great even on a 50″ screen.
But what if the photo you want to show them is on your PC? No problem – just browse to it on your phone and instruct it to appear on the TV. In this way, all of the photos, videos and tunes that are on your PC can be wirelessly transmitted to your TV, with your Desire HD acting as a remote control. It's hugely impressive, and is guaranteed to make your mates' jaw drop!
To do this, you'll need to download a DLNA media app, but that's fine, as there are loads of them, and they're all free! Twonky and Skifta are just two that work really well.
Going even further are apps from Sony and Samsung, which again you can download for free, and will literally turn your Desire HD into a remote control for their TVs and BluRay players.
Share anything with anyone
If sharing your content with your home devices isn't enough, the Deisre HD will also let you share any of your pics, videos, tunes, etc., with any of your mates using virtually any – and every! – app you can think of.
From the obvious, such as Twitter, Facebook, Flickr and YouTube, to the less obvious, such as Evernote, Springpad, Picasa, Delicious, Photobucket, etc., etc. – if it can be shared, you can share it via your Desire HD!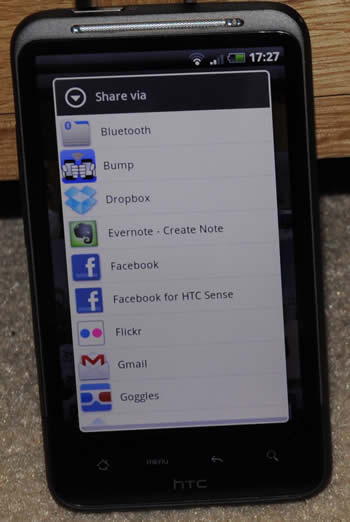 The built-in gallery app is a great example of this. Not only can you see all the pics that you've taken on the phone, but from the same app, you can also see pics from Facebook, Flickr, Picasa, etc. You can click on one of the photos on your phone and immediately transfer it to any of these Web apps by selecting "Share" from the menu, and selecting the Web app you want to upload the picture to.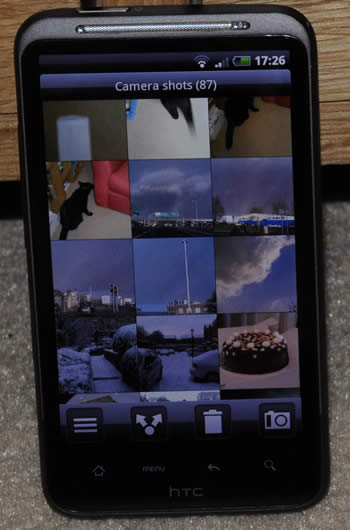 The Desire HD really does become the central hub of all your media, letting you watch whatever you want, create whatever you want, and ultimately share it wherever you want. It opens up a whole new world of doing really silly things, and again, the speed is so quick that it never occurs to you not to do it, as it's all so easy!
Cacheable vector-based Maps with uncanny StreetView, straight from the future!
The Desire HD comes with HTC's own mapping app, Locations. Initially this was added to add value over Google's own Maps app, as Locations features cachable maps, meaning all the mapping data is stored locally on the phone (so you don't get lost when you suddenly lose your mobile connection), and also turn-by-turn Sat Nav.



However, good though this is, it was undermined slightly by Google releasing exactly the same features into Google Maps 5 – which is pretty much the Mapping app you always wanted! With Google Maps 5 on the Desire HD, you can cache your maps, which are now vector based and so download much faster than they did before. You can rotate the maps, too, either manually or automatically, via the Desire HD's built-in compass.
Perhaps the most impressive use of Maps, though, is when you're looking for more info on a location. Double-tap on a location to zoom into it. Then long press, and up will pop related info on that location (photos, business phone number, address and postcode, etc). You can then search nearby, or even switch instantly to StreetView, which is one of the most impressive things you're ever going to see on a mobile phone!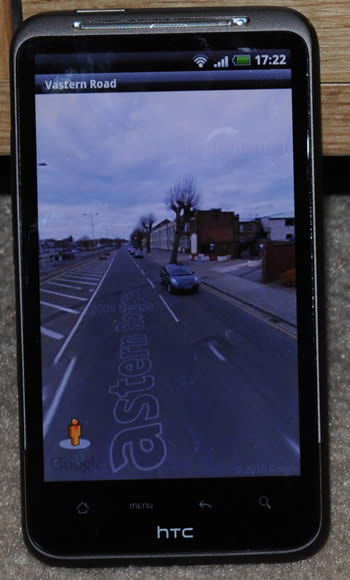 Just check out the video below, showing Street View on the Desire HD (and a few other features as well). Note its speed – like everything else on the Desire HD, it's simplicity itself to use, and its speed of use makes it a genuinely useful feature, not just a gimmick.
Web browsing that's even better than your desktop!
The HTC Desire HD's Web browser is perhaps even better than your desktop's. It's certainly just as powerful – with Flash 10.1 fully supported, plus the latest JavaScript, HTML 5 and CSS3, it's even more up-to-date than Internet Explorer 8 (not to mention the iPhone!)


With pinch-touch zooming, and a super-fast ease of use, you'll be swiping Web pages around and zooming in and out of them in seconds – in fact, it's so natural, it's like this is the way the Web was always meant to work! Indeed, going back to the desktop and scrolling down the screen with a mouse feels positively archaic!
Web pages are downloaded really quickly, thanks either to WiFi (b/g/n all supported), or 3.5G HSDPA, which will download data at up to 14.4Mps. With the 1GHz next-gen Snapdragon processor on-board, Web pages are rendered extremely quickly as well. No waiting, no fuss, and super-intuitive – it really is the vision of the mobile Web executed to perfection!
Some things about the Desire HD that aren't so good
Naturally, not everything is perfect about the Desire HD. One thing I haven't mentioned is HTCSense.com, the Web app that you can use to backup your Desire HD, to sync your contacts with and to remotely control various parts of your phone.
The reason I haven't mentioned it is because it doesn't work! The Web app itself is buggy, the sync doesn't work properly, and worse of all, a bug in the phone's software causes the Desire HD to constantly try and sync with the Web app, which drains the battery in about an hour or so!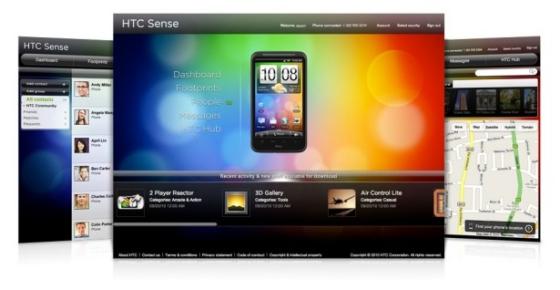 The simple solution is to switch off the Hub app and stop it syncing. The phone still works as it should, but now much faster and without the huge drain on the battery!
Which leads me nicely to a second issue – bugs in general! Some bugs in the Desire HD occasionally cause its performance to be hit. When I first bought it, it was prone to the USB bug, which caused the USB process to use up all the CPU, and again drained the battery in an hour. The simple solution was to set "USB Debugging" to enabled (and the solution really was that simple), but of course I only found this out after a few hours of anxious searching!
The bugs do seem to have calmed down now, so hopefully it was only a few teething problems when the Desire HD first came out. And with Android Gingerbread coming in a few months time, things should improve even more.
In addition, as the Desire HD is an Android device, if something does go wrong with the software, you can always fix it. Use Watchtower (an app to monitor which apps are using up your battery, memory and processor) to identify any bad processes or apps, then diagnose what's causing them to misbehave on the XDA-Developers forum.
It's geeky, but it does mean you get to fix your phone simply should anything go wrong with it – try doing that on an iPhone!
Finally, the battery isn't exactly huge. At 1250mAh, it's tiny compared to the Galaxy S's 1500mAh. That said, Froyo is very efficient, and with WiFi and GPS switched off, you'll get more than a day's usage out of it.
Should you buy the HTC Desire HD?
OK, by now you should have realised what a daft question that is! I loved the Desire HD so much, I bought one for myself, and I can't think o f a better way of recommending a phone.
The Desire HD has every feature you could ever want, performance as fast as you'll ever need, effortless usability, and is perhaps the first phone that truly delivers on the promise of the always connected, social mobile Web. It doesn't just enhance your productivity, it enhances your life (social and professional!) to the extent that yous oon wondered how you ever lived without it.
As HTC's flagship phone, the HTC Desire HD really did set the standard for all other phones to beat.
And the good news is, it's now dropped in price quite substantially since it was launched, so you can now buy an HTC Desire HD from £25 a month.
And that's exactly what you should do!