With the Sony Ericsson Xperia Arc, Sony Ericsson has gone for a refreshingly different approach from its main competitors. Rather than focus on the latest dual-core super-fast processors and ultra-high megapixel cameras, it's focused instead on the overall user experience, aiming for top quality photos, super-smooth video and silky smooth performance, even though it's not the fastest phone on the market.
It's a nice idea, but the big question is – has Sony Ericsson pulled it off? Let's find out with my Sony Ericsson Xperia Arc review.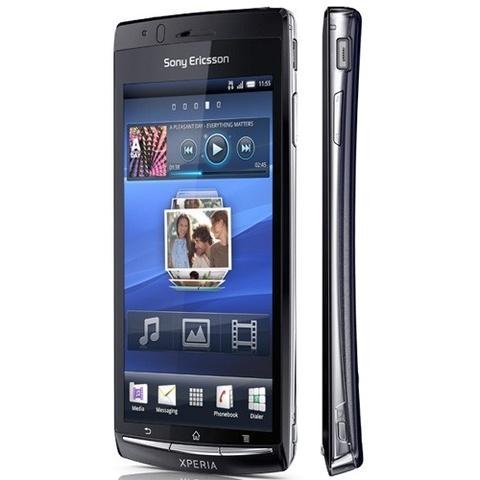 Sony Ericsson Xperia Arc overview
The Sony Ericssion Xperia Arc simply oozes design. Externally, it looks beautiful, with a curved back forming the arc of its name helping the device to fit snugly in your hands and also ensuring the Xperia Arc is incredibly thin (just 8.7mm at its thickest point).
It's not just the outside that looks beautiful, though – Sony Ericsson has been working hard on making its own skin of Android look even sharper than ever, and now it's a serious rival to HTC's Sense UI in terms of looks, smoothness and usability.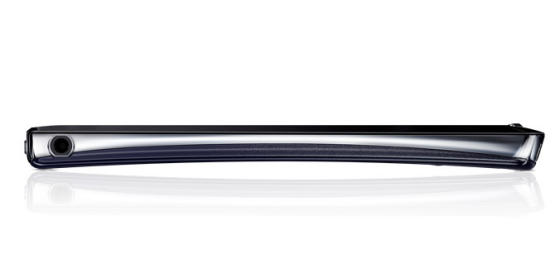 The end result is a phone that looks classy, which operates extremely smoothly, and which goes the extra mile to add the polish you're looking for from a flagship Android smartphone.
It's not the fastest phone on the market, but it is one of the most polished, exuding an air of high quality that continues through to the pictures and videos it captures.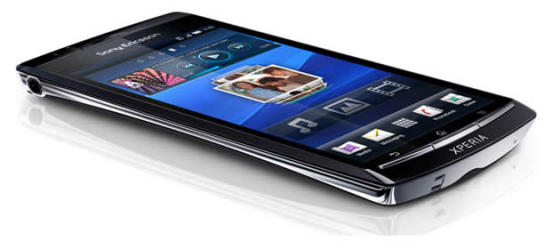 If you're looking for a stylish, high quality Android phone with great features and attention to detail – and that doesn't cost the earth – then go buy the Xperia Arc now.
If you're still unsure, then read the rest of this review!
Things you'll love about the Sony Ericsson Xperia Arc
OK, take a deep breath (or at least grab a coffee!) – there are quite a few things you'll love about this phone!
brilliant 4.2″ screen with great contrast and beautiful colours
reduced glare and reflection outdoors thanks to Sony's Reality Display with Mobile BRAVIA Engine technology
take high quality photos with the Sony Exmor R camera sensor
8.1 megapixel camera lets you blow your pictures up without losing detail
capture great quality video at 720p and watch it back on the Xperia Arc's Mobile BRAVIA display
watch anything on your Xperia Arc – even Angry Birds – on your HDTV thanks to the device's HDMI port and HDMI mirroring
control your Xperia Arc using your TV's remote control
stream your videos and photos to your TV via WiFi (assuming you have a DLNA-equipped WiFi TV)
play, organize and identify your tunes with Sony Ericsson's brand new Music Player that opens as a dedicated app or a small widget that you can put on the homescreen
super-smooth Android experience thanks to Android Gingerbread 2.3.1 and Sony Ericsson's own user interface customizations that work beautifully
new Sony Ericsson Timescape widget organizes all your messages, Tweets and Facebook status updates, and is much faster than before
cracking Google Maps and Web Browsing experience thanks to the large 4.2″ screen, pinch-touch zooming, and the quality of the Sony Reality Display
ultra high-quality looks both inside and out make the Xperia Arc as seriously desirable as it is functional
at just 8.7mm thin, it slips into your pocket seamlessly.
These are just the headline features. What this list doesn't convey is the feeling of quality that the Xperia Arc exudes.
You'll notice that I haven't gone overboard on the specifications in this list. There's no talk of processors or the amount of RAM, for example. That's because the Xperia Arc isn't about figures – it's about quality and performance. The performance of the user interface, for example, is first rate. Sony Ericsson has spent a lot of time optimizing its user interface so that it's even more repsonsive than the much more powerful LG Optimus 2X.
Equally, although the camera is only 8.1 megapixels in size, thanks to the Sony Exmor R camera sensor, the quality of its photos are even better than most 12 megapixel camera phones.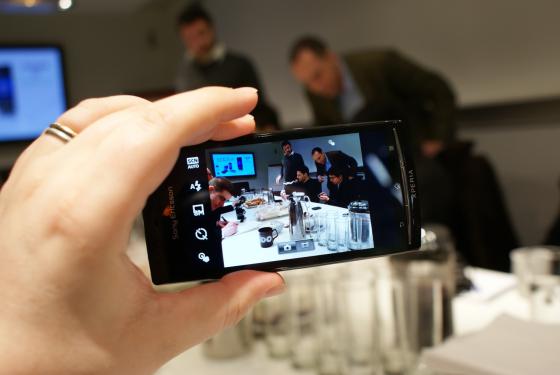 And as for the screen – with Sony's Mobile BRAVIA Engine technology, the new Sony Reality Display as it's called is as good as any of the new screen technologies that have debuted this year, giving strong, vibrant colours, high contrast and a clear screen even outside in sunny conditions.
Combine all this with stunning looks, a super-thin profile and the abiliity to extend your Xperia Arc experience by hooking it up to your TV and you've got one compelling Android device.
Great new user interface
The new user interface that Sony Ericsson has added to the stock Android Gingerbread interface takes the Xperia Arc to a new level. Sony Ericsson tried to improve upon Android with its first Android phone, the Xperia X10, but although the interface looked good, it was too slow, and it stopped the company releasing Android updates to the X10 in a timely fashion.
With the Xperia Arc, all that has changed. Timescape and Mediascape, the two apps that were the biggest resource hogs on the original Xperia X10, have been completely redesigned, and now act just as widgets on the homescreen that you can remove if you want. The remainder of Sony Ericsson's tweaks are limited to a beautiful new skin, seamless transitions between screens, some new animations, and a new strip of menus at the bottom of the screen.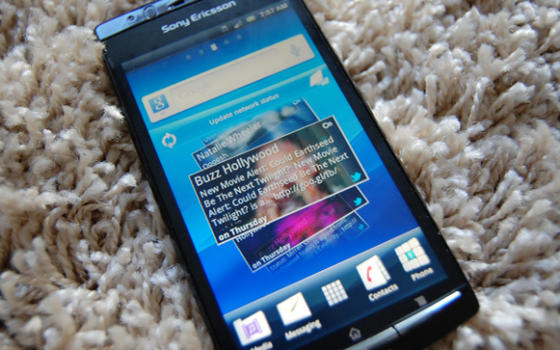 The result is a new user interface that not only looks beautiful, it's super-smooth, too, with hardly any lag. Better still, it'll allow Sony Ericsson to roll out Android updates much faster than they were before, so when Ice Cream Sundae, the next version of Android, finally ships, for example, it'll be released on the Xperia Arc at the same time as other manufacturers release it for their phones.
So where before the user interface of Sony Ericsson's Android phones was the achilles heel of thsoe devices, now it's one of its strongest features, and Sony Ericsson should be proud that it's created a user interface that's just as good to look at and use as HTC's highly acclaimed Sense UI.
Multimedia Features
One other aspect of the Xperia Arc that deserves a mention is its multimedia features. The use of the new Sony Exmor R camera sensor means that the photos that the Xperia Arc takes are beautifully crisp, with vivid colours and a quality not normally found on a cameraphone (let alone an Android smartphone).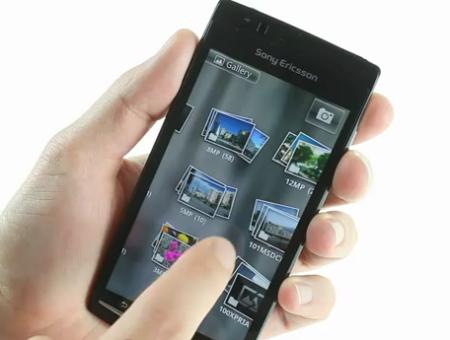 The same sensor is also used for video capture, which, although only 720p HD, still results in extremely good video with smooth motion and good colour reproduction.
Music, too, hasn't been ignored. Part of Sony Ericsson's new user interface tweaks is a new Music Player, complete with CoverFlow-like album selection, playlist controls and TrackID. You can choose to use the Music Player as a dedicated app, where you'll be able to get the most from it, or as a widget on one of the phone's seven homescreens, where you can quickly play, rewind, fast forward and stop your tunes.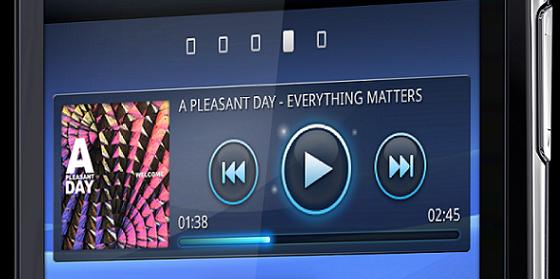 The Xperia Arc's Music Player even adds a button that takes you directly to YouTube with a list of videos of the tune the Music Player is playing. Simple enough to execute, but a nice touch nonetheless, and one that shows the real attention to detail that Sony Ericsson has paid to the Xperia Arc. Sony Ericsson phones have rarely disappointed when it comes to music, and the Xperia Arc is no exception.
Finally, a welcome feature is the HDMI port complete with HDMI mirroring. This is a fantastic bit of technology that means you can plug your Xperia Arc into your HDTV and whatever is on the Xperia Arc's screen is mirrored instantly on your HDTV. Not just photos and videos, but the entire user interface, including homescreens, apps, maps, the Web browser – even Angry Birds!

Even more impressive is the ability to control your phone using your TV's remote control. Just plug your phone into the TV, sit back and control it as if it was just another set top box. You don't even need a Sony TV to use your remote control!
Some things that are not so good
The biggest downside to the Xperia Arc is the technology used to power it. The 1GHz Qualcomm MSM8255 Snapdragon is a powerful chip, but it's the same as the chip used in last year's HTC Desire HD. With the LG Optimus 2X, Motorola Atrix, Samsung Galaxy S II and HTC Evo 3D all using dual-core chips that are capable of capturing video at 1080p, the Xperia Arc looks puny in comparison.
That, though, is actually one of the Xperia Arc's strengths. Sony Ericsson has done an excellent job in the overall user experience, so even though the chip inside is not as powerful as some of its rivals, you'd never notice the difference when using it. And because the chip is less powerful, it's also cheaper, which means the Xperia Arc can be sold at a lower price than the competition.
If you're the type of person who asolutely has to have the best Android phone on the market, then you should look elsewhere – all of the phones I've just mentioned are more powerful. But the Xperia Arc will actually be even faster than some of these phones in day to day operation (particularly the LG Optimus 2X), so don't rule it out based on specifications alone.
Video reviews of the Xperia Arc
You know the drill by now- video reviews designed to give you a taste of wha the Xperia Arc looks like in the flesh!
Who should buy the Sony Ericsson Xperia Arc?
The Xperia Arc, then, is a great new Android phone that offers something over and above every other Android phone on the market – quality and style. The user interface that Sony Ericsson has created for the Xperia Arc is beautiful and really well thought-through, while its usability and super-fast performance raises it head and shoulders above the likes of the LG Optimus 2X.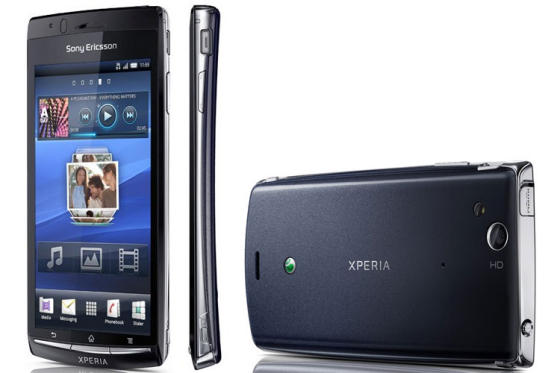 It's not the most powerful Android phone on the market, but it is certainly one that you'll love, and because it's cheaper than other flagship phones, it really is one you need to consider as it's superb value.
In fact, the only reason not to buy it is if you genuinely need 1080p video recording, or for your phone to double as a laptop, or you just want a 3D phone. If you're in this category, then you need to check out the Motorola Atrix, LG Optimus 2X, Samsung Galaxy S II or the HTC Evo 3D.
For everyone else, though, you'll love the Xperia Arc. It looks fantastic, its interface is amongst the best of any Android device, and the quality of its screen and camera is first rate. Sony Ericsson has produced a fantastic flagship Android phone, and as it's cheaper than the other phones I just mentioned, it's stunning value as well.
Not only do I highly recommend it, I highly recommend you go and buy an Xperia Arc now!