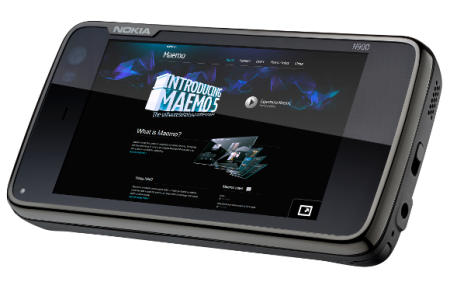 Fresh on the heels of the Nokia N97 and N97 Mini, Nokia have now announced the Nokia N900. Replacing the N810 Internet Tablet, the N900 is a curious beast in that it's more smartphone than Internet Tablet – you can even make phone calls on it!
This puts it smack bang in the middle of the smartphone market, where it competes directly with the, erm…Nokia N97! So just what does the N900 offer that the N97 doesn't (and vice versa!). And more importantly, is it worth buying?

Nokia N900 Overview
The Nokia N900 is a big beast, and in many respects, reminds of my trusty old Nokia E90.
It's dimension are 4.4″ x 2.3″ x 0.7″, which is big for a phone, but only as big as an HTC TouchPro 2. And when you think that the N900 is being pitched as an Internet Tablet (at least, I think it is!), it's actually kind of small.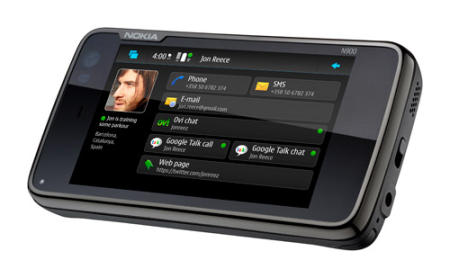 One thing that isn't in doubt is the N900's looks. It's black, it's sleek, it's a touchscreen smartphone, but with a slide-out QWERTY keyboard that looks more like the E90's than than the N97's (which is a good thing). Better still, with an 800 x 480 screen, it looks like it really means business.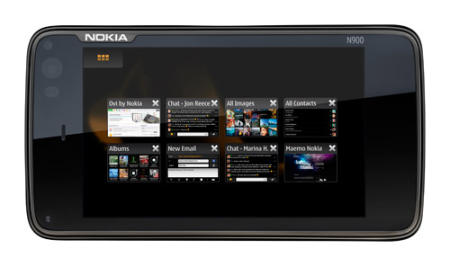 Which it does – just check out this list of features:
32GB of storage
5 megapixel camera with Carl Zeiss optics
Dual-LED Flash
800 x 480 video recording
A-GPS with Ovi Maps
10Mbps download, 2Mbps upload HSDPA for super-fast browsing
Quad-band GSM
54Mbps data transfer over Wi-Fi
600MHz ARM Cortex-A8 processor
1GB application memory
OpenGLES 2.0 3D graphics acceleration
Superb Web browser with built-in support for Adobe Flash 9.4
Maemo 5 operating system
TV-Out
Media player supporting the following formats and codecs: mp4, .avi, .wmv, .3gp, H.264, MPEG-4, Xvid, WMV, H.263
Music formats supported include .wav, .mp3, .AAC, .eAAC, .wma, .m4a
FM Radio
Wow! That's a huge list of features. But look a little closer, and you'll see it's not that different to the N97. So how do the two differ, and which one should you buy?
Comparing the Nokia N900 with the N97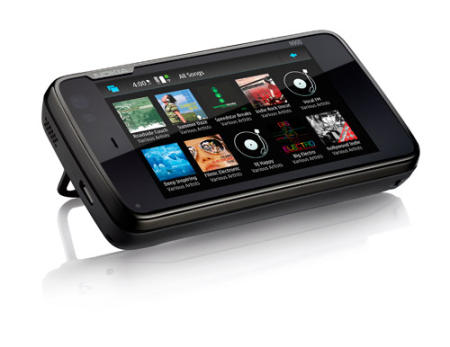 At first glance, the N900 and N97 share many of the same features. For example the 5 megapixel camera, A-GPS, 32GB storage, HSDPA and Wi-Fi, all are the same on both phones, and indeed, have been the same specs on most N-Series phones since the Nokia N95 launched back in 2007.
Where the two differ significantly, though, is the operating systems underpinning each phone, and the vision that Nokia has for them.
Nokia N97 – a phone first and foremost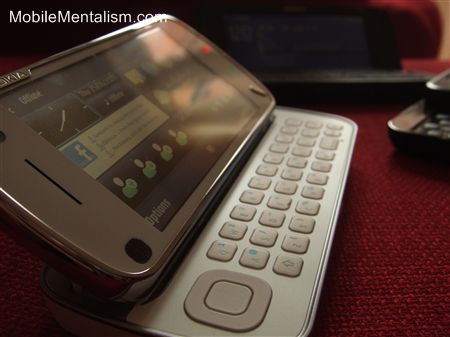 I've reviewed the Nokia N97 extensively, and it's clear that it's been developed as a phone (albeit a smartphone) first and foremost.
It still uses the old Symbian operating system that Nokia have been using on their N-Series phones for some time now, but this is really starting to show its age. The N97 lets you browse the Web, it has a touchscreen, it comes with social media apps such as Facebook, but these all feel somewhat tacked on as an after-thought.
There's no cohesion to the different features, and the overall experience is rather slow and discordant (although Nokia have taken significant steps to addressing this in a new firmware update).
Nokia N900 – a mobile desktop device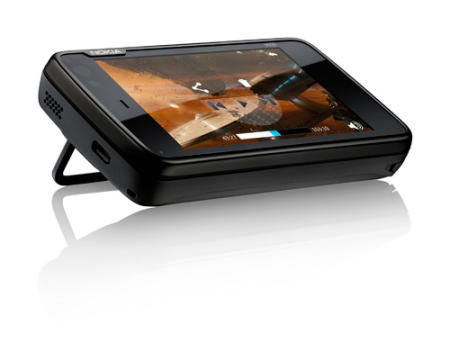 In stark contrast, the N900 has been designed to bring a desktop experience to the mobile phone, with the Internet at its core right from the start, rather than tacked onto a phone platform, as seems the case with the N97.
To this end, Nokia have used their brand new Maemo 5 operating system with the N900. Maemo 5 is based on Linux, and with the use of a super-fast 600MHz ARM processor, 1GB of application RAM and OpenGL 3D graphics acceleration, the result is a super-slick smartphone that has the potential to run rings round the N97, if not the entire competition!
With such sophisticated underpinnings, the N900 can multi-task many applications simulatneously without any noticeable slowing down. Its touchscreen user interface is superbly responsive, and the animations, transitions and general user interface whizziness react without any slowing down or hesitation.
Better still, with its huge high resolution screen, you can pack a lot of information on the screen and still see it clearly.
The overall feel is one of fluidity – it's a phone that you can really use in an efficient, productive way that also looks supremely good.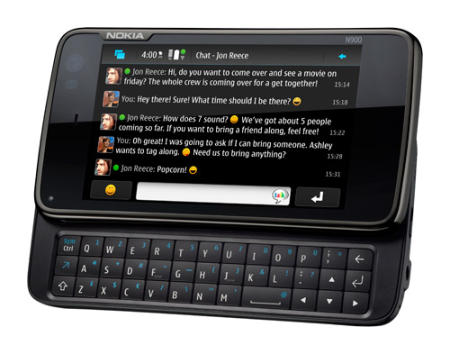 Web browsing is also superb, with an iPhone-esque browser that you can zoom in and out on and move around with the flick of a finger. More impressively, Adobe Flash is supported, and you can watch YouTube videos directly inside the browser, just as you can with a desktop browser.
This really is a desktop in a mobile device!
Nokia N900 Videos
I have high hopes for the N900. It looks like a stunning phone that should have the competition really scared. Don't just take my word for it, though – check out the videos below.
Should you buy the N97 or the N900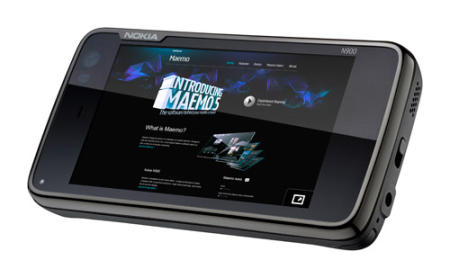 All this leads to one interesting question: should you buy the Nokia N97 or the N900? Both have similar features and a similar form factor. Both, alarmingly, seem to be competing with each other! In an already confused smartphone marketplace, having yet another option to go for only makes the decision harder!
If you're the type of person who wants a great Web browsing experience in a smartphone that can better most of those on the market, both in terms of features and power, then go for the Nokia N900 (although be warned – it'll cost 500 Euros!)
If, on the other hand, you're the type of person who prefers a slimmer phone that has great features, then, well…no, I still can't recommend the N97!
To be fair, the N97 has been given a significant boost from Nokia in the form of a new fimrware update that puts right many of its failings. But even with that, the N900 is simply leagues ahead of it in every way. So go for the N900. If you want a slimmer smaller phone, don't buy a smartphone!
All this leads me to question why Nokia have decided to release both phones when they're seemingly competing with one another. I should be able to answer that over the weekend, as I'll be speaking to Nokia and getting a hands-on feel of the N900 in the flesh at the onedotzero festival in London. Can't wait!
[Source: Nokia]