If you were wondering which of the new generation of smartphones will give you a better Web browsing experience, then check out this superb video from the guys at PocketNow. In rthe video, they compare the iPhone 4, Android 2.2 on a Nexus 1, and Windows Phone 7 on a development LG phone (i.e. not the finished product).
The video gives all three phone browsers a thorough going over, and despite the somewhat unscientific tests, it gives a real feel for the overall browsing experience with WinPho7, as well as how each of the different mobile OSes compare.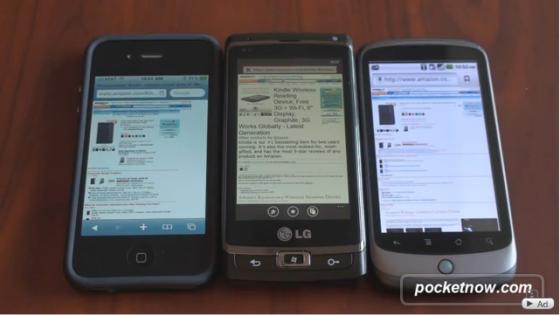 Comparing iOS4 with Android 2.2 and WinPho7
Before I carry on waffling, here's the video in all its glory!
Some things to note:
All three phones provide a superb Web browsing experience. The speed that the pages are downloaded is extremely fast, while the ability to move around the page and zoom in and out at will makes browsing on any of these devices a pleasure.
WinPho7 provides for an extremely fluid browsing experience. Indeed, the way you can throw the page around and the fluidity of its kinetic scrolling, coupled with the beautifully subtle transition effects as you open and close pages, makes it feel almost as if you're physically manipulating a real page.
The Nexus1 in the video is running the stock Android OS, which although great, doesn't come with the extra transitions and effects that you get with other Android-based phones from the likes of HTC or Sony Ericsson.
The tests are not exactly scientific – for example, there's no way to know what apps are running in the background of any of the phones, or what each phone is loading from its browser's cache. As such, don't worry about how fast each phone downloads a page, focus instead on the overal user experience of Web browsing on each phone.
I have to admit that after watching this video, Web browsing on WinPho7 looks exceptionally good. I'm still not sold on the overall OS, and can't wait to see what the finished product is like, but at least we know it's going to be nothing like ye olde Windows Mobile – thank god!
[Source: BoyGeniusReport]