Meet the HTC T8788, the company's first Windows Phone 7 device, and one with a very curious twist.
Remember how I said a few posts ago that the manufacturers of Windows Phone 7 devices would have a hard time differentiating themselves, given that Microsoft's effectively said "all WinPho7 phones must look like this"?
Well it turns out HTC weren't listening, either to me or to Microsoft! Oh sure they've made the front of the phone according to Microsoft's specs, and they've left the user interface alone as well (though they must be itching to slap their own Sense UI onto it!)
But nobody told them they had to add a keyboard onto the slide-out keyboard tray!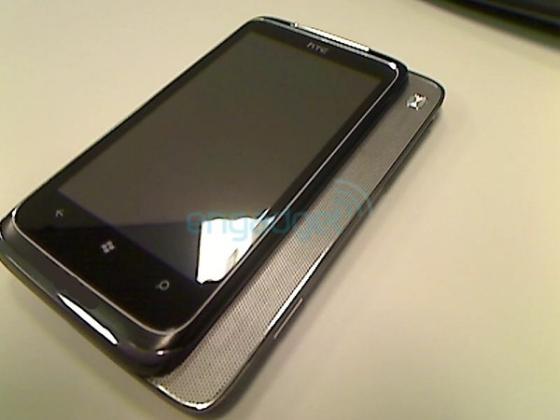 HTC T8788 Windows Phone 7 device
The HTC T8788 is destined for AT&T and comes with a slide-out tray that would normally feature a QWERTY keyboard. In an effort to be a bit different, though, HTC have added a speaker rather than a keyboard. Yep, that's right – the underneath of the phone slides out to reveal a speaker!
Now this should make for a very pleasing multimedia phone, especially as there's also a kick-stand on the back as well, implying video will feature just as prominently as sound clearly does.
Whether this will be enough for people to go for the T8788 over any other device, though, we'll just have to see.
It clearly points to the difficulty the manufacturers are having in creating something novel, though. With Android phones, the manufacturers are free to customize the user interface to their heart's content, which is an easy way of making a phone stand out from its competitors.
But in a market of phones with identical user interfaces, the only way to differentiate is through better-specced hardware features.
Does this mean we've returned to the days of the feature-phone again?!
[Source: EngadgetMobile]