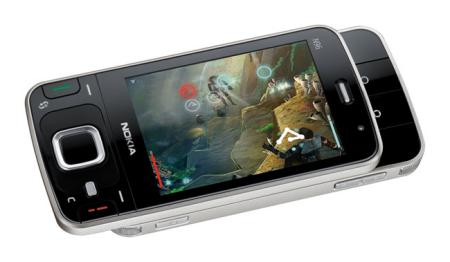 No Nokia N96 review worth its salt would be complete without referring to its spiritual daddy, the hugely popular Nokia N95. The Nokia N96 offers similar features and a similar form factor to the N95, but with a much more mature platform (in other words, unlike the N95, it actually works without crashing!). However, it's not, apparently, designed as the N95's successor (largely because the N95 is still on sale!) Rather, it's a video and mobile TV phone that just happens to include much of the N95's functionality!
However, whereas the N95 was a revolutionary phone, the N96 is more evolutionary. The features of the N96 aren't as world-shattering as they were when they first appeared a year earlier on the N95, leading some to question whether it was actually a boring phone.
Boring? GPS, 5 megapixel camera, mobile TV, video, HSDPA, WiFi, etc., etc., and we call that boring?! The N95 really did set the bar high!
Still, if you're going to buy a new mobile phone, you need to know whether it's going to be the phone for you. Only one way to find out – read on for our comprehensive Nokia N96 review!

Nokia N96 Review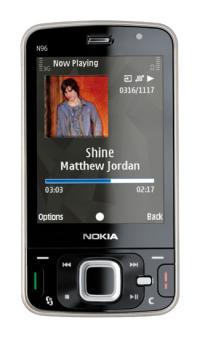 The Nokia N96 can be thought of as a classic Nokia phone, with the call connect and disconnect buttons surrounding the touch pad at the bottom of the phone. Offering 16GB of storage, the phone looks sleek and elegant, with a large 2.8″ QVGA screen capable of displaying over 16 million different colours dominating its front. It looks good. It looks classy in an understated way. But you get no hint of the power that lies underneath!
Personally, I think this is a good thing, as I'd much rather impress people with unexpectedly-glorious features than be all bling and shouty with chrome and dazzling lights and not much else going on underneath!
So what is this power that I'm going on about?
The Nokia N96's camera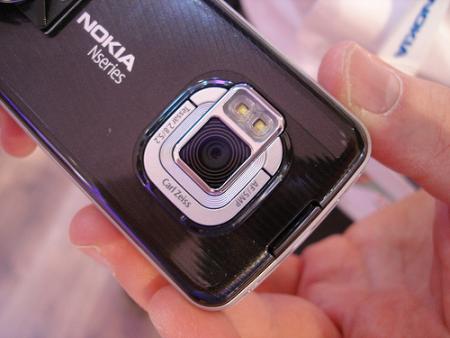 Let's start with the camera. It's a 5 megapixeller with Carl Zeiss optics, and comes complete with both auto-focus (which is essential in a camera phone) and auto-exposure. You also get a flash, but not just any old flash. The N96 comes equipped with a dual LED flash that can actually light up a room, just like normal camera flashes do (unheard fo for a camera phone!). Although not as bright as a Xenon flash, the dual flash enables continuous illumination, which can be used not just for still photography, but also for shooting video, too.
You can also adjust the flash, colour tone, white balance, and self-timer settings, and there's even anti-shake technology built-in. Not bad for a camera phone. Better still, though, is the combination of the camera and the on-board GPS unit, which will automatically GeoTag your photos with the exact co-ordinates of where they were taken. This seems such an obvious thing to do with photos, it's amazing that the digital camera manufacturers didn't routinely equip their cameras with GPS units years ago!
Video recording with the Nokia N96
The Nokia N96 comes with 30fps DVD-quality video recording, just like the N95. Being a video-oriented phone, though, it adds support for more video formats, including H.264, Flash video, ensuring you can watch YouTube clips on the phone, and Windows Media Video (WMV) version 9. More importantly, the N96 also includes dedicated DSPs and video acceleration chips, which ensures the video performance of both playback and video capture are much improved over the N95.
Another advantage of the video acceleration chip is the improvement in performance of 3D games that can be played on the N96, courtesy of Nokia's new N-Gage platform.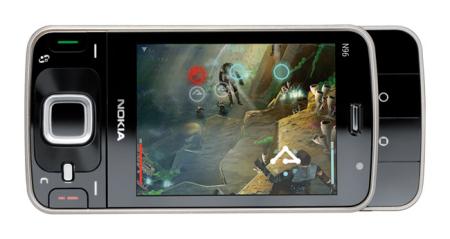 DVB-H Mobile TV on the Nokia N96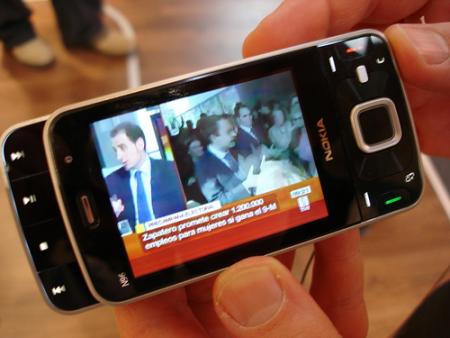 Perhaps the biggest differentiator between the N96 and the N95 is the inclusion of DVB-H mobile TV. DVB-H is a broadcast technology, meaning that the phone picks up the TV signal from the airwaves in the same way that your old pre-digital TV used to. As such, there's no need for TV programmes to be sent via the mobile phone network, and so such annoyances as delay and jitter that could cause your TV picture to break up are not an issue.
Better still, with a 2.8″ QVGA screen capable of displaying 16 million colours, the picture quality is superb (although small, obviously!). Nokia also add an Electronic Programme Guide (EPG), and Tivo-like time slicing for rewinding live TV programmes (up to 30 seconds' worth).
GPS on the Nokia N96
It's interesting to see that the Nokia N96 has the same aGPS functionality as the N95, but whereas the N95 was pitched as a Sat-Nav phone, the N96 is being pitched as a multimedia phone that just happens to have GPS! Another example of how revolutionary the N95 was when it first came out, I guess, and how we've all now got used to have such advanced features as GPS on our phones.
The N96 does improve on the N95's GPS functionality, though, as it includes Nokia's new Maps 2.0 application, which adds a new pedestrian mode, improved mapping and satellite imagery to the mix, along with improved city guides.
Connectivity
Of course, high-end mobile phones need to come fully loaded with al manner of connectivity options, and the N96 is no exception. You get quad-band GSM, dual-band WCDMA, HSPDA and Wi-Fi, plus Blutooth 2.0, USB (which is now five times faster than on previous Nokia devices), and UPnP, for connecting to all manner of other UPnP equipped home media devices, such as TVs and Hi-Fi. The only omission is infra-red, but that shouldn't really be a problem.
Nokia N96 Specifications
The Nokia N96 specs are as follows:
WCDMA2100/900 (HSDPA) / EGSM900, GSM850/1800/1900 MHz (EGPRS) connectivity
DVB-H Class C, 470-750 MHz
S60 3rd edition, FP2 UI
2.8" QVGA (240 x 320 pixels) LCD TFT display with up to 16 million colors
5 megapixel camera with auto-focus and auto-exposure
Dual-LED camera flash, video light, recording indicator, auto-focus assist light
Secondary VGA (640 x 480 px) camera for video calls
Video capture in MPEG-4 up to VGA at 30 fps
Digital Video Stabilization
Built-in GPS/A-GPS
WLAN – IEEE802.11 g/b
Stereo FM radio (87.5-108MHz, 76-90MHz) with RDS
Hi-Speed USB 2.0 with Micro USB type B interface
3.5mm stereo headset plug , TV-out support (PAL/NTSC)
Bluetooth 2.0 A2DP stereo/EDR
950 mAh battery with up to 220 min talk, 220 hrs standby time, 5 hrs video, 14 hrs music or 4 hrs TV playback
Dimensions: 103×55×18 mm
Weight: 125 g
Mmmm, tasty!
Conclusion
The Nokia N96 is set to be yet another super high-end mobile phone from Nokia's famed N-Series. More a sister to the N95 than a successor, the N96 focuses strongly on multimedia, and yet does all the things the N95 did so much better. It'll be expensive, of course, when it debuts – around 550 Euros is the current estimate, with a release date of August/September – but as a high-end do-everything phone with unrivalled features, the Nokia N96 is going to be a hard phone to beat.
Update: For more details, check out this Nokia N96 review from Dial-a-Phone.