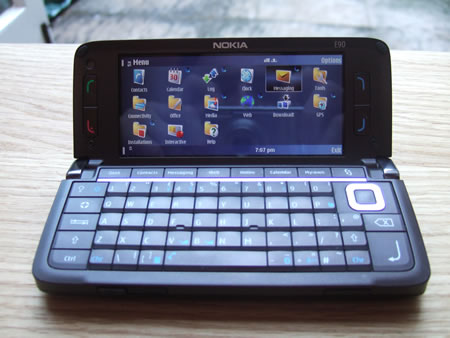 Writing a Nokia E90 review is something I've been meaning to do for a while now, ever since I first bought one! The Nokia E90 Communicator is Nokia's flagship smartphone, and with its unique blend of mobile office applications and multimedia wizardry, it perfectly mixes both business and pleasure. Its feature list is long, and includes 3.2 megapixel camera, VGA-quality video recording, GPS, HSDPA, a glorious 800 x 352 screen resolution and proper full screen Web browsing. In addition to its multimedia marvels, you can also read and edit Microsoft Office applications, which, when combined with its full-QWERTY keyboard, makes it the perfect business phone, too.
But a long list of features is all very well. The real question is are they any good? Do they actually work as intended, and can you use the E90 as a laptop replacement? Well, I've had an E90 for the past six months, so grab a cup of coffee and read on for my extensive Nokia E90 Communicator review to find out.

Overview of the Nokia E90 Communicator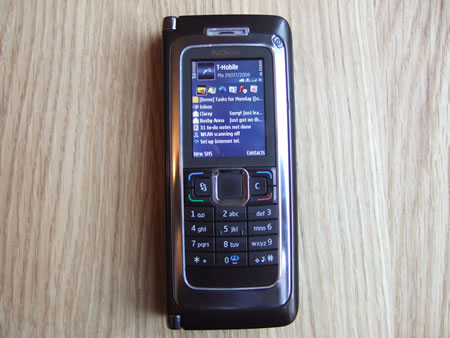 The Nokia E90 is the latest in a long line of Nokia Communicators, a range of smartphones that have been developed by Nokia for use mainly in business environments. Previous Communicators, though, were hampered by their huge size, which meant they were difficult to carry around with you, and looked ridiculous when you tried to use them to make a voice call.
The Nokia E90 is different. It's not a small phone by any means, measuring 132 x 57 x 20mm and weighing in at 210g. But it looks more like a phone than previous Communicators, and its size is such that you can make a voice call without looking like a berk!
The reason it's so big isn't the huge range of features it offers; it's due to what's hidden inside. The E90 looks like a candybar when closed, but is in fact a clamshell phone, opening sideways with a gloriously engineered hinge that should last for years, to reveal a superb full-QWERTY keyboard and huge screen. The screen isn't a touchscreen, unfortunately, but the E90 is so intuitive that it doesn't need to be.
The E90 from the Outside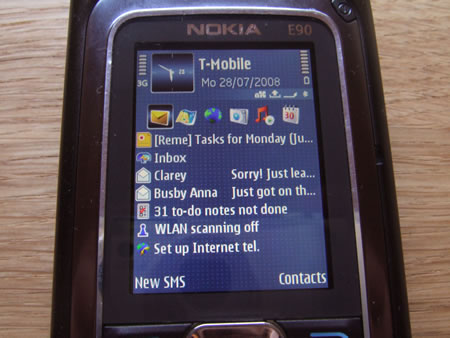 When closed, the E90 looks like a mobile phone from about 2002: large and not particularly attractive! Actually, it looks more like a large phone with a smaller phone's fascia stamped onto it, which does make it look a bit odd. However, this is no bad thing, as when you have the phone out in public, it looks so huge and unwieldy that no-one is likely to nick it!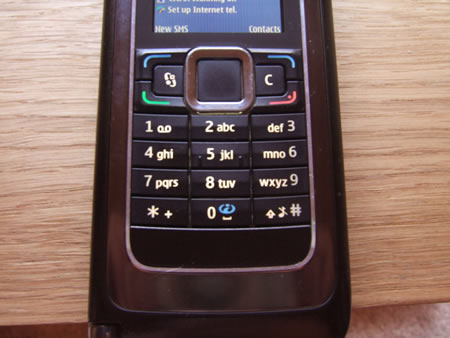 There's a small screen on the front fascia together with a standard mobile phone keypad and a navigation button directly beneath the screen. Round the back is the lens for the 3.2 megapixel camera, and there's the usual array of ports (USB, InfraRed, MicroSD card holder, etc.) that you'd expect to find on any top end phone, plus a 2.5mm headphone jack.
Opening up the E90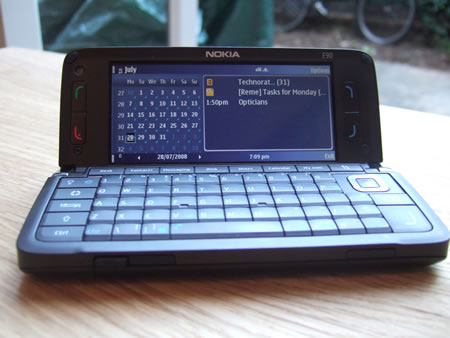 Opening the E90 reveals its piece de la resistance: the huge screen and the glorious QWERTY keyboard. It's worth stating at this point that the keys on the keyboard are small, and also quite stiff. You won't have problems using them, but unless you have the fingers of a pointy-fingered 3 year old, you'll find yourself using it with your thumbs alone: you certainly won't be doing any touch-typing with it (unless you quite like the thought of RSI!)
Above the main QWERTY keys are several hotkeys to the most-used main functions of the phone. These include:
Desk (to take you to the main desktop),
Contacts
Messaging
Web
Notes
Calendar
My own (user-definable – I've set this to Nokia Maps)
Menu Symbol (for instant access to the phone's main menu)
The keyboard is actually a joy to use, particularly when texting or writing emails. I've even written blog posts with it, although I wouldn't want to use it for long periods of time. The only niggle is the annoying navigation pad in the top right corner. The silver square lets you move the cursor around while the black inner button acts as a mouse's left button. Unfortunately, although easy enough to use, it's too easy to accidentally hit the black button, particularly when navigating upwards or downwards.
That aside, though, it's an easy way to navigate, and although touchscreen would have made this the perfect smartphone, you don't actually miss it.
Imaging on the Nokia E90's
The E90's Camera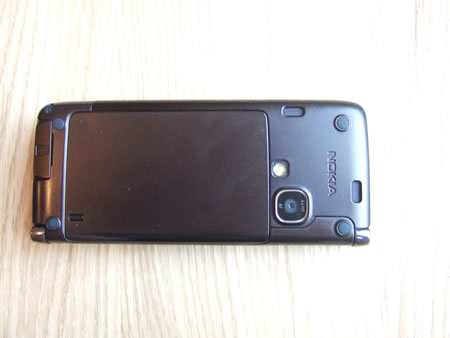 The Nokia E90 comes with a 3.2 megapixel camera with auto-focus, and a huge range of different camera-oriented options to help you take the best pic. These include:
several different flash modes (including one that reduces red-eye)
a self-timer
sequence mode (mike – wtf?!)
exposure compensation, which adjusts the pictures for bright light, for example
adjustable white balance, colour tone and ISO settings (high, medium, low and automatic)
contrast
sharpness (for soft-focus portraits, if your subject's getting on a bit!)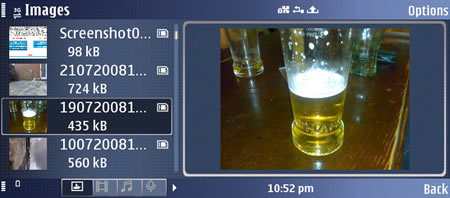 You also get a number of different scene modes, which set-up the camera according to the conditions in which you're shooting. The scene modes include the following:
Automatic
User defined
Close-up for macro work (between 10 and 60cm)
Portrait – foreground is perfectly focused while the background fades
Landscape – Distant objects are sharpened, and you can also focus through glass
Sports – captures fast moving objects
Night – takes photos in low-light conditions without a flash
Night portrait – take pictures of people without red-eye
All in all, there's a huge range of different options to help you take the best shot, which shows how the E90 is not simply a business smartphone – it's designed to be used for both business and pleasure.
I've used the E90's camera in a number of situations, and I have to say I'm impressed. Obviously it's not as good as a digital camera, but it compares well with digital cameras of a few years ago, and as you can see from the shots below (mike), the results aren't exactly bad. You can find a more in-depth review of the E90's camera over at Mike
The E90's video recorder
The E90 actually comes with two video cameras: an extremely good one, which takes video at 640 x 480 (VGA) resolution at 30fps; and the obligatory poor one for pointless video calls. I've tried the video calling thing, and it works exactly as you'd expect a video call would: you see the face of the person you're calling together with a smaller version of your own face, leading you instantly to drop the phone in fright, and then cancel the call and carry on chatting away using voice alone!
Video calling is a nice marketing gimmick, and the E90 executes it as well as any other phone, but it's just a crap service that never took off.
Of far more interest is the video camera. You access this using the same menu as for the normal camera, with an option in the camera menu to switch between still photography and video photography. Switching to the latter gives you more options, including:
Scene mode (just Auto and night this time)
White balance
Colour tone
When you've finished recording your video another menu pops up on the right hand side of the screen giving you options to save the video, delete it or send it. Unfortunately, you can't post it instantly to a video aggregation service such as YouTube, but you can at least send it via Bluetooth, InfraRed, email or MMS (though get a flat-rate data plan if you're going to do the latter, otherwise you'll be charged per byte for a file that can end up being megabytes long!)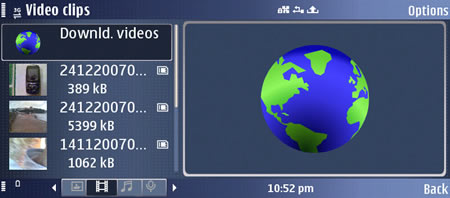 The video can be played back instantly by going to the Gallery (available from the main video menu when you stop recording). This takes you to a list of videos you've previously taken (see above), with the latest videos displayed at the top. Playing a video takes you to the RealPlayer application, which does a good job of playing the video directly on your phone.

As you can see above, the video quality is really good (although as this was shot indoors at night, it looks a bit fuzzy. It's much better outdoors, so I'll post another video soon. Forgive the sniffling, by the way, I was suffering from man-flu!). Not as good as your average video camera, obviously, but more than good enough for catching the odd exploding oil refinery on your camera phone and doing a bit of citizen journalism.

The only downside is the speed of the video when the camera's set to night mode (above). Although the picture quality's much better, the picture itself becomes so jerky as to be almost unwatchable.
A far as video formats are concerned, the E90 can playback video encoded in 3GPP(H.263), H.264/AVC, MPEG4, and RealVideo formats. Unfortunately, it doesn't support Flash Video, so you won't be able to view YouTube vids via its browser.
GPS and location-based services on the E90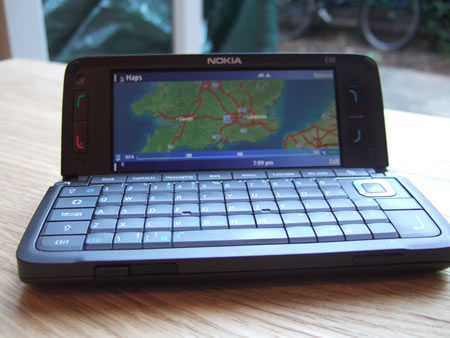 The E90 comes with an aGPS unit built-in together with Nokia Maps. Both of these work extremely well, with the aGPS device finding your current location easily, and Nokia Maps being so comprehensive as to display your location anywhere in the world. I've tried it both in the UK and in San Francisco, and it had no problems finding me (although it may take a while if you're using it for the first time.
You can even use the E90 as a Sat-Nav, as it'll calculate a route for you and then guide you to your destination using voice (although you have to pay extra for this).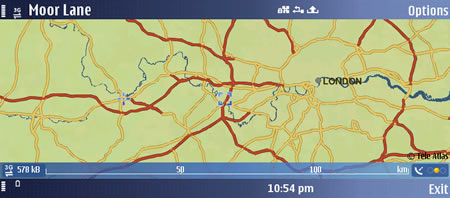 There is, though, a big but with the GPS feature. It's slow. Horribly slow, in fact. You can use Nokia Maps either on the small screen with the E90 closed or the large screen when it's opened, and although the performance is acceptable on the small screen, it's so slow on the large screen as to be unusable. This is a real shame, as the amount of detail in the maps is perfect, and you can add overlays such as restaurants, ATMs, petrol stations, hotels and all sorts of other Points of Interest onto the standard map.
I've found I've used the GPS feature to help me find the location of shops and hotels, but only once I'm near them in the first place. It's useful, but nowhere near as useful as it would be if it worked at an acceptable speed.
Navigation aside, one nice feature of the E90's location-based services is the ability to geo-tag your pictures. You need to download a Nokia Geo-tagging application to do this, but it's free and extremely easy to install, and fast, too, as the E90 supports HSDPA.
Connectivity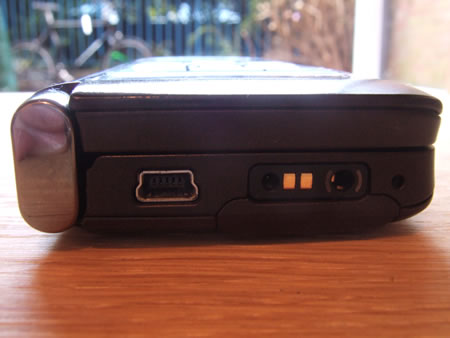 Which leads me nicely onto the E90's connectivity options. I've already mentioned Bluetooth 2.0, USB 2.0 and InfraRed, and of course you'd also expect a plethora of mobile phone connectivity as well. And you won't be disappointed: the E90 is a quad-band GSM phone with HSDPA for super-fast downloads (theoretically up to 3.2 Mbps, and in practice I've managed a tasty 2 Mbps). It also acts as a mobile modem, which is extremely useful when you're out and about with your laptop but don't want to pay the hotel's outrageous Internet connection bill (like now, for instance!)
You also get Wi-Fi, which works extremely well, and both Wi-Fi and HSDPA will provide an extremely good web browsing experience no matter where you are.
You absolutely must get a flat-rate data plan, though. I use T-Mobile's Web n Walk, which, for £27 a month, gives me unlimited (well, capped to 1GB) data downloads, plus a decent amount of free voice calls and 400 free texts. All the other networks now have similar offers. Unless you live in an area with almost continuous Wi-Fi hotspots, you'll need to use your HSDPA connection frequently (otherwise, why else would you have bought such a powerful smartphone?!), and you don't want to be hit with paying for your data by the megabyte.
Web Browsing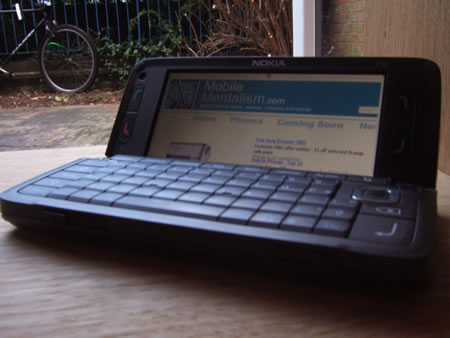 One of the key reasons that I bought the E90 was for its ability to browse the Web. At the time, it was by far the best mobile Web browsing device on the market. The combination of HSDPA, VGA screen and QWERTY keyboard made it sound almost as good as a standard desktop Web browsing experience, and I'm delighted to say I haven't been disappointed.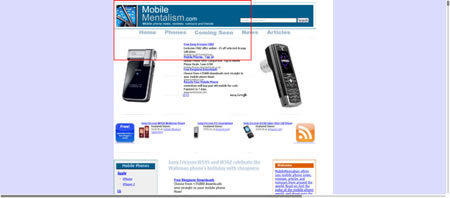 Actually, that's not strictly true: it doesn't support AJAX or Flash videos, meaning your average Web 2.0 site and YouTube are of no use. Fortunately most Web 2.0 sites that you'd want to use on a mobile phone also have mobile offerings. RememberTheMilk, for example, lets me update its ToDo list using a mobile version of its web-based service, while my Google Calendar is synced with the E90's built-in calendar via the excellent GooSync (Note: this is an affiliate link, but I've got a lifetime subscription with them, and having used them for over 7 months now, I'm extremely happy to recommend them).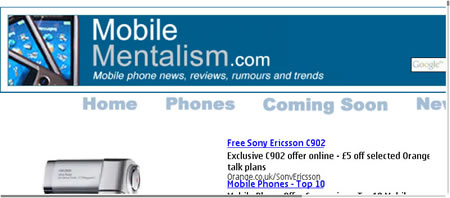 When I bought the E90 (November 2007), its biggest competitor as far as Web browsing was concerned was the Toshiba Portege G900. However, this had the disadvantage of running Microsoft Windows Mobile, which inevitably meant using the appalling Mobile Internet Explorer. Given the amount of complaints that people have had about the G900, I think I made the right decision with the E90.
Office Applications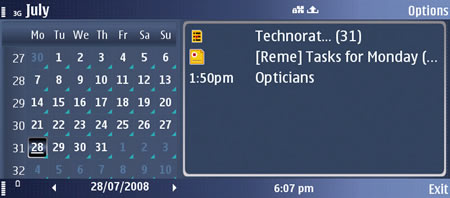 Let's not forget the E90 is a Business phone as much as it's a multimedia phone. Accordingly, it comes with a wide range of business-oriented applications, including the usual ToDo lists and calendar, both of which have saved my professional life on many occasions, multiple alarms, contact book and messaging applications. These include standard email, Exchange – I've even hooked up with Google's GMail (which, given the amount of email I get for that account, maybe wasn't the best idea!)
In addition the messaging applications, you also get QuickOffice, which not only lets you read Microsoft Office documents, you can also edit them as well. Don't expect to write a lengthy document using QuickOffice though – you don't get much screen real-estate, and the formatting isn't exactly comprehensive. But if you need to open up a document or even make a last minute edit, QuickOffice is more than good enough.
The E90 also sports ActiveNotes, which is like notepad on steroids. Not only can you add text, as you'd expect with a notebook, you can also embed media, such as pictures, videos, sound, a business card, bookmark or file into your note, and then send it off to someone via email, text message, MMS, Bluetooth or InfraRed.
In short, ActiveNote is an easy way to jot down your thoughts and embellish them with media from the world around you, and then send them to yourself for later use.
Music on the Nokia E90
Last, but not least, we come to the E90's music abilities. It has an MP3 player, naturally, and can also play M4A, AAC, eAAC+, and WMA-encoded tunes as well. The interface for the media player is nothing special, but the E90 wasn't built as a music phone. It's very intuitive though, and as you can see from the vid below, the sound from the E90's built-in speakers isn't exactly bad.
Summary
In conclusion, the Nokia E90 isn't just one of the best-equipped smartphones on the market today, it's also one of the most usable. Every feature on it works exactly like you'd hope it would, with full screen Web browsing, photography, video recording, musical playback and document editing all working superbly. The only feature that doesn't perform too well is the GPS, which is far too slow to be of any use for real-time navigation.
That said, the GPS has proved itself invaluable to me when I have got lost, and is something I'd definitely miss. All in all then, the Nokia E90 Communicator is a fantastic smartphone, and one I strongly recommend. I'll give it 9/10.