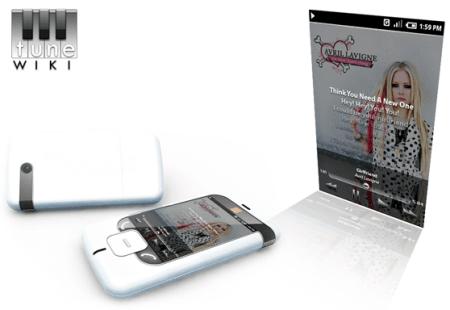 Google Android phones should be with us later this year, and will need some captivating software right from the start if they're to capture the interest of users who are already used to the technological miracles of Nokia, Samsung et al. and the user interface wizardry of Apple.
Recently, though, there's been a few rumours that developers have been losing interest in Android, and that there won't be much software released for it.
Really? Just wait until you see TuneWiki, an MP3 player for Android phones that's like no other, then decide for yourself if developers are giving up on the platform before it's even launched.

TuneWiki Overview

TuneWiki is a brand new MP3 player that doesn't just play music; it harnesses all the features of Android and the Web to create a unique bit of software. Not only does it playback MP3 tunes, it also displays the lyrics in real time as the tune is being played, in any language, letting you sing the tune to your heart's content, karaoke style.

It doesn't stop there, though. Taking full advantage of Android's GPS abilities, it lets you find other users across the globe who are listening to the same music you are as you listen to it, and even shows you the top tunes being played in countries across the world, or within a set distance from where you are now.

This sounds like an interesting new take on music playing, mashing up the tunes you play with your location and then showing the location of other people who are listening to the tune you're listening to right now. It's only when you see it in action though that you truly appreciate just what a leap forward this is for MP3 software.

Our sister-site MediaMentalism discusses TuneWiki on Android phones in some depth, including a video showing all the neat things it can do. If the video doesn't give you an insight into the power of Android and the radical new mobile software it will enable, then nothing will!
The mobile Web's growing pains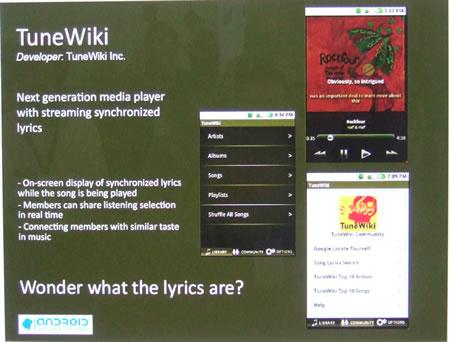 TuneWiki is a fantastic piece of software that can only exist because of Google Android. It already exists in a more limited form for the iPhone, but on Android it can really stretch its wings. Android phones come with GPS, which obviously helps its location-based services, and Google maps, which again helps TuneWiki present such rich geographical visualizations.
However, it's the openness of Android that will lead to true innovation in the mobile Web market, and which TuneWiki has harnessed so well. Other mobile phones provide GPS and MP3 playing software, but they don't give you the level of access to the hardware device that Android does. By being able to control everything from GPS devices through to MP3 players, cameras, and even the keypad itself, applications can be created that are much richer in terms of features.
The open model also extends to just who can create such software. With S60 software, such as that intended for Nokia's high-end devices, you need to purchase an S60 license before you can deploy your apps. Both the expense of the license and the process of getting one act as a barrier to innovation, as they shut out bedroom coders (who can lead the way in innvoation without fear of shareholders' opinion) from developing on the platform.
Apple is even worse. Apple applications can only be sold through iTunes, and must be pre-approved by Apple. Worse, not only does Apple effectively act as an application gatekeeper, censoring the applications that can be made available to users, but it's also notorious for suddenly pulling an application for no reason whatsoever. That's hardly to foster innovation.
Why the Google Android model will usher in the world of the Mobile Web
The Google model, therefore, based on the open model of the Web, is by far the best approach if fast innovation is what you're after. And with regards to the mobile Web, that is exactly what's needed, as it's been woefully inadequate up until now.
Mobile devices will let you browse the Web, but that's all. With no access to the underlying device, there's no incentive to create innovative applications that harness all the amazing features of a mobile phone that a PC simply cannot provide: mobility, location awareness, and sensors such as cameras and video recorders.
TuneWiki has shown just what can be done when innovation and a free and open model work hand in hand. Regardless of the doubters, I personally think that Android is set to revolutionize the mobile Web space; maybe not this year or next, but certainly by 2010.
[Source: TechCrunch, MediaMentalism]