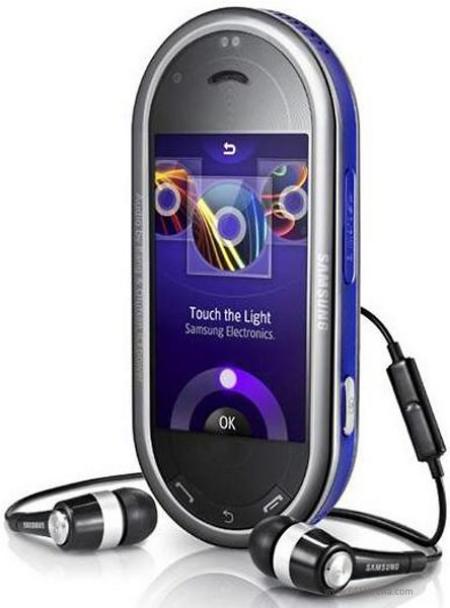 Time now for a Samsung Beat DJ review. The Samsung M7600 Beat DJ is, as you'd expect, a music phone. As it's a Samsung phone, there are one or two things it absolutely must have: a feature-set as long as your arm for starters, and some tiny feature that's touted as the world's first.
Fortunately for Samsung fans, the Beat DJ scores in both departments. The Beat DJ has every feature you can imagine thrown into its tiny 112.0 x 51.0 x 13.9 mm dimensions, and comes with the world's first (and possibly last!) virtual turntable on a phone!
Is that enough, though, to see it take the crown as King of music phones from Sony Ericsson's Walkman range? Read on for more details.

Samsung Beat DJ Overview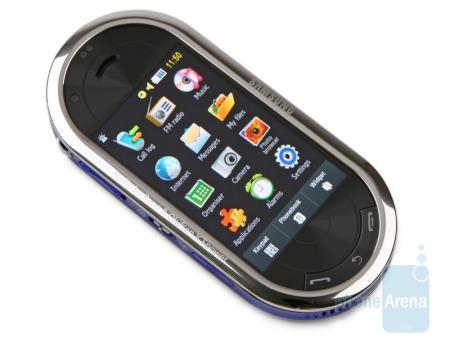 The Samsung Beat DJ is primarily aimed at young-un's, which apparently means people aged between 16 – 25. This is a notoriously difficult age-group to target. No only do blue-chip companies generally not have a clue as to what the youth think of as cool, but cool itself differs across cultures. Samsung, then, being a Korean blue-chip company, really has its work cut out!
In trying to make the Beat DJ cool, Samsung added a "revolutionary" virtual turntable app to its latest music phone. I guess the thinking was that combining the words "Beat", "DJ", "virtual" and "turntable", they'd have a guaranteed hit on their hands. unfortunately, what they actually ended up with was nothing more than a gimmick.
Samsung Beat DJ from the outside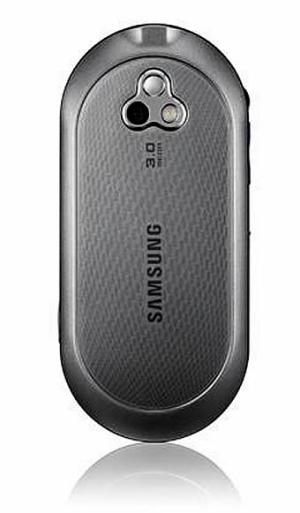 Externally, the Beat DJ is quite a good-looking phone – well, certainly different anyway, and I'm sure it's mother would love it! It's elliptical in shape, presumably to continue the turntable theme, and has a good looking 2.8″ AMOLED touchscreen, which gives it a nice designer look.
The camera's on back, of course, and like nearly all touchscreen phones these days, there are no keys as everything's virtual (man!)
Unfortunately, this only works if the touchscreen and user interface are any good, and with the Beat DJ, they're not.
Samsung Beat DJ features
The Samsung Beat DJ's list of features is impressive:
Quad-band GSM
7.2Mbsp HSDPA
2.8″ OLED touchscreen, WQVGA resolution (400 x 240)
50MB built-in memory, hot-swappable microSD card slot (up to 16GB)
Virtual DJ music mixer application with filters, scratching, sampling and effects
Proprietary Samsung Touch UI, latest version of TouchWiz (1.5)
3 megapixel auto focus camera with PowerLED flash, and VGA video@20fps
WiFi, Bluetooth 2.1 with A2DP, micro USB Port
GPS receiver with A-GPS
5.1 channel surround sound feature
Accelerometer for screen auto rotate, Proximity sensor for auto screen turn-off, FM radio with RDS, DivX/XviD video support
Apart from the weak camera and video camera, the Beat DJ is fully loaded, coming with pretty much every feature you could ask for.
Beat DJ's music features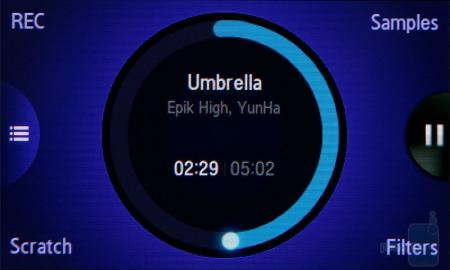 Of course, it's the music abilities that Samsung are really focusing on, and these really don't disappoint. Featuring music hardware from Bang and Olufsen, the Beat DJ is winning rave reviews for the quality of the sound it pumps out.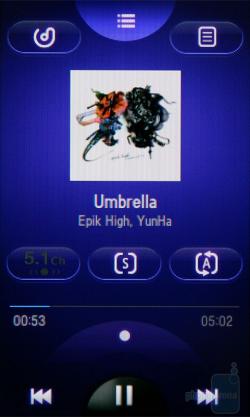 Its speakers are pants, of course, but then it's only a mobile phone, and Samsung provide some rather good quality headphones (and a standard 3.5mm headphone jack) to compensate.
User experience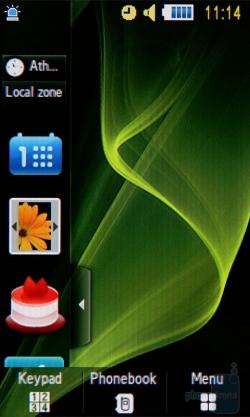 Unfortunately, users want more than just a great set of features from their phones these days; they also want a great user experience. They want an intuitive user interface with lots of animation that'ss been deisgned carefully, seems to know what you want to do before you do, and is as responsive as physical buttons.
That's exactly what you don't get with the Beat DJ. Instead, you get an updated version of Samsung's painful TouchWiz UI, and a touchscreen that rarely notices you touching it!
Given that there are no physical keys at all, this makes text entry painful. It's even worse, though, when you consider that the Beat DJ has no QWERTY option at all – not even a virtual one. You have to use T9 predictive text via a painfully slow unresponsive touchscreen. Not a pleasant experience at all!
But there's still worse to come, though. The one thing that Samsung are shouting about with the Beat DJ is its innovative virtual turntable, but because of the useless user interface, this too is virtually useless! It doesn't respond to your touch in time, and even if it would, it's limited at best to what it can actually do. You can scratch your tunes back and forth and add effects, but you can't mix your tunes or save anything that you've created.
The whole virtual turntable thing, therefore, is just an overhyped gimmick that doesn't work and will never be used.
To see for yourself whether you think the Virtual Turntable is any good or not, check out the video below.
Hold on – I can feel a rant coming on!
Samsung desperately needs a new marketing department!
Samsung have, for many years, focused on high-tech phones, and we love them for it. As one of the true leaders in the field, they giev Nokia a run for their money in the technological arms race that's leaving many of their competitors behind.
But they've also come up with some true stinkers in an effort to be first with that technology, or to squeeze the most features in to a phone.
The Samsung Pixon, for example, was one of the first phones with an 8 megapixel camera, and appeared months before Nokia or Sony Ericsson released their 8 megapixel phones. Problem was, the pictures it took with its 8 megapixels weren't actually any good!
This is a recurring theme with Samsung – release a phone with a nifty feature, even if it doens't work!
But the mobile phone world is changing. With the iPhone and now Android phones, everyone's having to raise their game to make sure their phones now provide a compelling user experience with features that are easy to use and actually work.
Gimmicks such as the virtual turntable on the Beat DJ are being seen through as the marketing frauds that they are, and Samsung should spend its marketing money much more wisely. Throw the cash at the user experience and less on the gimmicks, and they'll have a real winner on their hands. The Beat DJ is a surprisingly good music phone with killer features, but it's let down by silly marketing, a useless app, and a painful user interface.
OK, rant over with, let's see what the rest of the Web says about it!
Samsung Beat DJ reviews across the Web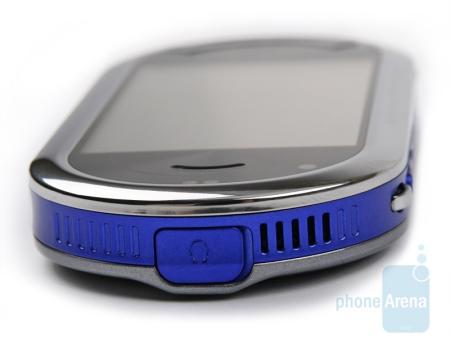 3G.co.uk like the music feature of the Beat DJ, but not its interface (surprise surprise!). They write that "[i]f you can overlook the fact that Samsung has marked up the phone's 'virtual DJ' capabilities, the Beat DJ is actually a pretty good music phone with high-end audio specs…The Beat DJ gets points for originality, but lacks the tech to back it up."
MobileChoiceUK agree: "It may have top music specs, but the Beat DJ is let down by its touch-screen and messaging interface."
PhoneArena are much more positive: "Aside from an awesome overall look, the BEAT DJ also provides a rich functionality and a fancy touch-sensitive screen, giving it the potential to become a real milestone multimedia device. It seems that the only thing Samsung needs to do now is a great deal of optimization, since the DJ's software feels way too sluggish, at least on our prototype. Thumbs up!"
Samsung Beat DJ Summary
I'm in two minds about the Samsung Beat DJ. It's not a great phone, but it is different from many of its competitors. It has a huge range of features, but a poor user experience. It's music features are best in class, but the way you get to access your library of tunes isn't! Difficult to recommend, but difficult to hate as well. I guess that makes it a 7/10, if only for effort!
You can buy the Samsung Beat DJ now from Dialaphone from £30 a month, with six free Ministry of sound of tracks pre-installed. These are:
Steve Angello vs Laidback Luke feat Robin S – Show Me Love
Kid Cudi vs Crookers – Day n Night
Bart B More vs Oliver Twizt – Finally
Basshunter – Walk On Water
September – Can't Get Over
Lasgo – Out of My Mind