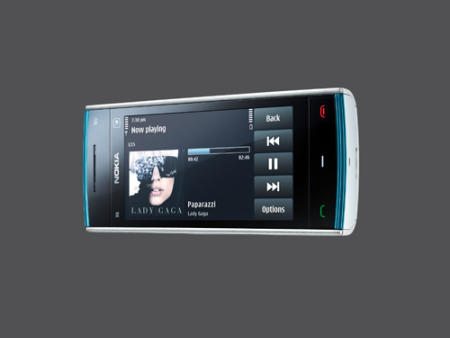 Nokia has revealed the new Nokia X6 music phone at Nokia World 2009. The Nokia X6 is the first of a new range of X-Series devices that points the way to a new direction for the company – and a much better one than was evident with its recent N97.
Whereas the N-Series range was described by Nokia as "multimedia computers", reflecting the high-end set of features each device incorporated, the X-Series focuses firmly on entertainment. Music, video and social connectivity are at the heart of the X-Series phones, as is a brand new user interface and experience.
The Nokia X6 features a glorious 3.2″ touchscreen phone that's actually extremely responsive. Unlike the N97, the X6 is based on capacitive rather than resistive technology, which means a simple swipe with your finger is all that it needs to control the menus and screens, rather than the stylus or a fingernail that the N97 demanded you use.
This makes the whole experience much improved. Add to that cracking features like a 5 megapixel camera with dual LED flash, glorious social connectivity via Facebook, 32GB of storage and a battery capable of playing a whopping 35 hours of music between charges, and the Nokia X6 looks looks like it could be a breakthrough device for Nokia.
More details and videos of the Nokia X6 after the jump.
Update – check out our new Nokia X6 review

Nokia X6 Overview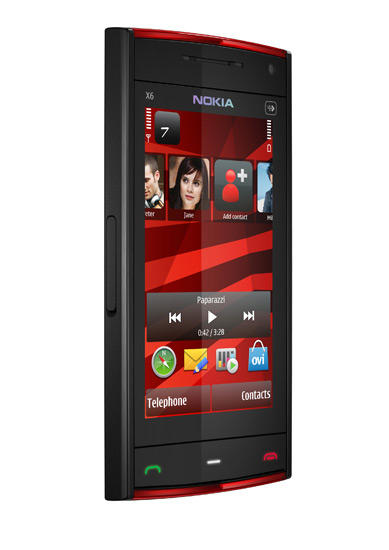 Older Nokia N-Series phones were beginning to look a bit tired, with similar features to each other, and a user experience that was outdated to say the least. Compared to the iPhone, Android and Palm Pre, the way you used an N-Series's menus and generally controlled the phone was looking almost prehistoric.
At a stroke, the X6 changes all that. Menus slide swiftly with the swipe of a finger with almost instantaneous responsiveness.
Better still, the whole user interface looks much better – much more like what we've come to expect from our phones in 2009. It's colourful, flashy, speedy, intuitive, and just downright sexy!
It's not just the interface that looks cool – the exterior is super-sleek too. Just 14mm thin with few buttons, the X6 really has the X-Factor (sorry, can't believe I just said that!)
X6 Music Features
The X6 has been designed as an entertainment device, but it's music that takes centre stage. With 32GB of storage (enough for 11,000 tunes), 35 hours of playing time between charges, a new media player application, and a nifty app that lets you select tunes based on the mood that you're in, the X6 is a first rate music player.
It's also a Comes With Music device, which lets you download millions of tunes over the air for free, and keep them as long as you want – even when your Comes With Music free subscription ends after a year.
Nokia phones have always had good quality music playback, but the X6 look set to better this with Nokia releasing a new headphone for the X6 developed by Sennheiser.
Social Connectivity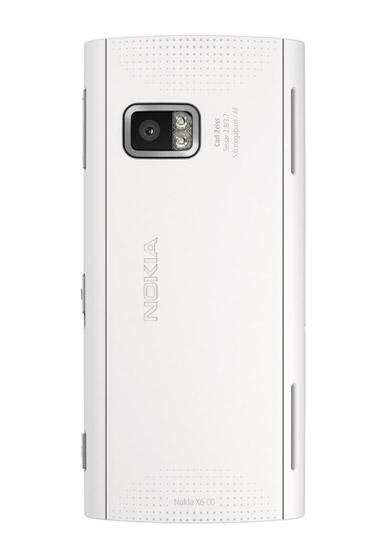 Music isn't the only trick up the X6's sleeve, though. It's also tightly integrated to social network services such as Facebook, Flickr, Windows Live!, Yahoo IM, YouTube and MySpace. Its contact book hooks into Facebook, showing you your friends' profile pictures when you look up a contact. Better still, select the face of your friend and you see their current Facebook status displayed directly beneath their details.
It's features like this that provide true integration with social networking apps, and shows that Nokia has at last embraced the social networking age beyond its own Ovi service.
Other features
The X6 is already tasty. But its list of features don't end there:
3.2″ capacitive touchscreen
16:9 widescreen format
A-GPS with photo geo-tagging
Compass
Ovi Maps
5 megapixel camera with Carl Zeiss optics and dual LED flash
Nokia Music Store
3.5″ headphone jack
Full Web browsing with Flash Lite support (enabling YouTube video streaming)
Auto-landscape mode
Email connectivity with built-in support fro Yahoo! Mail, Gmail, Windows Live Hotmail and most other POP3/IMAP email services
16 days standby time
WiFi support
HSDPA
Media player with support for MP3, SpMidi, AAC, AAC+, eAAC+, WMA, and MTP formats
TV-out
FM Radio
N-Gage gaming
Spore
Spore? Yes, the most-hyped game of 2009, EA's Spore is included out of the box.
In short, what you get is a terrific list of features that put most N-Series phones to shame, coupled with a great new user interface (Nokia's most responsive yet, apparently). Nokia really have pulled out all the stops on the X6, and it's great to see the company come good after the disappointment of the N97.
Videos of the Nokia X6
Enough of me waffling on about the virtues of the X6. See for yourself, in the X6 videos below.
Summary
The Nokia X6 is a great return to form for Nokia. It comes with all of the legendary features of its N-Series phones, but now, at last, matched with a first-class user interface. If this phone is as good as initial impressions make it seem, it's going to find its way into a lot of stockings this Christmas, especially when you consider it's only 450 Euros without contract.
Update – Don't forget to check out our new Nokia X6 review