With so many companies making top-end smartphones, you'd think the last thing the market needed was yet another company jumping on the bandwagon.
But not Dell – they've seen that bandwagon, and they've jumped on it with both feet! Details of no less than four brand new smartphones from the company have been leaked, and I have to say, I'm mightily impressed!
The Dell smartphones are currently in concept stage and won't be released until 2011 if current rumours are to be believed, but if the end result is as good as these concepts appear to be, the Dell might just catapult it to the top of the smartphone market.
Full details of the new Dell smartphones after the jump.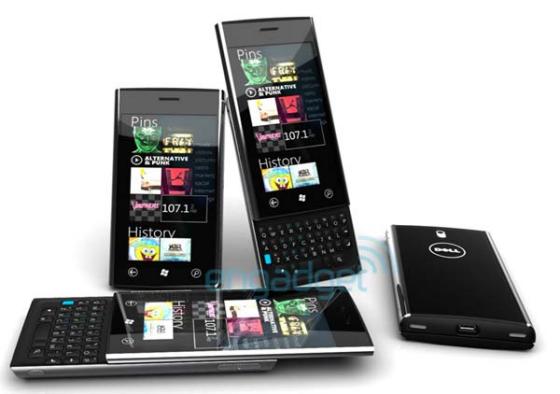 Dell's smartphone strategy
Dell's smartphone strategy is to create a brand new user interface (called the Stage UI), use both Android and Windows Phone 7, and use high-end components to max out the specs of the phones. They've also thought about the design of the phones themselves with some highjly original form factors that includes curved glass in the construction.
Although these are just concepts, there's been an awful lot of thought gone into them, and it seems there's every likelihood we will see these Dell phones early next year.
So, without further ado, what are the phones like?
Dell Flash
First up is the Dell Flash. Running Android Froyo, it features a cruved glass front, the glorious new Stage UI which looks superb, and on-device image editing.
Dell will provide the Flash with Adobe Flash 10.1 support (hmmm, wonder if that's where the name came from?!) and HTML5, so the phone should be able to provide true desktop-like Web browsing with full Rich Internet Application supported in whatever format they've been created in.

In addition, the Dell Flash will also come with the following:
5 megapixel camera
smile, blink detection, face recognition and image stabilization
TV-Out
One touch video upload tpo sites such as YouTube
Support for 64GB of external memory
Multi-touch support, with pinch, zoom, scroll, rotate and scale#
Qualcomm MSM7230 processor (i.e. the next-gen Snapdragon) running at 800MHZ
14.4Mps HSDPA for super-fast downloads
5.76 HSUPA or super-fast uploads
3.5″ screen, but with only 262,000 colours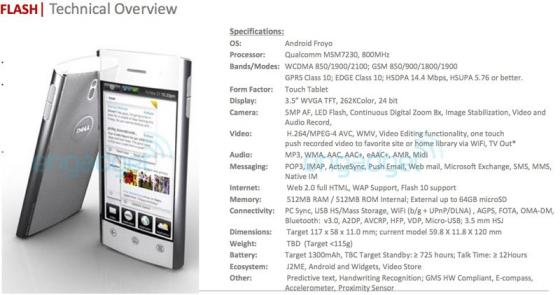 Those are some pretty tasty features. But that's not the best in Dell's lineup – not by a long shot!
Dell Thunder
Where the Dell Flash set the scene, the Dell Thunder really steals it! The Flash is the little brother to the Thunder, so just imagine what the Thunder offers.
OK, don't imagine, we've got the specs here!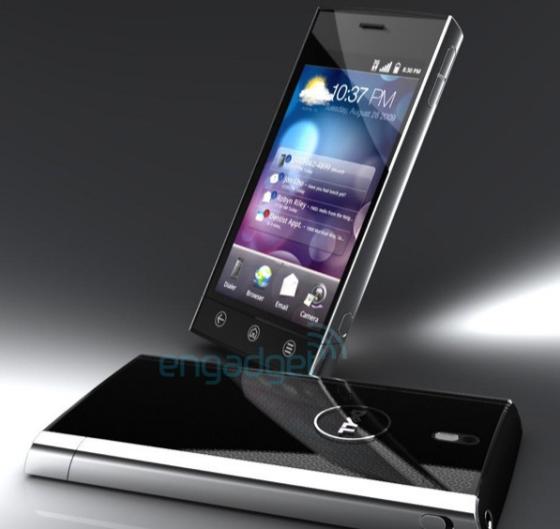 The thunder comes with the same features as the Flash, plus:
8 megapixel camera
on board photo and video editor
integrated Hulu app for watching TV
Streaming radio support
4.1″ screen
Swype text entry system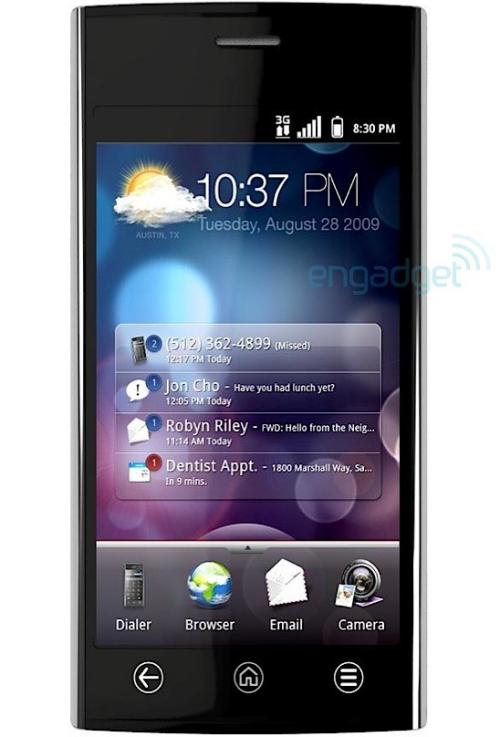 Dell Smoke
Dell's final Android smartphone is the Dell Smoke. The most immediate difference between the Flash and the Thunder is the use of the Palm-like QWERTY keyboard at the bottom of the phone.
This clearly marks the Smoke out as a business phone, and you'd be right. Not only do you get the business-like portrait-oriented keyboard (I've no idea why business users like their QWERTY keyboards in portrait format whereas home users prefer a landscape orientation, but they do!), but you alos get VPN access control using 802.1x authentication for logging in securely to your company's network.
There's also a remote wipe capability should your phone ever be stolen, and a full range of office-based productivity apps.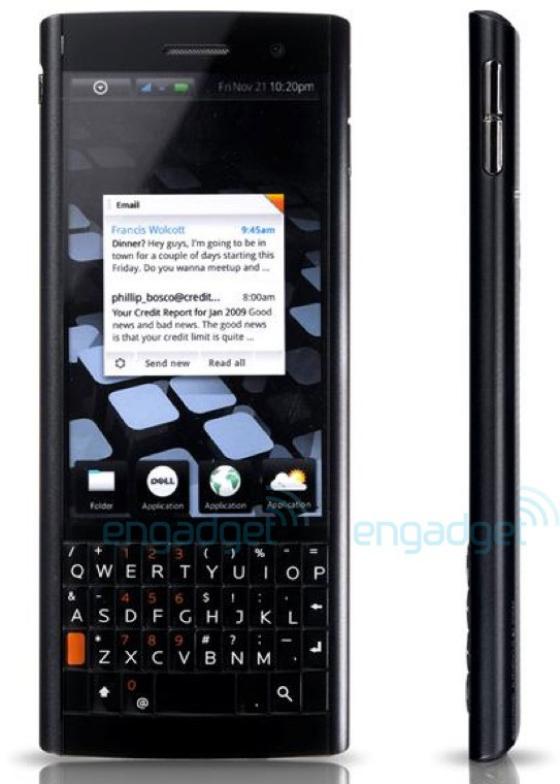 The Smoke seems the perfect foil to Nokia's E-Series range of business phones and to Blackberry, and shows what can be done when an IT-oriented company such as Dell designs the smartphone for businesses. Its sleek, sexy and does ecerything a business user could want, combining the power of modern smartphones with the IT knowledge of Dell.
Dell Lightning
Finally, we have the Dell Lightning. I love the name of this phone, as it's the perfect foil to the Dell Thunder, which is apt, as the Lightning is Dell's flagship Windows Phone 7 phone, whereas the Thunder is its flagship Android phone.
So what does the Lightning offer and how does it compare to the Thunder? Well, we've only got paper-based specs to go on, but when these two beauties are finally released, every mobile blogger and his dog will be gagging to test them both side by side!
OK, on with the specs. The Dell Lightning offers the following:
Windows Phone 7
4.1″ OLED display
5 megapixel camera
1GHz QSD8260 Snapdragon processor
Portrait slider with QWERTY keybaord (same as the Smoke, above)
7.2Mbs HSDPA and 5.76Mbs HSUPA
1GB Flash ROM, 512MB DDR SDRAM, 8GB microSD card
Zune and Zune marketplace support
Integrated XBox Live
Full support for Flash and Silverlight
Bing-powered browsing
Internet Explorer browser
Plus all the usual GPS, compasses and accelerometers we've come to expect from a smartphone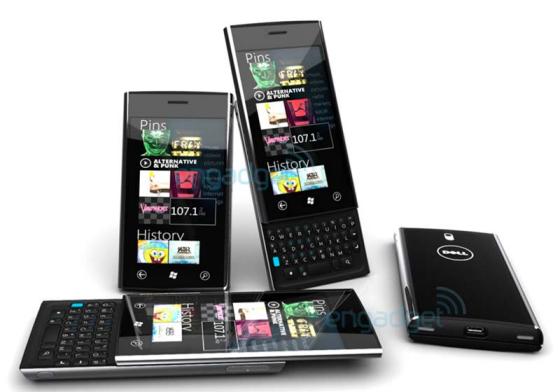 The Dell Lightning release date is set for Q3 2010, which means it'll be one of the first Windows 7 Phones on the market. The Dell Thunder, Flash and Smoke will also be released at the same time, with LTE versions (i.e. 4G versions!) released early in 2011.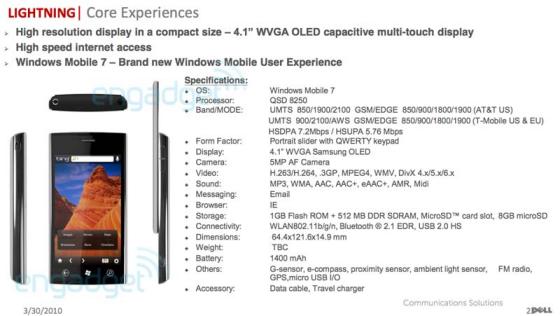 Thoughts on Dell's new lineup
Rumours of Dell building a phone have been around for years now, but with the recent explosion in smartphones, it was kind of inevitable. Apple is no longer a computer company, it's a mobile device company. Nokia have been calling their N-Series phones multimedia computers for years now. Even Intel have developed a mobile Operating System (Meego, in partnership with Nokia).
The world is changing and is ultimately going mobile, and Dell simply had to respond and enter the smartphone market or risk irrelevence.
Fortunately, it's got off to a cracking start, as these phones not only come with a spec sheet to make you drool, but both the phones and the Stage UI look absolutely gorgeous.
I really expected a Dell smartphone to be another me-too generic phone with maybe a default Android install slapped on it, but I was hugely surprised with these little beauties.
Of course, by the time they're on the market, other companies such as HTC will have released even newer versions of their existing smartphones, so they may not seem so great when they're finally launched.
But for now, they've set new standards and are really something glorious to look forward to. Adding one new competitor to the smartphone market just makes things even more exciting and shows that the pace of mobile phone innovation is accelerating, despite Apple's best efforts to stifle it.
And as for the Dell tunder and Lightning shoot-out – now that's worth waiting for!
[Source: Engadget Mobile]