I think in this Nokia E72 review I've discovered the reason why Nokia's having such a poor time in the smartphone stakes at the moment. The Nokia E72 is, first and foremost, a great phone that's perfect for business use. In fact, it's probably the best business phone on the market today.
Importantly, though, it's not a touchscreen smartphone, and nor does it pretend to be. And this is the E72's great strength – Symbian, Nokia's mobile OS, excels as a business phone OS, but sucks as a smartphopne OS. As a result, build a business phone on top of Symbian, as Nokia have done with the E72, and you've got a winner on your hands.
To see just how much of a winner, read our full Nokia E72 after the jump.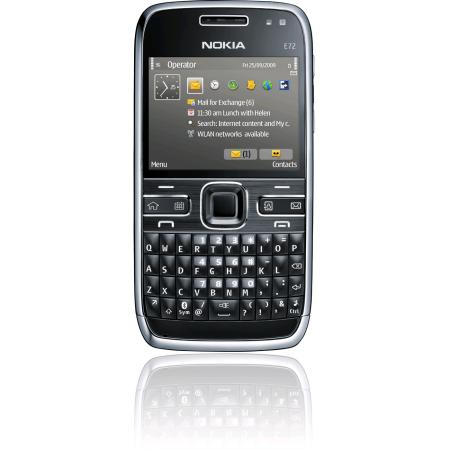 Nokia E72 Overview
The Nokia E72 is a business phone and comes with a full physcial QWERTY keyboard located on the bottom of the phone. Although not as flashy as a full touchscreen phone, it does make for super-efficient messaging.
And that, of course, is what you want from a business phone – you want to be able to reach people quickly and respond to their messages in double quick time. With its superbly engineered QWERTY keyboard, crystal clear screen and 600MHZ processor, the E72 is perfect for just this task.
Usability-wise, then, the E72 is great. Its look are pretty special as well. Although a portrait-orientated QWERTY keyboard might not be the most handsome looking design to sport, you have to admit the overall look of the E72 is very crisp, professional and stylish.
On the back is the 5 megapixel camera, which isn't actually needed for a business phone, but which adds to the range of features the E72 boasts.
Speaking of which, let's check them out.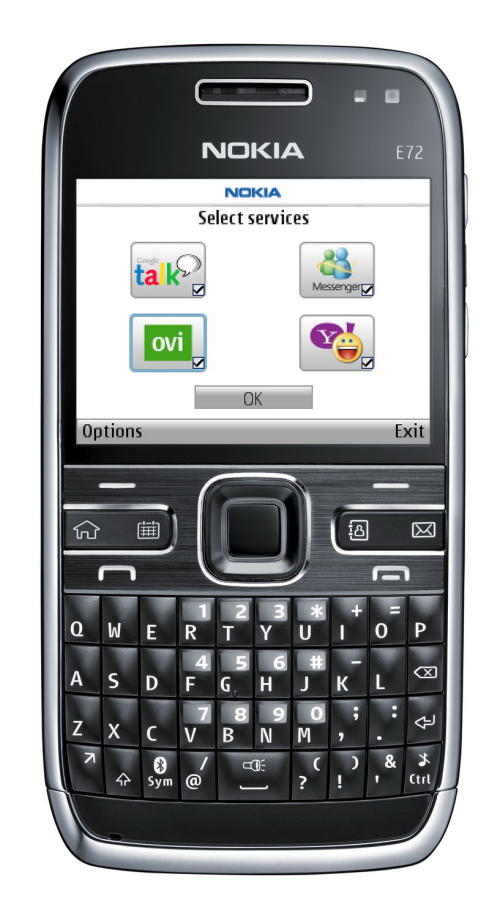 What you'll love about the Nokia E72
The Nokia E72 is a pure business phone, and so its range of features have been built firmly with the needs of busy business executives in mind. Teh E72 gives you the following features:
Crystal clear screen shows all your messages in 16 million colours
Download your documents in double-quick time with 10.2Mbps HSDPA
A true world phone with quad-band GSM, tri-band 3G, GPRS, EDGE and WiFi b and g
Fast and efficient navigation with the physical QWERTY keyboard and optical trackpad
Full multimedia features with a 5 megapixel camera with LED flash and VGA quality video recording at 15 frames per second
Music and video players support dozens of different formats, including MP3, AAC, MP4 and 3GP
3.5mm headphone jack lets you use any standard headphone to listen to your tunes or voice recordings
Work with your Microsoft Office documents on the move with the Document editor
Browse the Web wherever you are with Nokia's Webkit-based browser.
View YouTube vids thanks to the E72's support for Flash Lite v3
Long battery life lets you talk for 12 hours solid
Navigate your way to your meetings with the E72's GPS receiver, digital compas and choice of Nokia's own Ovi Maps or Google Maps
Mute the E72 just by turning it over thanks to its built-in accelerometer
Remote wipe feature lets you wipe any data on the E72 remotely if it's ever stolen
Create business and leisure homescreens, and switch between the two instantly
Control your E72 with your voice
Support for dozens of different email messaging systems, including GMail, Microsoft Exchange, IBM Lotus Notes and more
Connect securely with the E72's mobile VPN support and built-in encryption
Blimey – that's quite a list of features! In fact, to save you a bit of time, if you're looking for a kick ass business phone for just £25 a month with £80 cashback, then save yourself some time and go and buy the Nokia E72 now.
If you're still not sure, though, then let's take a look at some of these features in more depth.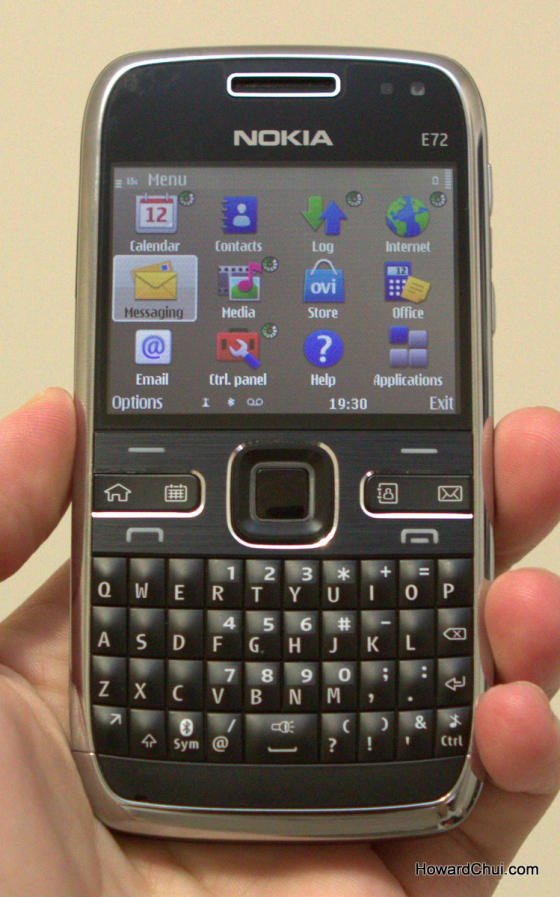 E72's messaging features
A business phone is all about messaging. You need instant updates from any system that your company uses, and you need to be able to message your contacts anywhere around the world, again using any system that your contacts are using.
Nokia have thought about this with the E72 and have armed it to the teeth with messaging services! You can use email, VoIP, Instant Messaging or simple text messagin gto communicate, and do it all seamlessly and easily.
The E72 comes with support for Microsoft Exchange, IBMs Lotus Notes Traveller, GMail, Yahoo! Mail and Windows Live Hotmail, to name just some of hte email messaging services it's compatible with.
If your company uses VoIP, you can hook your E72 up to the company's internal phone system by using a super-easy VoIP connectivity app.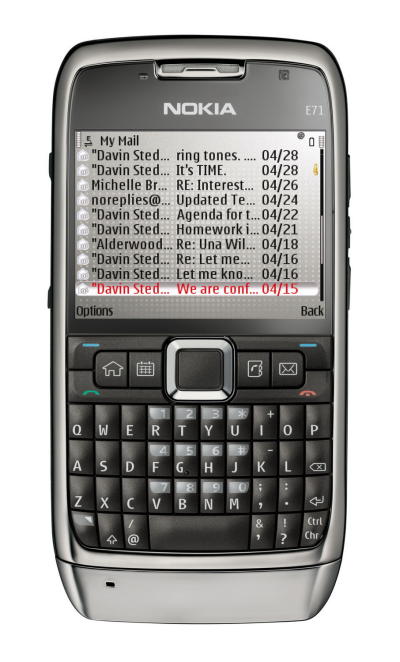 The E72s security features
If security's on your mind, the E72 is fully equipped with a range of features to ensure your private documents don't get into the wrong hands. There's a Remote Wipe feature, for example, which lets you erase all data on the phone remotely if it's ever stolen.
There's also a mobile VPN app, letting you login to your company's network over a secure connection, which, with the E72's built-in encryption, ensures you never send sensitive documents in the open.
Multimedia Features and camera
The E72 isn't all about business. With its 5 megapixel camera, video recorder, music and video player, an dFM radio, it's a fully equipped multimedia phone as well.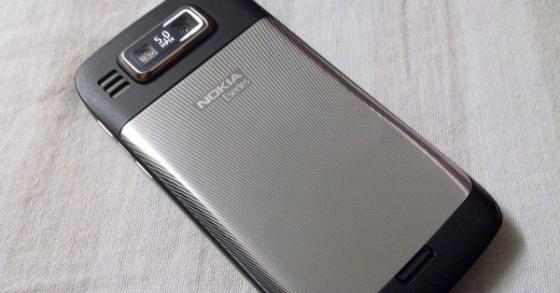 Its media-playing credentials obviously aren't as good as some of Nokia's dedicated media phones such as the Nokia X6, for example, but it does give excellent sound quality, and the pictures it takes are extremely good.
Indeed, the E72 is very similar to many Nokia N-Series phones of late, with the same Symbian media player, picture gallery and camera interface, and sound quality that's better than any other business phone on the market.
Better still, you can mix business with pleasure by creating two separate homescreens, and switch between the two instantly with the flick of a switch. So, for example, you could create one homescreen for business use and another just for leisure, with movies, pictures and music apps all accessible from the leisure homescreen.
A nice touch.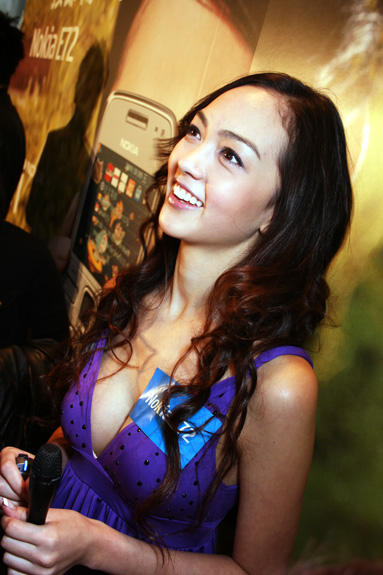 Web Browsing
Web browsing on the E72 should be very familiar to anyone who's used a Nokia phone in the last three years. The E72 uses the same Webkit-based browser as all Nokia phones recently, and it's a well executed browser that renders pages very quickly.
Better still, the E72 also comes with Flash Lite, which means you can see Flash animations that are embedded within Web pages, and watch YouTube videos.
Office applications
As a business phone, you want the Nokia E72 to support your business needs throughout the day. That measn a lot of office-based and productivity software, and the E72 happily offers a plethora of such goodies.
As well an updated calendar and Task List app, the E72 also lets your view and edit your Microsoft Office documents – including Office 2007. This feature comes free and is available out of the box, so there's no expensive downloads to install in order to use this feature – it's all there waiting for you as soon as you switch the E72 on.
The E72 also comes with a PDF reader and a ZIP file viewer for extracting ZIP files, and a load of other productivity-based apps.
Finally, the E72 also comes with WiPresenter, which lets you run PowerPoint presentations (which you can also edit) straight from your phone.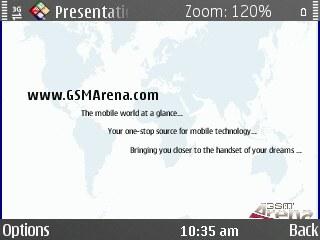 Did anyone say apps?
You'll notice at this stage that the big difference between the E72 and the latest smartphones is the lack of social media apps. There's not Twitter or Facebook app integrated into the phone, for example.
But don't think that that means you can't access these services on the E72. Thanks to Nokai's own Ovi Store, there are hundreds of apps you can download, including an extremely useful Facebook app.
Navigation
Finallly, we have the E72's navigational features. The E72 is equipped with an aGPS receiver, which locks onto GPS satellites quickly and offers a high degree of precision. Nokia's Ovi Maps v3 is fully supported as well, which means thousands of locations are already stored within the phone, so you won't lose your directions if you're suddenly out of mobile phoen coverage (as can happen with Google Maps).
Ovi Maps also supports turn by turn directions and a pedestrian mode for walking on foot, as well as a pretty 3D mode. You can even buy an E72 holder for your car and use it as a full-on Sat-Nav device.
If Ovi Maps doesn't do it for you, though, you can always use Google Maps. There's also a digital compass onboard,which makes sure the map is pointing in the same direction you are!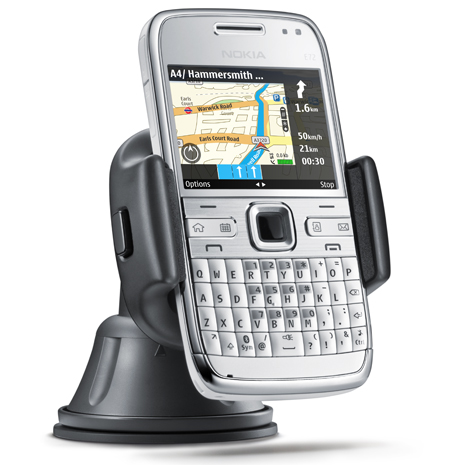 Some things you might not like
So is th eE72 perfect? No, of course not. For one thing, it's still using Nokia's old Symbian S60 OS, which is really starting to show its age. The E72 is no match for the iPhone or for any new smartphone, as far as looks are concerned.
But then, that's not the point of the E72. It's a business phone not a smartphone, and by doing away with all the frippery of a smartphone, its core features have been executed superbly, making the phone extremely responsive, and something that will react to your every business need whenever you want it to.
The E72 should naturall be compared to a Blackberry, then, not the latest smartphone.
Another area that's not quite so hot is the screen. Although it's crystal clear and capable of showing 16 million colours, it's not particularly big, as most of the E72's front face is taken up with the QWERTY keyboard.
Although it's not a problem for most office-based activities, it does make browsing the Web a bit tricky.
Finally, the user interface is now starting to look a bit old. It's the standard Nokia interface, which has been arund for ages now. On the plus side, if you're used to using Nokia phones, you'll be able to use all of the features of theE72 without any problem whatsoever – you won't even need to look at the manual – and the E72 does have the fastest response of any Nokia phone, so it's vertinaly
Video reviews of the Nokia E72
Here are what some other people have been saying about the Nokia E72.
Is the Nokia E72 for you?
If you're after a first-rate business phone, then the answer is simple: yes, it really is the phone for you! From a business-perspective, it's perfect. Its messaging abilities, communications, Office editing and responsiveness are all first rate, making it the perfect phone for work wherever you are.
Throw in the extra features such as the 5 megapixel camera, Flash support, GPS, compass and Ovi Maps, and you've got a well-rounded phone that's as good for leisure as it is for work. If you're looking for a business phone, then the Nokia E72 should certainly be right up there on your list.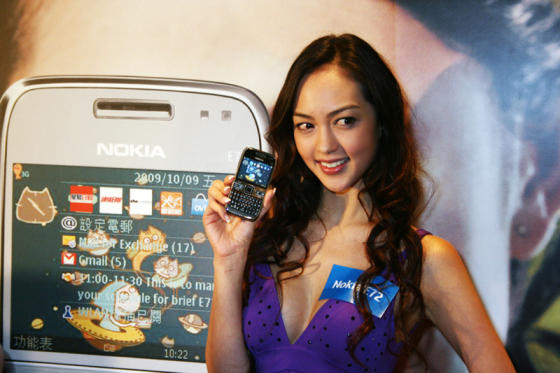 As for Symbian, the mobile OS that the E72 uses, it turns out that it shines on the E72. Symbian has been slated recently as it's fallen well behind the competition when it comes to smartphones. But for business phones, it's perfect.
It's an extremely quick OS on the E72 with a streamlined interface that makes accessing all the features you need an absolute snip – which is just what you need when you're under pressure at work.
If you're looking for a phone that offers a sexier interface, then you should look elsewhere (such as the HTC Desire or Sony Ericsson Xperia X10, for example). But if you need a phone that'll make you super-efficient at your job, which comes with as many features as an N-Series, all packaged in a seriously professional looking device – then go buy a Nokia E72 now!
[Source: GSMArena]