A new Motorola Android phone has been leaked in the form of the Motorola FLIPOUT. The new phone's most obvious unique feature is its form factor. No staid candy bar or clamshell design for Motorola – they've gone bold with the FLIPOUT and developed a completely square phone that slides out to reveal a physical QWERTY keyboard.
More details and pics of the Motorola FLIPOUT after the jump.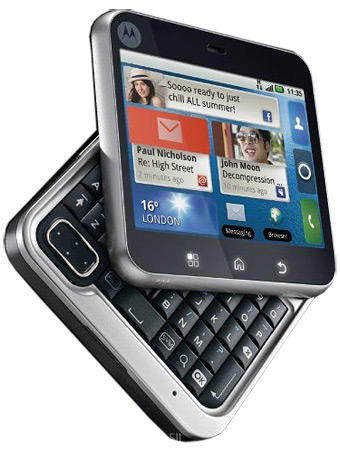 The FLIPOUT's main screen looks similar to other Motorola Android phones as it uses the MOTOBLUR user interface. Motorola promised us more phones using MOTOBLUR, and they've really delivered, but we never expected anything quite like the FLIPOUT!
In terms of features, the FLIPOUT isn't massively well-specced, as you can see:
3 megapixel KODAK camera
2.8″ touchscreen
700MHz CPU
256MB RAM
512MB ROM
microSD card slot
Other than the processor, all these features are pretty low-end, implying the FLIPOUT will be pitched at younger buyers with a heavy emphasis on social media.



That said, one worrying aspect of the rumours is that the FLIPOUT won't support either 3G or WiFi. If this is true, it's difficult to see how the phone will be to operate anything like close to its potential given Android's heavy reliance on a fast Internet connection.
We won't have to wait long though. The Motorola FLIPOUT release date is rumoured to be mid-June 2010, priced around 310 Euro.
[Source: GSMArena]