In this HTC Wildfire review, I'm not only going to review the Wildfire itself, I'll also show how it differs from the HTC Desire, the flagship Android phone that's been flying off the shelves all year.
The reason is that HTC have released quite a few Android phones this year (with more due to be launched in the next few weeks), but given that they all have the HTC Sense user interface, you'd be forgiven for wondering which one to choose. Clearly they're all for sale at a different price, so some have more features than others.
But which one is right for you? Which one represents the best value, and what features are you missing out on for the lower price?
So with that in mind, let's start the HTC Wildfire review and see exactly how it compares with its bigger brother.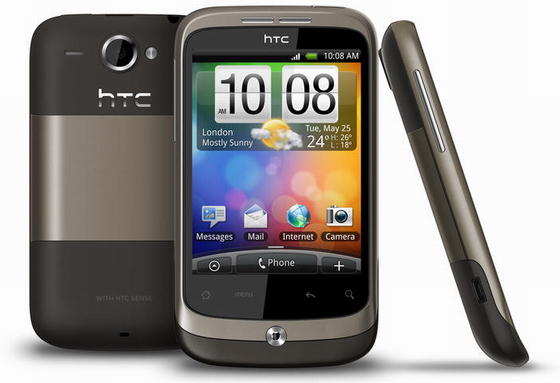 HTC Wildfire Overview
At first glance, the HTC Wildfire looks very similar to the Desire (and, indeed, to most of the other HTC Android smartphones). However, it's a good deal cheaper, with the current lowest monthly deal just £9 a month – and that's with the phone thrown in for free!
So something must be missing, but what?!
Well, the first clue comes from its size. It's much smaller than the Desire, thanks largely to its 3.2″ screen (compared to the Desire's 4″ screen). Worse, the screen only has a 240×320 pixel QVGA resolution, meaning it has fewer pixels, and so the display tends to look a little blocky.
Fortunately, it's not all bad – it's still a capacitive touchscreen, and although it's not the best looking, it's vey responsive, and is capable of displaying 16 million colours, too, so it's still very colourful.
In other departments, the Wildfire is surprisingly well equipped for a mid-range smartphone. As well as Android 2.1 (i.e. the same version of Android that the Desire, Nexus One and Samsung Galaxy S shipped with), it comes with pretty much everything you'd expect from a much more expensive phone.
It looks good, its user interface (HTC's legendary Sense UI, which you can read more about on our HTC Desire review) is extremely responsive, it has a 3.5mm headphone jack and pinch-touch zooming that you'd expect to find on an iPhone.
So, things are looking pretty good then!
Time, I think, to list some of the Wildfire's benefits
What you'll love about the HTC Wildfire
I love Android phones, and I love HTC's Sense UI as well, so you can probably guess I'm about to rave about the Wildfire! But I've every reason to, though, as you get a lot of phone for your money. Just check out what you get for your £15 a month:
every sensor you'd expect from an Android smartphone – compass, proximity sensor, accelerometer
5 megapixel camera with auto-focus, flash and automatic geotagging
the same superfast downloads as the Desire, thanks to the Wildfire's 7.2Mbps HSDPA connectivity
if you prefer WiFi, it's got that, too, supporting 802.11b/g WiFi standards
built-in GPS, which perfectly complements Google Maps and HTC's own Footprints app
the latest Android apps are all supported, as it uses Android 2.1 (Eclair)
deep social network integration, thanks to HTC's own FriendStream app, as well as Facebook for HTC Sense, HTC Peep app for Twitter, and simple video and photo-sharing on Facebook, Flickr, YouTube and Twitter
view your pics and videos with HTC's own gallery app with pinch-zoom
cracking web browser, with speedy downloads and responsive browser
listen to your tunes either on radio or stored on the Wildfire (it supports up to 32GB SD cards), all on your own headphones, thanks to the standard 3.5mm headphone jack.


In other words, everything that makes Android so great – and HTC Android phones in particular – is all here in the Wildfire. All of HTC's Sense UI, including its helicopter view feature that zoom sin and out of its homescreens, plus its extra widgets and apps that all make the overall smartphone experience so fun and responsive – it's all here on the Wildfire.

So something must have been left out? What is it?!

What's missing from the Wildfire

The HTC Widlfire is a mid-range phone, not a flagship phone like the Desire (see the two of them side by side in the image below).


So some things have clearly been left out. Such as the following:

at 528MHz, the CPU is half the speed of the Desire, and is a little underpowered. That's one of the reasons the screen is so small and blocky, so the Wildfire doesn't have to move so many pixels
the camera, although 5 megapixels, isn't exactly great. The flash is only a single LED flash, while the colours aren't exactly a faithful reproduction of reality!
internal memory is OK, but not great, with 384MB of RAM and 512MB of ROM
the animated live wallpapers feature of Android 2.1 isn't available on the Wildfire, as it's CPU isn't up to it
the browser gets stuck when you scroll down large pages quickly, becoming jerky, again because of the weakness of the CPU
the video recorder is very weak, offering only 352×288 pixels at a lousy 15 frames per second

So the poor screen resolution and slow processor are the biggest weaknesses of the Wildfire. Ironically, the upside of this is that the battery life is significantly extended, offering up to 8 hours of talk time in 3G mode, which is unheard of for an Android phone!

Video review of the HTC Wildfire

Here are some videos of the HTC WildFire, in the wild, so to speak!

Should you buy the HTC Wildfire?

So is the HTC Wildfire for you? If you're looking to join the Android club on a tight budget, really like the Sense user interface (and let's face it, who doesn't?!), and aren't too bothered about the camera and video recording features, then the answer has to be a resounding yes.

Sure there are compromises, but that comes with the low price, and none of the compromises are so bad as to make the phone worthless.

One of its competitors, the LG GW620, makes different compromises. The LG has a keyboard, better camera and video features, but its user interface is horrible!

So I'm going to recommend the Wildfire for exactly what it is – a very cheap, yet very capable Android smartphone that will do everything you'd expect of an Android phone – just without quite the panache of its superphone brothers!

If you're dipping your toes in the smartphone market for the first time, it's an ideal first Android phone. And let's face it, at just £9 a month, the Wildfire is an outstanding bargain!

[Source: PhoneArena]