Legendary graphics card manufacturer NVIDIA are at last on a roll with their super-powerful Tegra2 chipset. First to use the new dual-core processor is LG, with its LG Optimus Star that's set for release early in 2011. Then Motorola revealed that their forthcoming Android tablet will also feature Tegra 2.
Google themselves cast their own halo on the chip with the news that Tegra2 is to be the de facto standard for Android 3.0 tablets. And now Samsung have rounded off an excellent couple of weeks for NVIDIA by placing an order for $350 million of Tegra 2 chips for their own smartphones and tablets.
That's a lot of Tegra2s!
So what's all the fuss about?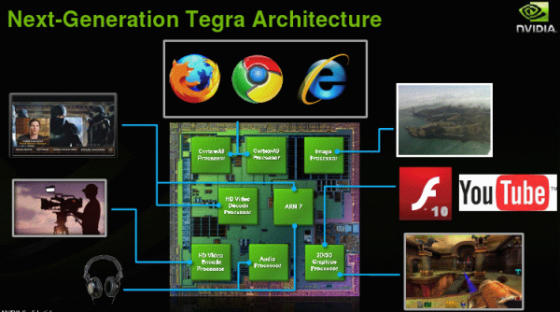 What's so special about Tegra2?
NVIDIA's Tegra2 has several huge advantages over its rivals:
Power – it's enormously fast as it's a dual core chip with no less than eight processors that can run independently, each one dedicated to a task such as Web browsing or HD video
Efficiency – despite its enormous power, the Tegra2 is also extremely efficient, meaning it won't kill your batteries stone dead!
Availability – unlike the competition, the Tegra2 is the only dual-core chip for smartphones that's here, now, and is available for production. Samsung and Qualcomm both have dual-core chips waiting in the wings, but neither are ready yet.
In addition to all this power, the Tegra 2 also offers the following features:
Full HD 1080p video encoding and decoding
10x faster than the fastest smartphone processor
Hardware acceleration of Adobe Flash 10.1 for streaming video and 3D games
Unparallelled mobile 3D gaming
So that's what all the fuss is about, and that's why Samsung just bought $350 million worth of Tegra 2 chips.
Now, just imagine what it's going to do with them all!
[Source: PhoneArena]