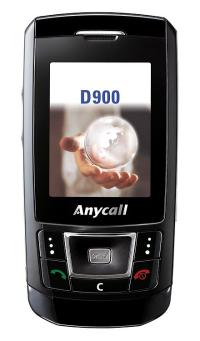 The Samsung D900 currently takes the honours for the world's thinnest slider phone, at just 12.9mm thin.
Despite its slimness, it's not exactly feature-light, though. Top of the list comes the 3 megapixel camera with autofocus, closely followed by a great QVGA screen, MP3 player, TV Out, support for microSD cards, and GPRS, EDGE class 10 and Bluetooth connectivity.
As the following Samsung D900 Review shows, the phone is a great looking, slick super-thin phone with loads of features, and which really has the wow factor. It's not every mobile phone that squeezes a 3 megapixel camera into a device less than 13mm thin!
Read on for the full Samsung D900 review.
Samsung D900 Review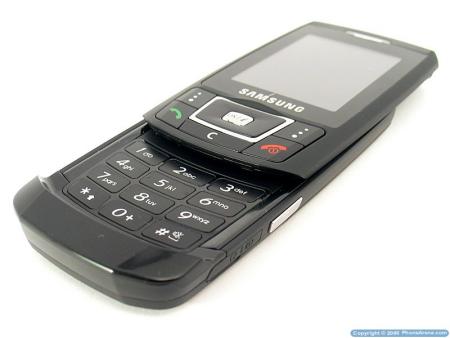 The Samsung D900 (or SGH-D900 to give it its full title) is currently the world's slimmest mobile phone, yet it's still small in its other dimensions as well. Measuring 103.5mm x 51mm, Samsung seems to have managed the impossible, by squeezing all the functionality needed for a mobile phone and 3 megapixel camera into a space they have no right occupying. Samsung, seemingly, has an advanced anti-Physics lab capable of breaking the laws of nature. Damn clever, those Koreans!
The overall feel of the D900 is apparently rather good, with a solid feel to the slider mechanism, and a sense of the phone being well designed. Though thin, the D900 is not about to snap in two on you.
The D900 sports a 2.12inch QVGA (240 x 320) TFT screen, which looks small compared with the overall size of the phone, but which is perfectly adequate for its task, and renders its 262k colours well (apart form in direct sunlight).
Samsung D900 Music Features
The music features of the D900 are rather good, too. With the microSD card, the D900 can store hundreds of tunes, and then play them back either through the phone's speakers, or via Bluetooth.
Handily, the D900 supports A2DP Bluetooth streaming, so you can stream your tunes wirelessly to a wireless Bluetooth headset (or other A2DP device, such as Parrot's Bluetooth speakers).
The D900 also lets you choose between 4 equalizer settings, lets you edit 4 playlists, and supports MP3, AAC, AAC+ and eAAC+ codecs.
Samsung D900 Camera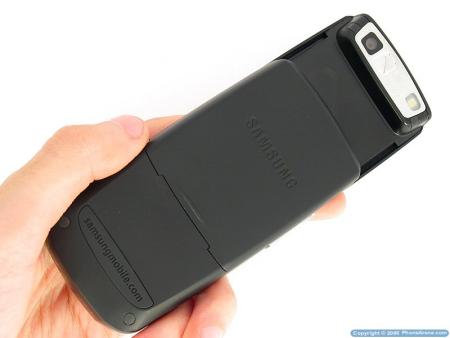 Hold the D900's shutter button down for 2 seconds, and the camera kicks into action. There's only a LED flash, unfortunately, but you can choose your ISO setting, white balance and exposure compensation, along with 8 preset colour effects to give you a few options when taking your pics.
The D900 also comes with a macro mode for close-ups, but more impressive, apparently, is the Pan-focus mode, which reduces shutter lag and prevents blurring by drunk people!
According to MobileBurn, picture quality is good, with colours more vivid than the Sony Ericsson K800, but not quite as good as the Nokia N73. That said, CNet rate the K800's pictures better than the D900's in terms of overall quality. With a 3 megapixel camera, you can take pics at a resolution of up to 2048 x 1536, but you can't save them to the memory card; you have to rely, instead, on the D900's on-board 80MB of storage. You can, of course, copy them over to the memory card after, but this is a royal pain.
The D900 will also let you record video at a max resolution of CIF 352 x 288, but apparently the results aren't that good.
User Interface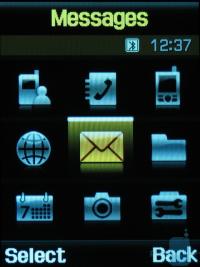 The D900's user interface is very good, being functional, logical and extremely responsive. However, it doesn't exactly look particularly good, especially compared to Sony Ericsson or Nokia user interfaces (though I may be being swayed by Nokia's latest N-Series phones, which isn't exactly comparing apples with apples!)
One neat feature is called uGo, which sets the wallpaper according to the city you're in (it recognizes the city through the basestation you're connected to), changes it to a night cityscape when it's dark, and shows cloudy weather when reception is poor. Useless, but neat all the same!
Connectivity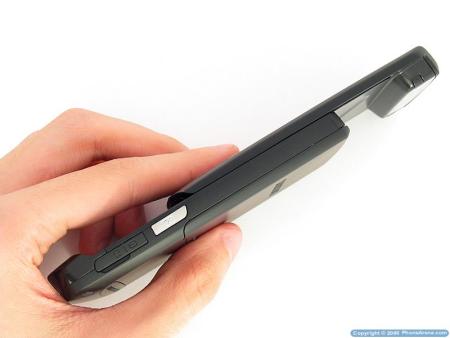 Finally, the Samsung D900 offers very good connectivity. It's a quad-band phone that supports EDGE and GPRS, but not 3G or HSDPA. It also supports Pictbridge via Bluetooth and USB for file transfer to printers and other compatible devices, Bluetooth A2DP, and TV-Out.
Add messaging features including email, SMS and MMS, office applications including the Picsel Viewer application to read Word, Excel and powerpoint documents, and a few games, and the D900 is an extremely good all-rounder.
Conclusion
The Samsung D900 comes out well from a variety of reviews from across the web. It may be thin, but it certainly doesn't skimp on features, and although it's not perfect, it looks great and certainly has the wow factor – just watch your friends' faces when you tell that a phone this thin has a 3 megapixel camera in it! So if you want style, design, slimness and features, give the Samsung D900 a go.