Why should you care about an HTC HD2 review? HTC's new huge smartphone is based on Windows Mobile, and with the mobile world seemingly full of Android phones, iPhones and Palms, doesn't that make it already out of date?
The short answer is no: Windows Mobile is certainly out of date, but nothing on the HTC HD2 looks even remotely like Windows Mobile! HTC have created their own sleek user interface and refined it for the HD2, and then given it the horsepower via the 1GHz Snapdragon CPU to turbocharge its responsiveness.
The result is the best Windows Mobile phone ever made, and one that should certainly be on your shopping list if you're looking for a cutting edge smartphone with some serious power.

Update, there are some cracking deals on the HTC HD2 at the moment. You can buy a brand new HTC HD2 for Free for a ridiculously low price and choose form a range of free gifts (free dS Lite, anyone?!)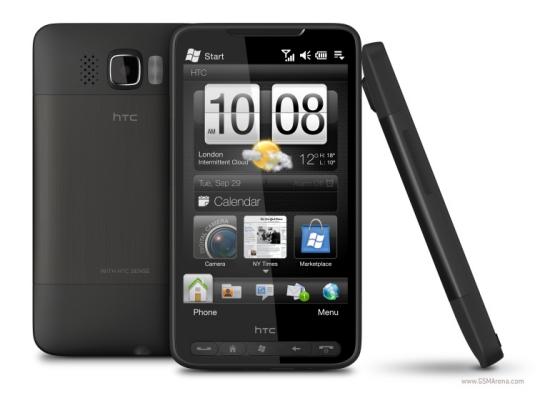 HTC HD2 Overview
The HTC HD2 is a huge smartphone with a giant 4.3″ capacitive touchscreen, a tonne of features and one of the slickest looking user interfaces on the market.
Flush from the critical acclaim they received for the HTC Hero interface (called Sense UI), HTC decided to update it, mix it with their old TouchFlo 3D interface, and bolt the combined new UI onto the HD2.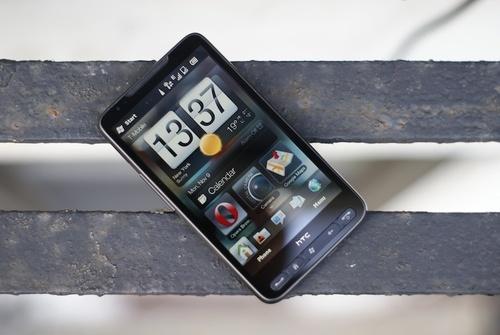 The result is simply stunning. Just imagine the HTC Hero running five times faster with a bigger screen and prettier graphics, and you've got an idea of what the HD2 looks like.
Don't just take my word for it, though – check out the video below to see for yourself.
Combine this with a range of features much higher than your average smartphone, and you've got one beast of a smartphone.
What you'll like about the HTC HD2
I can't overstate how great the user interface is on the HD2. It's super-smooth, extremely fluid, ultra-responsive, and looks glorious, all of which are key elements for a great smartphone.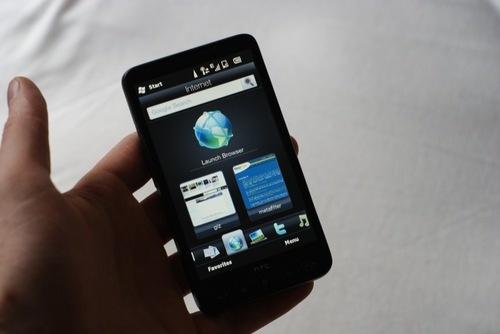 The animations and transitions throughout the HD2 give it a real feeling of polish, with tweets, messages and emails appearing as 3D notes, pictures and videos rearranging themselves as animated stacks, and widgets popping up in a glorious 3D manner.
Add to that multi-touch, which lets you zoom in on a picture or map just like the iPhone, and you'll have iPhone owners drooling with envy.
Superb list of features
The envy won't end there, though. The HD2 comes with some great features that iPhone owners can only dream of, including:
1GHz Qualcomm Snapdragon processor
Huge 4.3″ capacitive touchscreen
5 megapixel camera with dual LED flash
7.2 Mbps HSDPA (download)
2Mbps HSUPA (upload)
aGPS and Geo-tagging
3.5mm headphone jack
802.11b/g WiFi
Wi-Fi router, which lets you share your HSPA connection with other Wi-Fi equipped devices (like your laptop)
Compass
Music player, supporting MP3, WAV, WMA, and eAAC+ formats
Video player supporting MP4, WMV, H.264, and H.263 formats
Facebook and Twitter integration
YouTube client
Pocket Office (Word, Excel, PowerPoint, OneNote, PDF viewer)
In short, it's got all the features you could ever need, a terrific user interface with which to use them, and some turbocharged horsepower underneath to run it all.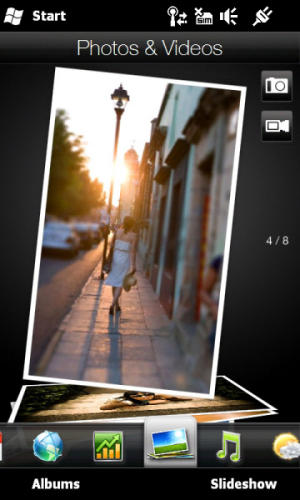 As it's a Windows Mobile phone, it works with Microsoft Office products better than any other platform. So whether you want ot read or edit your Word documents, Excel spreadsheets or Powerpoint presentations, or just sync seamlessly with your Outlook contacts, it can all be done effortlessly.
Throw in the giant screen, which makes watching videos a treat and browsing the Web almost easier than on the desktop (especially with iPhone-like pinch-touch zooming), and the HTC HD2 seems like it could be the ultimate smartphone – surely this can't be a Windows Mobile phone?!
What's not so good
The HTC HD2 does have a few drawbacks, particularly when it comes to taking pictures and videos. Although it's got a 5 megapixel camera, it's not the best on the market, and photos can lack detail. (Note that some earlier models also suffered from a pink spot in the middle of the camera. This was a fault of early units and has been fixed since then, so if you've got an HD2 that has pink spot problems, take it back).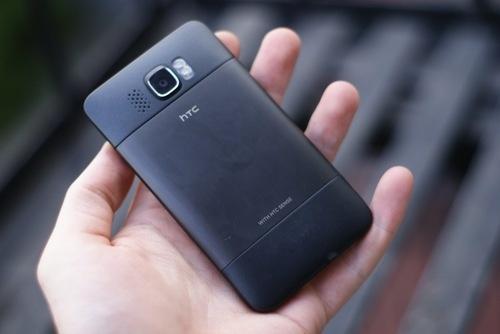 The video playback is also disappointing. Despite the "HD" part of its name, the HD2 can't play HD videos, and even MPEG 4 videos with a resolution of 800×480 pixels, are displayed with the sound out of sync.
Fortunately, this being a Windows Mobile phone, it can be tweaked to your heart's content, and there are a wealth of apps that will fix these little niggles. For video, for example, check out CorePlayer, which not only lets you watch video at higher resolutions than the standard players, it also offers H.264, DivX and XVid support.
One thing that can't be tweaked, though, is the ugly old Windows Mobile interface that creeps through from time to time. The HTC user interface is beautiful to use, but it doesn't cover everything, and sometimes you'll find an old Windows Mobile window or application popping up. Not only is this ugly, it's also confusing, as sometimes two different applications (the original Windows Mobile one and the HTC version) will be used to achieve the same thing at different times.
"You can put a lipstick on a pig…" I believe is an appropriate phrase!
There's an (ugly) App for that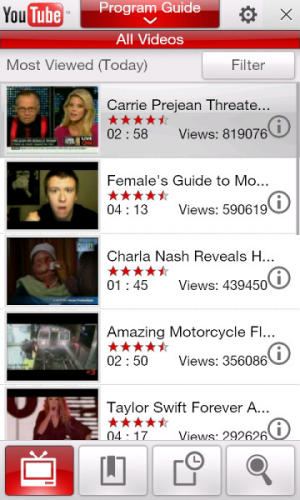 Windows Mobile phones are in a curious position regarding apps.
As the operating system is a variant of Windows, it was designed from the ground up with apps in mind (only they were known as software back then!).
As such, there's a tonne of different Windows Mobile apps that you can download, which do pretty much everything you could ever want to do, from full-featured Facebook clients to smaller under-the-hood tweaks (such as a registry editor, for example – oh yes, this is one geeky phone!).
The problem is, many of these apps were written specifically for Windows Mobile, and so lack the HTC HD2 polish; in short, they look just plain ugly and really jar with the overall experience.
In addition, because Microsoft never released an app store until very recently, finding the apps can be tricky as they're scattered all over the Web!
Your best bet is to check out the XDA Developers forum, which contains tonnes of downloads, links, applications and info from a huge community of developers.
If there's something you want, it'll either be there, or someone will know where you can find it.
Videos of the HTC HD2
If you're a Windows Mobile fan, or you love the idea of being able to edit your Office documents on a mobile phone with such a huge screen (or are just astonished to see a Windows Mobile phone look so good), you're probably dying to check out the HTC HD2 for yourself.
So here you go – several videos of this beautiful new smartphone:
The HTC HD2 – quietly brilliant!
HTC currently market themselves as quietly brilliant. With the HD2, I think they're under selling themselves! They've made the ugliest operating system in the world beautiful.
That's not quiet. It is brilliant!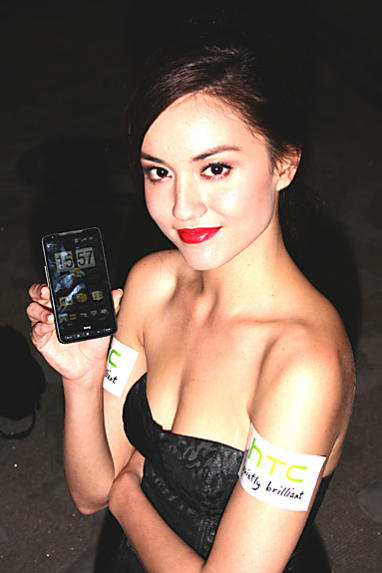 Conclusion
HTC have to be commended with the HTC HD2. What they've managed to achieve on an operating system so old and ugly is little short of breathtaking. The Snapdragon processor finally gives a Windows Mobile phone the horsepower it needs, while HTC have breathed new life into the ageing OS with one of the most beautiful user interfaces on the market today.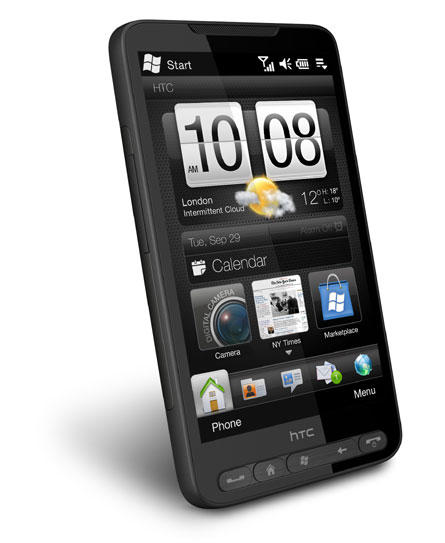 It is, without doubt, the best Windows Mobile phone on the market today – leagues ahead of the others, and it shows what Microsoft should have done with the OS long ago. So if you're a Windows Mobile user, or you need the ability to work seamlessly on your Microsoft Office documents whether at home, work or on your mobile, then it's a no-brainer: you have to buy the HTC HD2, there's just no other choice!
If you're not a Windows Mobile user, though, then the HD2 is a much tougher call. It's a great smartphone, and is rightly compared with the best of the other smartphone platforms, but it's still a little rough around the edges. If you're a fan of tweaking your smartphones, though, then go for it – you'll spend hours happily making the HD2 work exactly the way you want it to.
Update: You can buy the HTC HD2 today for Free from just £30 a month with a free gift. Hurry though, these deals won't last long.
[Source: PhoneArena, GSMArena, CNet, Gizmodo]