You've seen the TV ad – now read the Samsung Jet review!
The ad bangs on a lot about how you don't have enough time in the day, and how the Jet can save you time by being super fast, super-responsive, and super useful.
Is any of it true? Is the Jet as fast as Samsung claim, and is it a phone worth buying?
Read on for our full Samsung Jet review.

Samsung Jet Overview
The Samsung Jet is a jet black touchscreen phone from Samsung with an emphasis on speed (hence the name). The speed comes from an 800MHz Qualcomm processor, which is faster than you'll find in many of the latest smartphones. The Jet has also been designed to make it easy to use all of its applications, such as the camera, social media sharing and games, thanks to its new MediaGate 3D interface and super-responsive touchscreen display.
In fact, the more I look at the Samsung Jet, the more impressed I am with it. It's not overly good in any particular area, but everything it does it does very well indeed. And all for a bargain price, as well!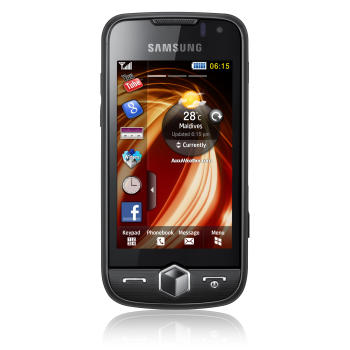 What you'll like about the Samsung Jet
You may think of the Samsung Jet as just another Samsung toucshcreen phone, but there's a reason it's one of the hottest selling phones on the market at the moment:
Super-fast phone with powerful 800MHz chip powering a responsive touchscreen display
Beautiful crystal-clear AMOLED screen with 16 million colours makes videos and photos come alive
Innovative 3D Media Gate and gesture-controlled user interface makes navigating the Jet easy and impressive
Watch HD videos recorded in 720p in virtually any format, including DivX and XVid
Huge range of features offering you everything you need from your phone, from great picture taking abilities, video recording and location-based services with built-in aGPS unit
Superb MP3 player with 5.1 channel Dolby surround sound and Samsung's Digital Natural Sound engine (DNSe) techology to make your tunes sound crystal clear
Super-smart gesture control lets you use the phone just by shaking it and tapping it
Instant social network photo sharing. Take a pic, and upload it to FAcebook with one click
That's not all though. The Samsung Jet is one of the most popular phones available, which means you can get your hands on a wide range of free gifts as retailers try to get you to buy the Jet from them rather than their competitors.
So if you fancied a Sony PSP, laptop, Nintendo Wii, or any of a dozen other gifts, now's the time to buy a Samsung Jet – you get the gift of your choice thrown in for free, while the phone itself is super-cheap.
Samsung Jet's features
The Samsung Jet, being a Samsung phone, obviously comes with a long list of features:
5 megapixel camera with autofocus and LED flash. The camera also features image stabilization, smile detection, face detection and a large range of different camera-realted functions such as white balance for getting the most out of your shot.
MP3 player with support for MP3/WMA/eAAC+/WAV , plus Dolby 5.1 surround sound
Video player with support for DivX/XviD/H.263/H.264/MP4/WMV formats
aGPS unit plus automatic geo-tagging of your photos
Stereo FM radio with RDS and FM recording
3.6Mbps HSDPA and Wi-Fi
Acceleromter
2GB of internal storage plus 16GB of external storage via microSD card
800MHZ Qualcomm CPU
Digital compass
Microsoft Office Document View
Virtual QWERTY Keyboard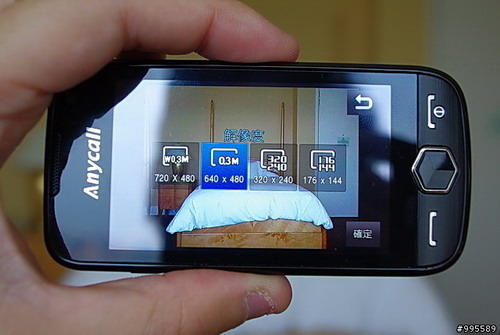 Features aren't all that you should care about when using a mobile phone these days, though. What's the Jet like to use?
Media Gate, Motion UI and TouchWiz 2.0
The Jet features Samsung's unique MediaGate 3D user interface, which uses a rotating six-sided 3D cube to present different applications to you. Each side features a different application (music, gallery, videos, etc.), and you can switch from one side to another just by swiping your finger over the touchscreen.
It's very different from pretty much every other touchscreen user interface out there, and although at the end of the day it's just a gimmick, it's a pretty snazzy one and quite usable.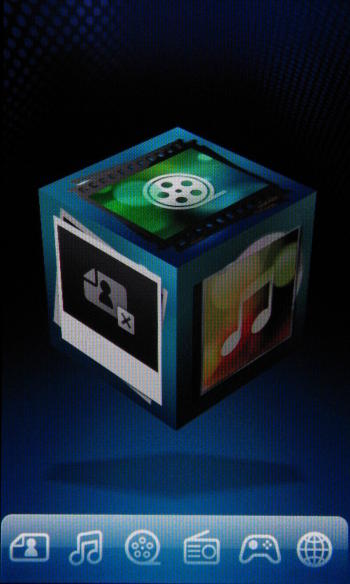 The Media Gate interface can be accessed at any time by pressing the dedicated button on the side of the device next to the camera button.
If a 3D rotating cube isn't your bag, you can also use Samsung's new Motion UI. This lets you navigate your way through the Jet using motion. For example, you can spin the cube to the right by flicking your phone to the right (you'll never guess what happens when you flick it to the left!) You can also control many of the phone's other features just by flipping, flicking and tapping.
Fortunately the phone is easy to lock, so you won't be accidentally recording the inside of your pocket every time you go for a walk!
The rest of the user interface is the usual Samsung TouchWiz interface that is now common across the range. It's a good user interface, which, although not particularly special, does what you need from a touchscreen phone, and is very usable. For the Jet, TouchWiz has been upgraded and is now at version 2.0.
The Jet is also extremely responsive, thanks to the Qualcomm MSM6246 800MHz chip powering it – it's not called the Jet for nothing!
Web Browsing
The Web browser is very good. You can move a Web page around fluidly with your finger, and with HSDPA and WiFi plus an 800MHz processor powering it, the pages are not only downloaded quickly, they're rendered quickly as well.
Fast browsing is essential when you're surfing the Web, and luckily the Jet gives it to you.
Impressively, the Samsung Jet also supports Adobe Flash, which means you can watch Flash content such as YouTube in place within the browser, rather than having to watch your vids through a app.
You can also zoom into and out of a Web page just by giving it a long touch and then dragging you finger up and down.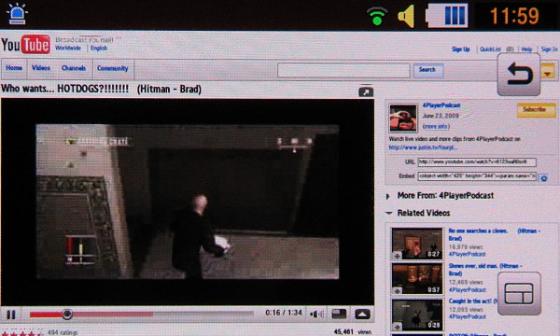 Multimedia
One thing Samsung are particularly good at with their phones is multimedia and here the Jet doesn't disappoint. It supports a huge range of video formats, including DivX and XVid, so you can watch all your DVDs and downloaded files that you on its gorgeous 16 million colour AMOLED display.
Better still, the Jet supports 720p HD, so you can watch High Def vids as well.
And with 5.1 virtual surround sound enhanced by Samsung's own DNSe sound technology, your movies will also sound as good as they look.
Unlike certain other phone manufacturers, Samsung haven't locked you in to proprietary accessories, either. So if you don't like the headphones that come with the Jet, use your own – it features a standard 3.5mm headphone jack so you can plug whatever headphones you want into it.
The same goes for its USB socket its well – it's the standard microUSB format, so it will work with pretty much any other peripheral that supports microSD. A nice touch.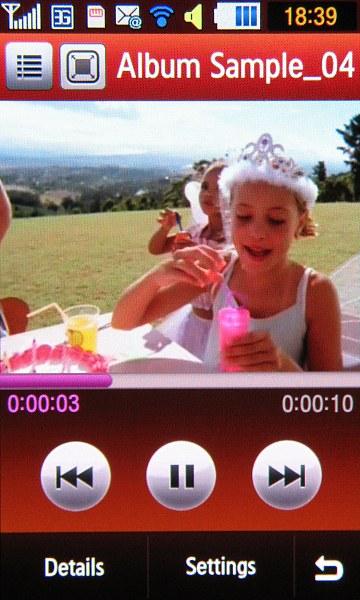 What's not so good
The Jet's main flaw is that its interface isn't quite as polished as other touchscreen interfaces from the likes of HTC or Apple. TouchWiz is quite good, but other interfaces, such as HTC's Sense UI, are excellent.
In addition, its screen is quite small at just 3.1″, which can make Web browsing a bit fiddly. That said, it's also an advantage, as it means the Jet will fit nicely in your pocket as it's much smaller than other toucshcreen phones.
Video reviews of the Samsung Jet
If you're still not sure whether the Samsung Jet is the phone for you or not, check out the videos below.
Summary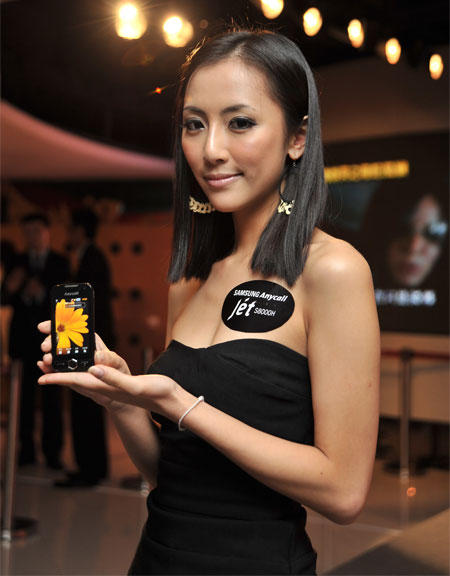 So there you have it – the Samsung Jet, a super-speedy touchscreen phone with some cracking features, novel user interface, great video abilities and all at a bargain price.
It's not going to set the world on fire like the Superphones that have been released this year, but then it's not going to set your wallet on fire either (nor, for that matter, will it be too big for your pocket!)
If you want a fully featured phone with good looks, great multimedia abilities, responsive touchscreen user interface, and which is blazingly quick, then give the Samsung Jet a try.
Update: You can buy the Samsung Jet now for free from just £30 a month, and choose from dozens of free gifts.
[Images: GSMArena]