This rather large beauty is the HTC HD3, a huge new smartphone from HTC that doesn't just follow on from the HTC HD2, it blows it and every other smartphone on the market clean out of the water!
The HD3 looks set to come with Windows Phone 7 Series, which is a big deal in itself. But it's the amazing list of features that HTC have managed to cram into the HD3 that is so jaw dropping.
Seriously, think of any hardware feature or spec you'd like to see in your dream phone, and the HD3 has it – in spades! Add to that the tasty novelty of being one of the first Windows Phone 7 Series phones, and the HD3 looks set to be one of the most anticipated phones of the year.
Don't believe me? Check out the HTC HD3's specifications after the jump.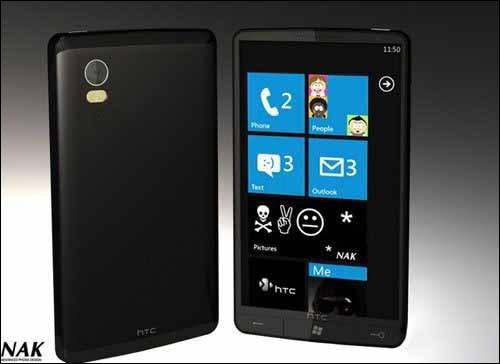 HTC HD3 Specifications
The existing HTC HD2 is a monster of a smartphone, and with its HTC Sense UI, is what we described as the best Windows Mobile phoen in the world.
But the HD2 was the end of an era. A great end of an era, it has to be said, but it was very much the end of the line as far as Windows Mobile phones were concerned.
No matter. The end of Windows Mobile seems to have ushered in a brave new world of super-advanced Windows Phone 7 Series phones, at least if the HTC HD3 is anything to go by.
Just check out these specs:
4.5″ AMOLED screen with 1280×800 resolution
1.5GHz Qualcomm Snapdragon processor
1080p HD video playback
720p HD video recording
8 megapixel camera with dual-LED flash
Multi-touch screen
Super-thin – just 10mm thick
WiFi, Bluetooth and 3G connectivity
4G connectivity for for blisteringly fast downloads that are over ten times as fast as today's HSDPA phones
1GB onboard RAM
1GB onboard
32GB external memory
3.5″ headphone jack
HDMI output for connecting to your HDTV or monitor
1800mAh battery for super-long battery life
Bigger screen than the HD2, but a smaller overall physical size: 115mm x 65mm x 10mm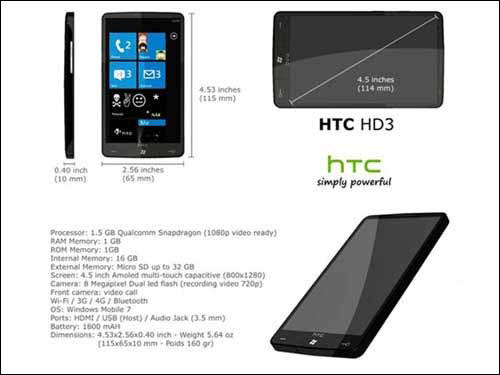 Add to this Microsoft Windows Phone 7 Series mobile OS, and you've got one of the hottest smartphones ever released!
HTC HD3 Release Date
We have no news on the HTC HD3 release date, unfortunately, other than it should be some time this year. As you can see from the pics, it's the real deal – it's definitely not vapourware.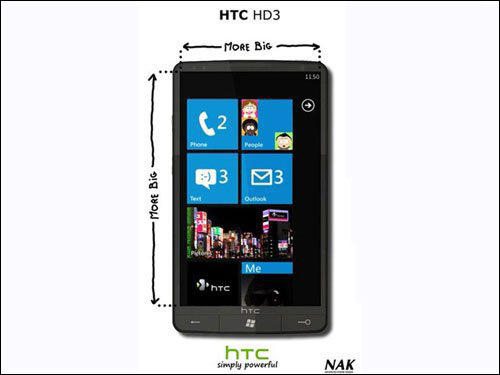 Google's Android has put up a cracking fight against the iPhone up until now, with HTC leading the way with its range of Android phones and its superb Sense UI. Now, with the HTC HD3, it's the turn of Microsoft's Windows Phone 7 Series to step up to the plate and show what it's made of.
I'm still not convinced by Microsoft's new Mobile OS, but I most certainly am by the HTC HD3! I can't wait to see it, and I can't wait to see how a phone with those specs will perform with Android!
[Source: PCOnline]