Not content with producing the best screen display on the market in the form of its Super AMOLED display, Samsung has gone one better with new technology that could revolutionise the mobile in your pocket – the world's first flexible AMOLED display that will actually reach production!
Flexible display technology has been with us for years, but it's only ever been in prototype form. No-one has come near creating an affordable reliable version that can be successfully mass produced in the numbers needed by the mobile phone companies.
Until now, that is – Samsung seems finally to have cracked it!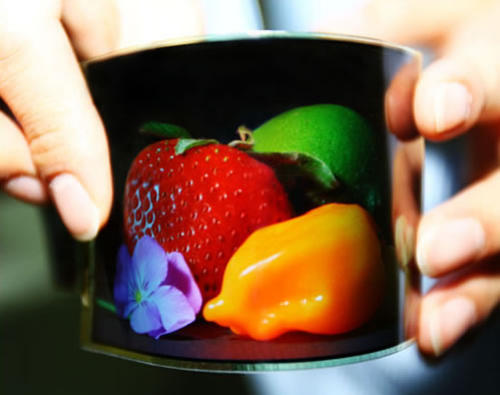 When will we get flexible phones?
Previous bendable displays have been small black and white efforts, and any article featuring them has always ended with the words "it should go into full production in the next year or two."
Well this article's not that different – Samsung's flexible display isn't exactly ready right now. But it is very close to production. However, while the technology is genuinely exciting, colour me skeptical still about its actual release date! I wouldn't be so skeptical if a virtually identical article hadn't appeared on OLED-Display.net in May last year, when the technology Samsung had created was "… simpler and improves efficiencies necessary for mass production."
This newer display is apparently "…a major step to mass produce Flexible Amoleds in the near future ."
I hate the words "near future"!
That aside, what Samsung's done with the new technology is genuinely impressive. The 4.5″ flexible AMOLED display they've created has a WVGA resolution (800 x 480 pixels), low power consumption and minimal ghosting. So when this thing finally sees the light of day, it really will transform the mobile in your pocket.
A Flexible iPhone?
The first company to use this new tech (aside from Samsung, of course) could well be Apple. They're already rumoured to be working with Samsung in order to use a Super AMOLED display for their iPhone 5, and Samsung have ramped up production of their existing (non-bendy) Super-AMOLED displays from 3 million units a month to 30 million a month to cope with the extra demand expected.
So with Apple working closely with Samsung, and Samsung so very close to mass producing a flexible screen, it's only a matter of time before a flexible iPhone is released.
Personally, I don't see it ready in time for the iPhone 5, but I'd put money on the iPhone 6 being bendier than Beckham!
[Source: OLED-Display]