HTC is readying a monstrous 3D dual-core smartphone, which could be on show as early as tomorrow at the US's CTIA 2011 event (roughly, the US's equivalent to MWC). As you'd expect from HTC, this new phone features a barrage of specs that simply take your breath away.
Seriously – think of any smartphone you care to mention that's either on sale now or soon will be, and the new HTC phone either matches its specs, or improves upon them.
Not convinced? Just check out these specs: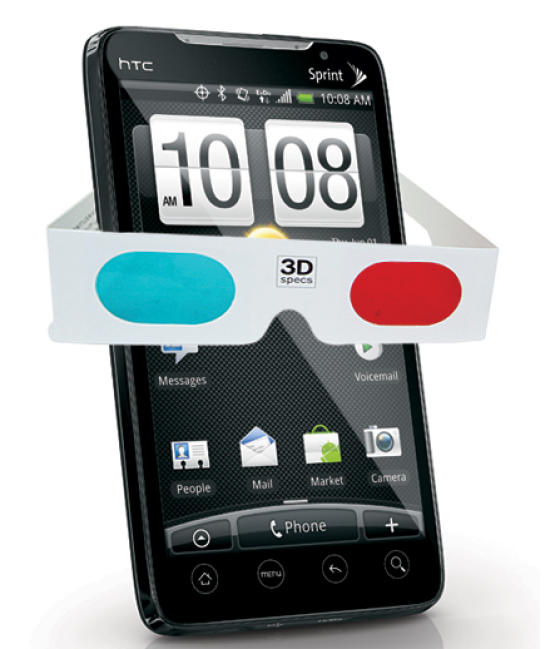 HTC Evo 3D specs
Android Honeycomb
4.3″ autostereoscopic 3D display
1.2 GHz Qualcomm 8660 Snapdragon CPU
huge 1730mAh battery
1080p Full HD video recording and playback
1080p Full HD video on your TV via HDMI
720p 3D playback
5 megapixel rear camera
1.3 megapixel front-facing camera
4GB RAM
1GB ROM
That's huge! More powerful than a Samsung Galaxy SII, the biggest battery I've ever seen in a mobile phone (the HTC Desire HD only has a 1250mAh battery), all the multimedia features you could ever need, and 3D!
I'm still not sold on 3D on a phone, as it seems too gimmicky, but with their expertise in user interfaces, if anyone can pull it off, HTC can.
I was disappointed with what HTC had to show at MWC 2011 back in February, yet I always had the feeling that they were just keeping thier powder dry, and had something really rather tasty waiting for us. Happily, I was right, because this new 3D superphone looks like it could set the benchmark for Android flagship phones this year.
Hopefully we'll know tomorrow at Sprint's main presenations at CTIA, and of course I'll let you know all the details as soon as I have them.
[Source: Boy Genius Report]/span>