The Samsung Galaxy S II Mini has just been leaked showing a brand new smaller smartphone with a truly monstrous CPU! The Mini is possibly the least appropriately named device since the Mitsubishi Charisma, as it's the same size as the original Motorola Droid and comes with a single-core processor that's actually more powerful than any phone on the market!
Intrigued? You should be! The Galaxy S II Mini looks set to fill a gap in the market in an uncompromising way. That gap is a mid-size phone that doesn't skimp on features.
Let's see how the Galaxy S II Mini manages to fill it so well.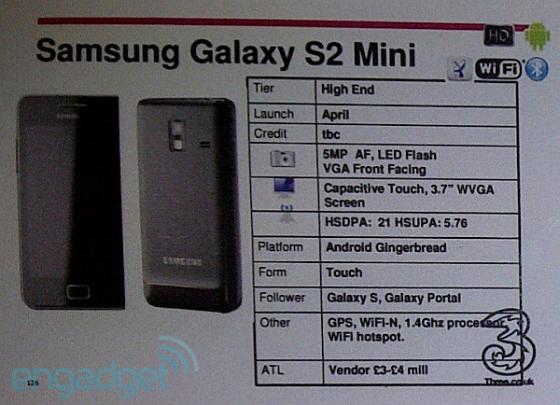 Samsung Galaxay S II Mini features
3.7″ WVGA screen
1.4GHz CPU
21Mbps download speed
5.76Mbps uploads
5 megapixel rear camera with LED flash
VGA front-facing camera
WiFi b/g/n
WiFi Hotspot
Android Gingerbread
Now that, as I'm sure you'll agree, is one tasty smartphone! Although only single-core, it's clock speed is 40% faster than last year's Galaxy S, which wasn't exactly slow. Its data rate is blisteringly fast, with a theoretical 21Mbps download speed potentially available. And with Android Gingerbread on-board, plus the two cameras that are now de rigeur on 2011 models, the Galaxy S II is just as fully featured as any flagship phone announced so far.
What I really, like, though, is the size of the Galaxy S II Mini. Although the latest superphones are superb, their screens, at 4.3″ or so, are big, and in some cases too big. A lot of people are put off by a screen that size, yet they still want a phone that has all the features of the flagship phones.
With the Galaxy S II Mini, Samsung has given them exactyl what they want. There aren't that many 3.7″ phones around at the moment, as even 4″ is seen as small, and there certainly aren't any packing a 1.4 GHz processor!
So if you're after a phone with a convenient size coupled to huge power, the Samsung Galaxy S II Mini looks like it's going to be your best bet by far. And if you can't wait for it, don't worry – the Samsung Galaxy S II Mini release date is set for April 2011 in the UK on Three, so you really don't have long to wait at all!
[Source: Engadget]