What would you say to a Sony Ericsson Xperia Play for just £30 a month with Unlimited Data? Or how about an HTC Incredible S, a Nokia N8 or even a brand new Sony Ericsson Xperia Arc, all with Unlimited Data on either 12 or 24 month contracts?
You can get any of these phones, and loads more too, on a brand new mobile network that's just been launched that's dedicated to smartphone users, with contracts that offer unlimited data, 12 and 24 month terms, and unbelievably low prices on smartphones.
TalkMobile – a new network with unlimited data
Stop and think for a minute. Have you ever found yourself in the following position:
You want a brand new smartphone, but you're afraid of the monthly cost
You want to buy a new phone, but the different tariffs are simply too confusing
You don't use the phone to call people, but you do use lots of data, yet none of the tariffs give you what you want
You simply don't want to commit to a 24 month contract.
If this sounds like you, then this new network is what you've been waiting for! Called TalkMobile, the new network has been setup by the Carphone Warehouse with the sole aim of solving all these problems, driving prices down, simplifying tariffs, and giving you unlimited data.



With a tagline of "Never pay for the Internet", TalkMobile runs on top of Vodafone, giving you exactly the same coverage and service as if you were actually on Vodafone. It's the same technology that Virgin Mobile and Tesco Mobile use, but whereas Virgin runs on top of T-Mobile and Tesco runs on top of O2, TalkMobile uses Vodafone's network instead.
Carphone Warehouse saw a gap in the market, recognized the difficulties that smartphone buyers were facing, and came up with their own innovative solution: the new TalkMobile network.
And at long last!
Why TalkMobile is a great new network for smartphone users
TalkMobile seems to be the network that smartphone users have wanted for ages! I don't know about you, but the one thing I want from a smartphone tariff is as much data as I can possibly get, bundled in with the deal!
I don't make that many phone calls, I never exhaust my 200,000 text limit, but data is always the one thing I can't get enough of!
And that's what TalkMobile is focused around.
It's a new network for smartphone users, giving you as much data as you want.
What contracts are on offer?
To get the new network off to a flying start, a range of new and older phones are on offer at cracking prices. Better still, you can get these phones on standard 24 month contracts or on 12 month contracts. As an example, the 12 month contract will give you 200 minutes, 200 texts and 1GB of data per month for just £12 a month.
You won't find a better 12 month contract on the market right now.
OK I'm convinced, tell me about the phones!
There are loads of phones on offer, each available on either 12 or 24 month contract, and all with unlimited data. All of the prices you pay below are the actual price you pay – no rebates or redemptions involved. Here's my pick of the bunch: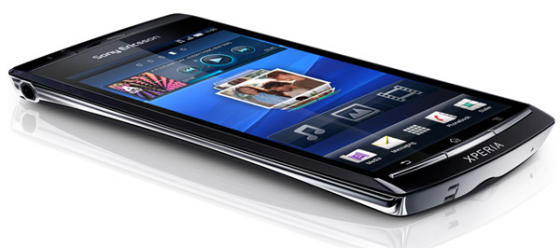 Sony Ericsson Xperia Arc – £25
Fantastic new Android Gingerbread handset with beautiful new user interface, 8 megapixel Sony camera and crystal clear 4.2″ screen. Thinnest phone on the market, too, and only released this week.
Deal: 500 minutes, 1500 texts, Unlimited Data
Sony Ericsson Xperia Play – £30
Brilliant new PlayStation phone with Android Gingerbread, slide-out dual-shock controller and the best gaming experience of any mobile phone. Play Angry Birds and Crash Bandicoot on the same device!
Deal: 750 minutes, 1500 texts, Unlimited Data
Cracking new Android Gingerbread phone that offers most of what the Desire HD offers, and throws in a front-facing video camera as well.
Deal: 750 minutes, 1500 texts, Unlimited Data
These are just my picks, though – there are loads more phones on offer, so check out the full range.
Disclosure: TalkMobile haven't paid me for this post, I'm just pleased to see a new network that seems genuinely to be focused on the needs (and pockets!) of smartphone users like myself. When other networks are restricting data usage, it's great to see a new network doing the exact opposite! Note that the links are affiliate links, though, but I only receive any money if you buy a phone.