What's that? You want a Sony Ericsson flagship Android phone with the swanky BRAVIA screen and kick-ass 8 megapixel camera? The super-thin one with the beautiful looks and shiny super-repsonsive interface? Oh, and you want it really cheap on a 12 month deal, 'cos you know you'll want an even better smartphone this time next year.
Well have I got a deal for you!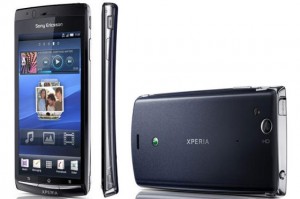 The deal of the century week
You might need to sit down before you read this.
Right now, you can buy a brand new Sony Ericsson Xperia Arc on a 12 month contract and get the first 6 months absolutely free for just £30 a month!
Where's the catch? There is none! Check this out:
[checklist]
Cost of phone: FREE
Standard monthly cost: £30 a month
Contract length: 12 months
400 minutes Any network Any time
1000 free texts
1GB data per month
[/checklist]
[pullquote_right]A ridiculously low price for such a powerful smartphone[/pullquote_right]
Find any problems with that little list? Didn't think so!
The reason for this delicious deal is simply that there's a new Xperia Arc that'll be released next week called the Xperia Arc S. But don't let that fool you – the original Xperia Arc is only six months old and the only difference between the two phones is the processor speed (1.4GHz compared to the original Xperia Arc's 1GHz).
For the mobile etailers, though, it means they've got to shift their stock of original Xperia Arcs quickly – hence this super-cheap deal.
And the Xperia Arc is still a peach of a smartphone – just check out my original Xperia Arc review.
If you'd rather get your Arc for even less per month, then pay £49.99 up front and you can get the Xperia Arc on a 12 month contract for just £20 per month.
That's a ridiculously low price for such a powerful smartphone.
At this price, you can afford to buy the Xperia Arc as a second phone, or just to see if Android is the right mobile OS for you.
Hurry, though – the deal's only on while stocks remain.
If you're tempted, check out the full range of deals on offer now.
[button link="http://www.mobilementalism.com/recommends/searc" variation="green" size="large"]See the Deal[/button]