Nokia and Intel are two companies who were significantly absent during CES 2011. The tradeshow that sets the trend for the year's consumer electronics was full of Android tablets and smartphones from the likes of Motorola, LG, HTC, Samsung and even Sony Ericsson, all powered by either NVIDIA or Qualcomm's chips.
In fact, eveywhere you looked there was a tablet, Android and NVIDIA's Tegra3 chip – and absolutely nothing from either Nokia or Intel.
All that may be about to change at MWC 2011, though, with the rumoured launch of the Nokia N9, a smartphone based on Nokia's new MeeGo operating system that's been in development for sometime now, and which will be the first smartphone to be powered by Intel's Atom processor.
Is this significant? it would have been last year, but now, I'm not so sure.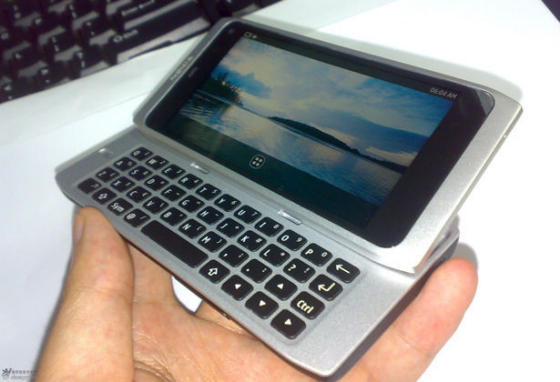 The Nokia N9
The Nokia N9 is set to be a flagship N-Series smartphone from the Finnish company that features a slide-out QWERTY keyboard and the same superb 12 megapixel camera as the current Nokia N8.
What's interesting about it is that it'll be the first phone to feature Nokia's new MeeGo OS, and also the first phone to be powered by Intel's Atom processor.
The fact that in 2011, Intel has yet to power a smartphone shows just how far behind the mobile curve Intel is. And the fact that Nokia, four years after the first iPhone, still hasn't produced a phone that come anywhere near it, shows how far behind the smartphone curve it is.
The two companies, therefore, desperately need the N9 to be a hit – and desperately need each other!
How likely is the N9 to appear at MWC?
At this moment, the N9's appearance at MWC 2011 on Februaray 14th is just a rumour. But Nokia first announced MeeGo and its partnership with Intel exactly a year ago, and still nothing has happened. In the meantime, despite the N8 being a sales success, Nokia has cancelled the X7 smartphone, which was destined for the US, the Nokia E7 has been delayed despite being previewed back in September 2010, and Nokia is getting increasingly embroilled in bitter patent battles with Apple.
Intel, meanwhile, is being trounced in the mobile arena, with Qualcomm and NVIDIA running rings around it, which is bad news given that the whole computing market is swinging away from laptops and desktops and towards mobiles and tablets.
It's a brave new world of computing that we're entering, and currently it's one that doesn't feature either Nokia or Intel. So I'd say it's almost guaranteed that the Intel-powered Nokia N9 will debut at MWC 2011. If it doesn't, it could spell significant problems for both companies in the years to come.
Stay tuned for more details as we get them (and especially on February 14th when we'll see for ourselves what Nokia's plans are).
[Source: Hexus.net]